Roughly 2 million kitchen knives are being voluntarily recalled following reports of hand and finger lacerations from the blades breaking, federal authorities announced Wednesday.
Thirteen models that were sold individually for $25 and in sets for $300 are specifically being recalled. The recalled model numbers are as follows: 1808008, 1808009, 1821332, 1922890, 1922971, 1922976, 1932810, KNR0005C, KNR0007C, KNR10045C, KNR4008C, KNSR002C and KNSR0102C.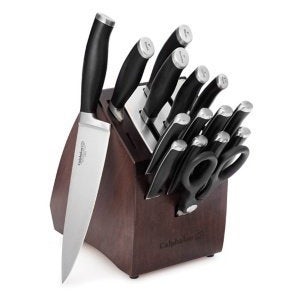 Of the products sold ― about 7,000 of which were in Canada ― there have been about 3,150 reports of broken knives. At least four of the injuries required stitches, the CPSC said.
"Consumers should immediately stop using the recalled cutlery and contact Calphalon for a replacement cutlery product," the safety commission states on its website.

The list of stores that the models were sold at includes J.C. Penney, Kohl's, Macy's and Amazon.com
Anyone who has one or more of these knives is asked to contact the company to exchange the product for a replacement.