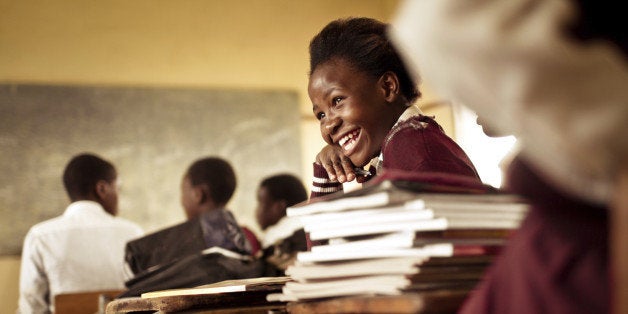 Imagine sitting around a table with your closest female friends and as a group deciding who among you will have the opportunity to start a business. Only one of you will be able to move forward. The others will have to wait.
That's the way business is done in a country where women are unable to go to a bank and get a loan. It's kitchen table commerce and in Sub-Saharan Africa, where women work the land, yet men collect the profits, a new breed of female entrepreneurs are pooling their dollars and becoming their own venture capitalists. Together they decide which woman to back. They give her a bag of cash, with the agreement that she'll pay it back in 30 days with interest. And then they begin again -- when they collect enough money, another woman gets her turn.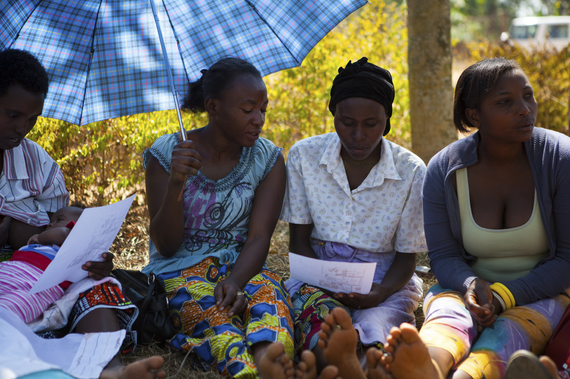 Sound like something that would only happen in a third world country? Then it's time to take a look back at our own history books. It was only 27 years ago, that women right here in the United States, were given the right to take out their own business loans. Prior to 1988, banks wouldn't part with their money, unless a male family member co-signed. Up until that time, before the Women's Business Ownership Act was passed and our government established the National Women's Business Council (NWBC), a woman would have had more luck getting a loan, if her teen-age son went with her to the bank and co-signed as a guarantor.
On a recent trip to Kenya, when I had the opportunity to participate in President Obama's Global Entrepreneur Summit, I witnessed kitchen table commerce in action. It was there that I met Amara -- a woman who didn't have the time to wait for her government to grant her the rights of a first class citizen. She had children that she wanted to send to college.
Amara took the bag of cash her friends collected and rented a truck. She gathered onions grown by female farmers and brought them into town -- weaving around the systems in place, which would have required a middle man (and only a man) to sell their harvest. She did it at great risk -- often sleeping under her truck, when darkness covered the skies, trying to make an honest living in what could often be a corrupt marketplace.
At the end of the day, she was tired and worn -- but she managed to do exactly what every entrepreneur hopes for-- she turned a profit and brought home a higher return for the women in her village than they had ever seen before. Whether those women got to keep the money they worked for is another story. Since in Africa, only a man can own land.
Imagine what women like Amara could do, if only they had the same rights as men.
Empowering Women Is Good Business
It wasn't that long ago that I was working the land myself and wondering how I was going to send my own children to college. My North Dakota farm had been destroyed in a hail storm. I not only had no income, but despite our better circumstances here in the United States, and laws that didn't allow banks to discriminate, I was turned away time and time again -- or asked to come back with my husband.
Yet today, I own a 10 million dollar company and I'm selling to companies like Lowe's and Ace Hardware. I'm on the board of the National Women's Business Council and there I was in Kenya, along with Airbnb's Brian Chesky, Kiva's Julie Hanna and Shark Tank investor, Daymond John. We were just steps away from the president, as he addressed hundreds of would-be entrepreneurs and vowed 1 billion dollars in funding to help launch women's business centers throughout Sub-Saharan Africa.
Women's business centers just like the ones we have here in the United States -- centers run by the Small Business Administration (SBA) -- exactly like the one that helped me.
While I was fortunate to live in a country where women have equal rights, like Amara, my world view was limited. I shared her big dreams, but I was living in a rural area, raising two young children. The SBA showed me what was possible. They taught me how to build a business plan and at a time when I couldn't even pull together $50 for a bus ride to a Minnesota trade show, they believed in me enough to bring me there. With their help, I landed 15 customers that weekend and by the end of the year, my product was in 250 stores. They gave me the confidence to take the business I began at my kitchen table and grow it in ways I could have only imagined -- eventually developing the first and only natural pest prevention products to meet EPA standards for safety and effectiveness in the home. Their mentorship made me believe that I could not only break into a business run by men, but disrupt the pest control industry with a natural solution.
Prosperity Leads to Peace
According to a study done by EY, growth in Sub-Saharan Africa will beat the emerging markets average and be outstripped only by Asia. Rising urbanization and a growing consumer class are attractive to traditional investors and those trends are becoming evident. The opportunities are there. The question is, will they be there for women?
The president said it best when he addressed the group in Kenya.
The evidence shows that communities that give their daughters the same opportunities as their sons, they are more peaceful, they are more prosperous, they develop faster, they are more likely to succeed.
As a result of the Women's Business Ownership Act of 1988, plus an entrepreneurial ecosystem that allows women to participate on an equal playing field -- and the unstoppable spirit of American entrepreneurs -- the 2012 Survey of Business Owners (SBO) reported 9.9 million women-owned businesses, which generate 1.6 trillion in receipts and employ 8.9 million people.
It's hard to believe how different things were, here in the United States, just 27 years ago -- or how different things would be, had our government not invested in women. A healthy economy, void of corruption and injustice, is one that leads to an environment where nobody is left behind. And isn't that what we want for both our daughters and our sons? Why would the women of Sub-Saharan Africa be any different?
Support HuffPost
The Stakes Have Never Been Higher
Related
Popular in the Community