Is the inside of your home feeling a little drab? Are your kitchen appliances looking used and
worn out? If so, it might be time to give your kitchen a makeover.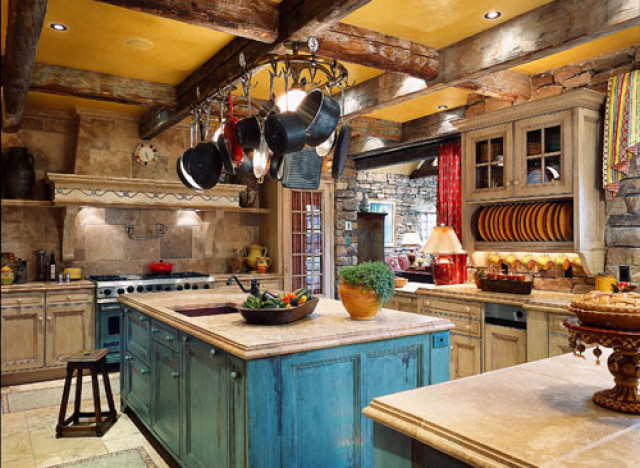 Photo by Flickr user thekitchendesigner.org
But giving your kitchen a fresh new look doesn't have to cost you thousands of dollars. Sometimes all it takes is some simple maintenance, routine cleaning and a little TLC to make your old appliances look brand new.
Follow these seven tips to give your appliances a new look without spending more than $215:
1. Give your appliances a facelift with a new coat of paint. Find a touch-up paint that is recommended by your manufacturer and use it to cover up any scratches and dings that your appliances have accumulated over the years. A word of caution: Pay attention to the colors! You'd be surprised at the difference between the shades "Bisque" and "Almond." If you're feeling really daring, find enamel or barbecue paint in bold colors like silver or forest green and paint the whole appliance.
2. Replace the hardware. A fresh set of handles and knobs can significantly improve the look of older appliances, especially if you get a matching set. The best part: This requires little time to complete and uses common household tools (typically just a screwdriver and pair of needle-nose pliers).
3. Examine the racks of your dishwasher, checking for areas where the vinyl coating has worn away to expose the metal wire underneath. This can rust in the wet environment and cause potentially harmful wear and tear to your dishes. Use a vinyl repair kit (which can be found online) to repair the racks as soon as they begin to rust. Dishwasher racks are typically very expensive and can even rival the cost of a new appliance, so keeping them in good shape can help you save money in the long run.
4. A clean oven doesn't just look better -- it also cooks food more efficiently. I recommend cleaning your oven every six months if you use it frequently and once per year for less frequent use. If possible, immediately after a spill, use a commercially available oven cleaner to scour the entire interior of your oven. Remove the oven racks to clean them separately, thoroughly scrubbing each one. Never use the self-clean function with the racks inside the oven because most racks are not designed to withstand those temperatures. Only use the self-clean feature for serious cleaning. Stick with commercial cleaners for spot cleaning to use less electricity.
5. Similarly, wipe up stovetop spills or drips immediately after they occur. You can use the same commercially available cleaner to remove any unsightly rust or corrosion on the stovetop. If left unattended, these blemishes can lead to dirt and grime getting into spaces that are almost impossible to get clean. If your drip bowls contain residue that you just can't scrub off, consider replacing them for an even newer look. Replacement drip bowls range in cost from $3 to $15.
6. When was the last time you replaced the water filter on your refrigerator? If you can't remember, you've waited too long. At the minimum, change the filter of your water dispenser/ice maker every six months because everything your filter removes just stays put. Bacteria, germs and other things can continue to grow. If the conditions are right or the growth is left unchecked, the colony can overwhelm the filter and the organisms can pass into your water. Your owner's manual should contain instructions for changing the filter of your model.
7. Give your refrigerator, including all the drawers, shelves and glides, a good scrub-down. Bleach is safe to use as long as all of the food is removed prior to cleaning. If you're concerned about using bleach near food, white vinegar is a great alternative that's food-safe.
It's amazing what a little TLC can do for your home appliances. Cleaning them thoroughly a few times a year will make a huge difference in their physical appearance and ability to do their jobs properly.
Related