Outside it was raining, but down deep in the crypt it was merely chilly. The slightly fey, round-spectacled chief of historic monuments, and the kindly young hipster "artist" in shades and a plastic hat explained to the mostly docile klatch of reporters France's new plan to save the Panthéon, Paris' most hallowed tomb. To the left of us stood a statue of Voltaire, the great defender of free speech and misogyny, while on the right hung the image of Rousseau, the first great philosopher of democratic government -- for all humans except women.
We had all been called together because the decaying dome of the Panthéon, the largest unreinforced stone dome in the world, was in danger of collapsing down upon the bones of Les Grandes Hommes de la France -- the 72 great men of French history. And one woman.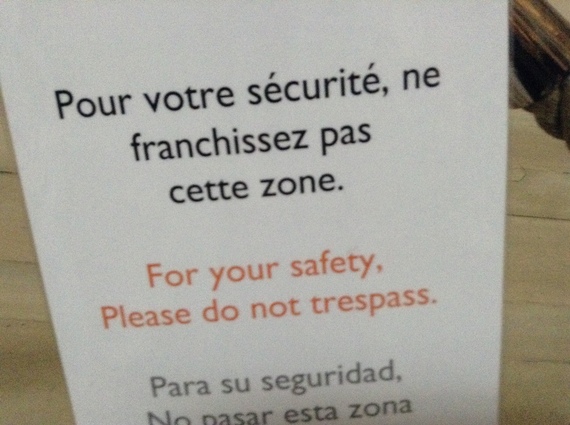 Philippe Bélaval, the lifelong Enarche (or public bureaucrat) trained at the ENA, (the National School of Bureaucrats) who is President of National Monuments, explained that the government of President François Hollande, having already announced cuts in the arts and health budgets, would commit $100 million and ten years to saving the 250-year-old building, whose steel joints are rusting and whose cracked stones were leaking.
"It's not a monument like any other," he declared. "The Panthéon says something about the values of the Republic. It is a Republican monument with a message for everyone -- a universalist message."
Universalist? Of the 72 Great Heroes of French history -- who include novelists, poets, intellectuals, scientists and soldiers -- the only woman present is Marie Curie (born Polish) and entered beside her husband Pierre. (Marie Curie was also the first woman to win a Nobel Prize for her early research on radioactivity, which research led to her death.) The bones of Sophie Berthelot, a little known poet are also present, planted there alongside her husband, Marcellin Bertholet, who insisted on being buried next to his wife.
French presidents decide who merits inclusion in the Panthéon. François Hollande has been rumored ready to send four more sets of skeletons, two of which will be female bones, though their names are not yet known. Meanwhile the Monuments boss, Philippe Bélaval, announced his own modest effort at "republican gender correction." He has appointed the genial and in some quarters (including the New York City Ballet) highly regarded hipster/graffiti artist known simply as JR to act as decorator-in-chief of the Panthéon during the two years that masons and structural engineers will replace and refit the dome's rotting rocks and joints.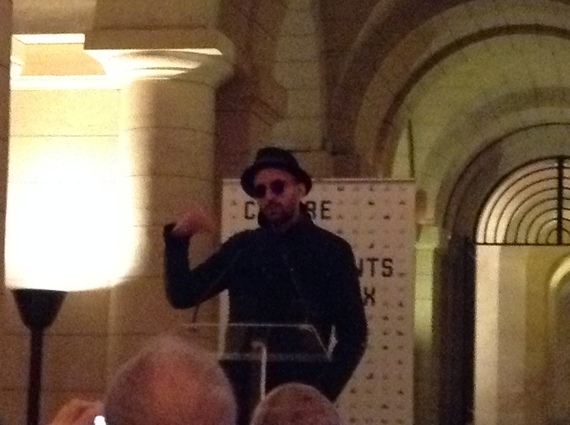 JR is not unknown. He has roamed the world setting up what he calls his "cannon camera" in public spaces to capture "the faces of the people," which he then mounts on walls, canvas, plastic or other durable materials. In 2010 he even won the TED Prize for collaborative art. Starting this month he'll take his cannon camera all over France to click shots of people -- "all people," he swore, "regardless of race or gender" -- whose mugs will be attached to the floors inside the Panthéon and onto hanging plastic sheets that now cover the scaffolding attached to the dome.
For months, my neighbors and I, who live around the corner from the Panthéon, have marveled at the bright glimmering scaffolding as it carefully crept up the sides of the dome and finally swallowed the dark cross that was mounted when the original 18th century architect Jacque Germain Soufflot designed it as a church dedicated to Sainte Genevieve. Come the Revolution of 1789 the church was deconsecrated to become a temple for revolutionary heroes, but the cross was allowed to remain.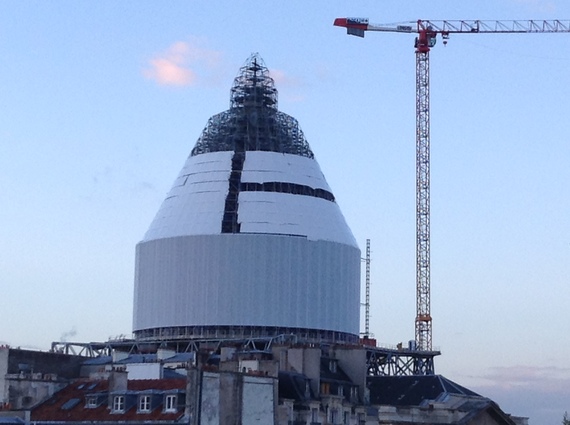 Now JR's gargantuan black and white snapshots, not unlike those in your high school yearbook, will "prove" that any French person can participate in the Republican restoration of France's temple of great (wo)men. (Simone de Beauvoir, one of France's greatest modern philosophers, is said to have been asked if she would like to enter the Panthéon horizontally -- to which she reputedly responded that she'd rather have her bones shattered by sticks and stones.)
So, it is that La France, home of Jacque-Louis David, Camille Corot, Pierre-Auguste Renoir, Eugene Delacroix, Paul Gauguin, Henri Matisse, Claude Monet, Edgar Degas, Georges Braque, Marc Chagall and Marcel Duchamp (also all men), will now demonstrate to the world that at last she is as capable of kitsch as Disneyland or Las Vegas.
REAL LIFE. REAL NEWS. REAL VOICES.
Help us tell more of the stories that matter from voices that too often remain unheard.