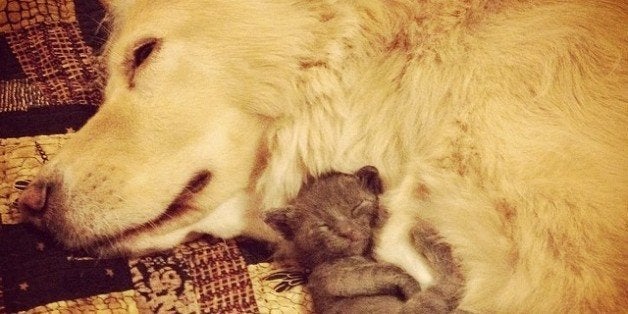 A lot of tiny kittens pass through one Maryland home. Eventually, they all end up with their arms around Conall the dog.
"Lucas and I have fostered eight kittens so far. Seven bottle babies and another current special needs cat," says Karen Bean, who volunteers as the foster cat coordinator for the Washington Humane Society. "Yes, Con has gotten hugs from each and every one!"
Lucas is Bean's husband, and Tommy the kitten is the couple's latest feline visitor. The latter was found a couple of weeks ago, abandoned in the nation's capital. He was very small, and not yet able to eat solid food, which turned the Bean household -- already home to what can be described as a tangle of cats -- into a pretty easy mark.
"When I saw this little guy all by his lonesome I just had to bring him home," says Bean, who is a freelance hair stylist and quilter when she isn't looking after the well-being of animals.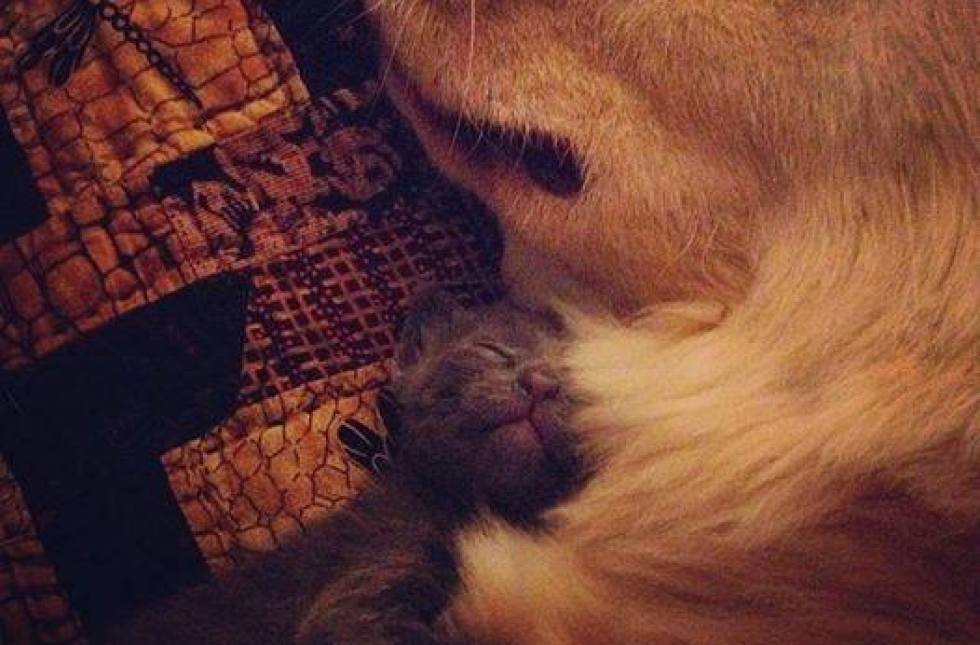 Tommy with Conall. Photo credit: Karen Bean
Conall joined the household about five years ago. He was adopted from a North Carolina shelter to be a plain old spoiled house pet, but soon showed he had more to offer when Lucas, a retired Navy intelligence analyst, returned from deployments in Iraq and Afghanistan with post traumatic stress disorder.
"We got Conall originally just to be an addition to our family, but quickly realized he had a knack for sensing when Lucas was having problems," Bean said.
The family found a good trainer, and Conall transformed into Lucas' service dog. "Conall has been and continues to be a tremendous help not just to Lucas, but for me as a wife as well. He can proved Lucas with help and support that I just can't," Bean said, adding, "I really could go on and on about how wonderful our little boy in a dog suit is."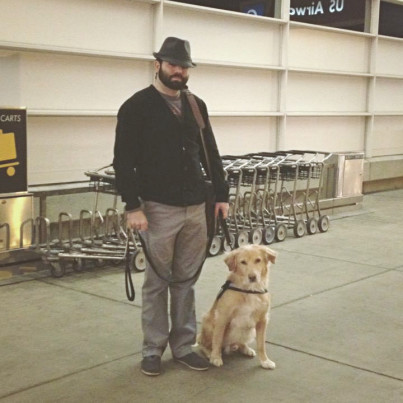 Photo credit: Karen Bean
The Beans' other animals -- and, yes, it's hard to keep them all straight -- are all cats. There's five-year-old Harlowe, four-year-old Herbie and two "foster failures," cats who were supposed to be temporary but managed to get themselves adopted, named Prudence and Calvin, who are both about a year old.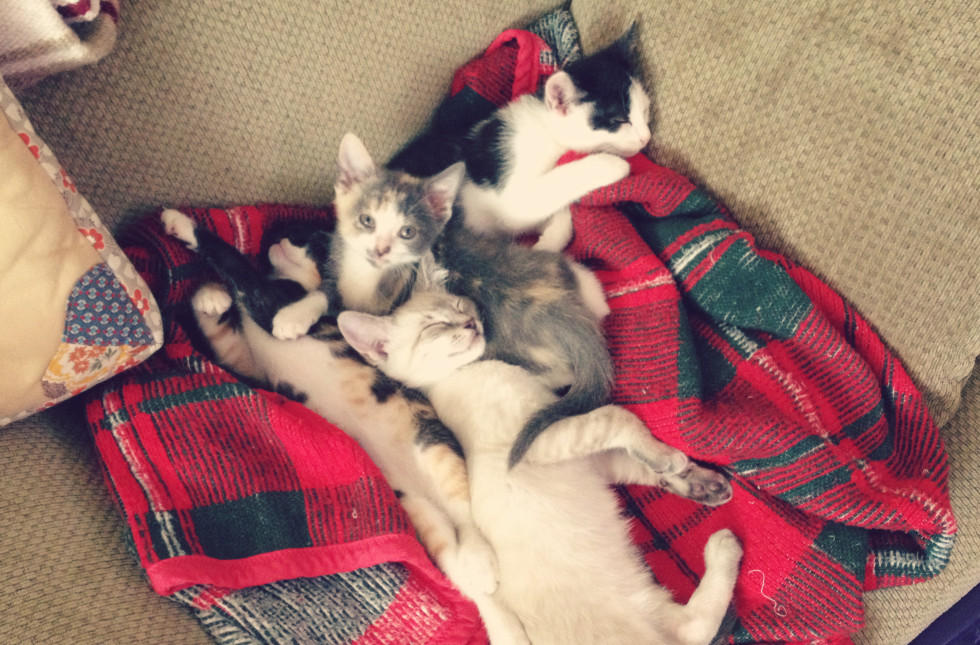 Photo credit: Karen Bean
Then there's two other fosters besides Tommy. One is another bottle-feeding baby named Louis. The other is an 11-month-old special needs cat named Chim, who has to wear looks like a wee helmet to protect his little head, since he has a severe case of cerebellar hypoplasia.
"Basically the portion of his brain that controls balance and stability is under-developed," says Bean. "He can't walk and his wobbles a lot. Other than that, Chim is a perfectly healthy, awesome little guy."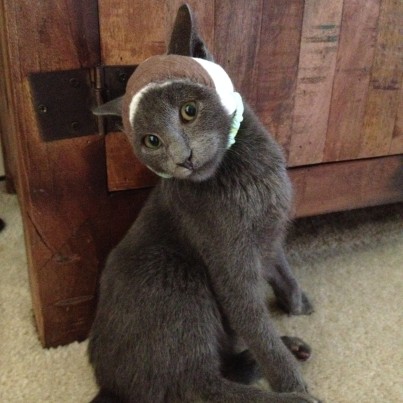 Photo credit: Karen Bean
He's an awesome little guy who, just like the others, loves snuggling with the dog.
"Conall has always been patient and snuggled with all our foster kittens. I really feel he recognizes that they are just babies and they need care," says Bean.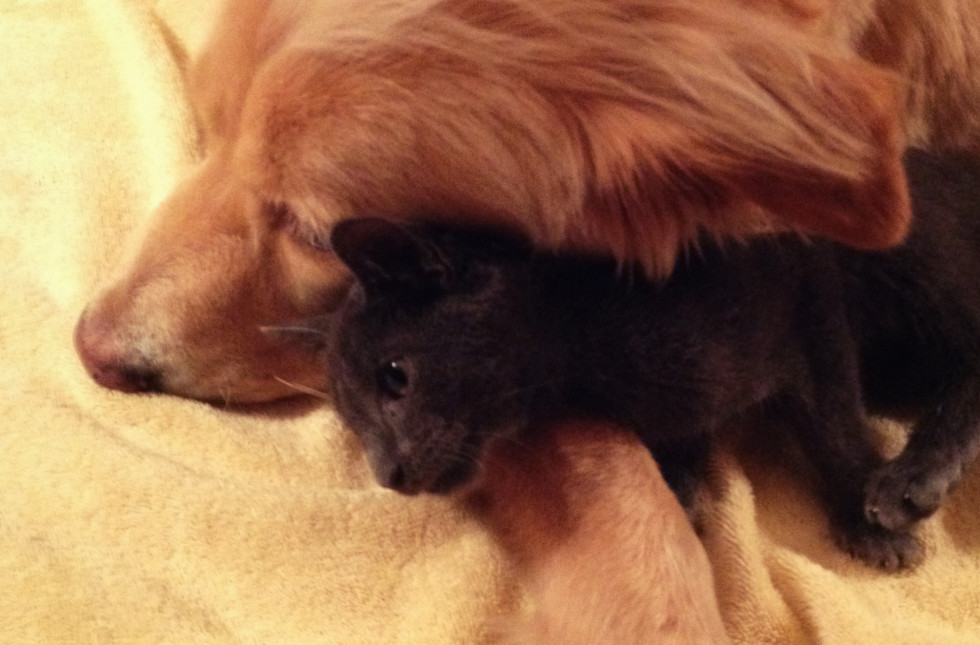 Conall with Chim. Photo credit: Karen Bean
"The best part about fostering is caring for an animal in need and then sending them on to a loving home." Bean says. "The last part can be difficult, though."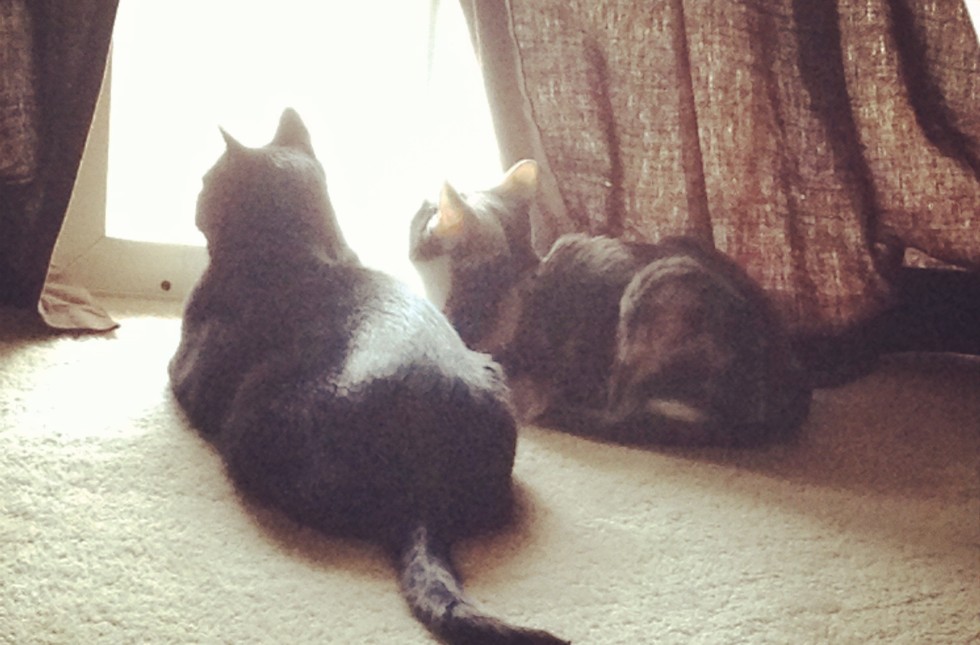 Bean cats birdwatching. Photo credit: Karen Bean
Do you have an animal story to share? Get in touch at arin.greenwood@huffingtonpost.com

Calling all HuffPost superfans!
Sign up for membership to become a founding member and help shape HuffPost's next chapter
BEFORE YOU GO
PHOTO GALLERY
Animal Photos Of The Week