Cassidy is a teeny, formerly feral kitten with no back legs who just took his first steps in a bitty wheelchair made specially for him.
It's a few small steps for this kitten, one hopefully giant step for the compassionate treatment of all cats.
Cassidy was born to a feral mother about four months ago, at the beginning of July. It's believed that he lost both legs below the knee soon after.
"This is somewhat grisly, but we suspect his mom may have accidentally chewed them off when she was trying to detach his umbilical cord at birth. It's incredible that he survived," says Shelly Roche, a Canada-based cat advocate and founder of the website TinyKittens.com. (That site's about to take up a lot of your day; it's where Roche livestreams her foster kittens' adorable exploits, from the day they come in until they get adopted.)
Indeed, the kitten survived an incredible nine weeks outdoors, until he was spotted by the person who owns the property where Cassidy's colony lives.
"He saw Cassidy walking around on his front legs like a reverse Velociraptor, and texted me," Roche says.
At the beginning of September, Cassidy and his surviving littermate, Topper, were caught and brought to Tiny Kittens headquarters -- otherwise known as Roche's home in British Columbia.
The poor wee thing was emaciated at the time of his arrival, weighing just over a pound. He also had a serious, life-threatening infection, and wasn't able to urinate on his own.
If his odds didn't look good right away, they've gotten better every day since. He's doubled his weight and gone "from a prognosis of certain euthanasia -- according to the ER vets -- to the thriving, happy, playful little guy you see in the videos," Roche says. "He has the heart of a dragon!"
As of last week, he's a dragon outfitted with a fine set of wheels -- which are occasionally employed to chase Roche's other cats around the house.
We can't not tell you about the wheelchair. It was designed, built and donated by Andrew Phillips, owner of Handicapped Pets Canada.
Phillips says it's the smallest wheelchair he's ever made -- and that includes ones he's made for bunnies, who are "a little bigger" than Cassidy.
Cassidy will keep his chair until he outgrows it, at which point it'll be returned to Phillips -- who plans to then pass it along to the next nano-sized creature who needs this kind of help.
"I find my job very rewarding," Phillips says.
Most of Roche's fosters are eventually adopted into permanent homes. Because of his ongoing medical issues, it's too soon to say if and when Cassidy will be up for adoption.
However long he's at chez Tiny Kittens, Cassidy will be on camera, delighting his admirers and acting as an ambassador for Roche's pet issues: Namely, promoting spay/neuter programs to reduce cat overpopulation, and demonstrating responsible pet ownership.
He's also a living, breathing, wheeling-around advertisement for cats more broadly.
Roche calls Cassidy's survival a "miracle," but this miracle is backed by a whole lot of work and love.
She hopes that Cassidy, in turn, inspires folks to help make life better for all kitties -- whether they are born healthy and at home, or into far more challenging circumstances, like Cassidy was.
"He shows that even though he is 'broken' and 'different' he still has so much to offer, and that he was worth saving," says Roche. "I want people to see that every life has value. I want to give our rescue cats and kittens a voice."
Get in touch at arin.greenwood@huffingtonpost.com if you have an animal story to share!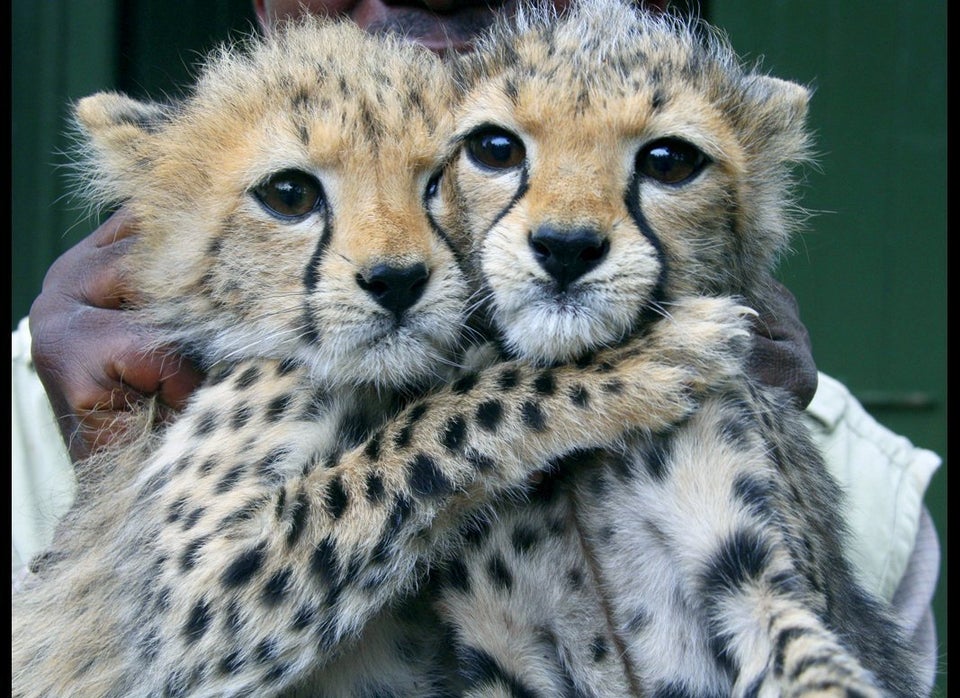 Baby Animals
Related