From the day she came home, Matilda the foster kitten has been obsessed with Lisa Revella Morabito's pit bulls. And Morabito has a lot of pit bulls to capture this girl's not-always-completely-useful attention.
"She tries to nurse off of Spike," says Morabito, "which is funny since he's our only male dog."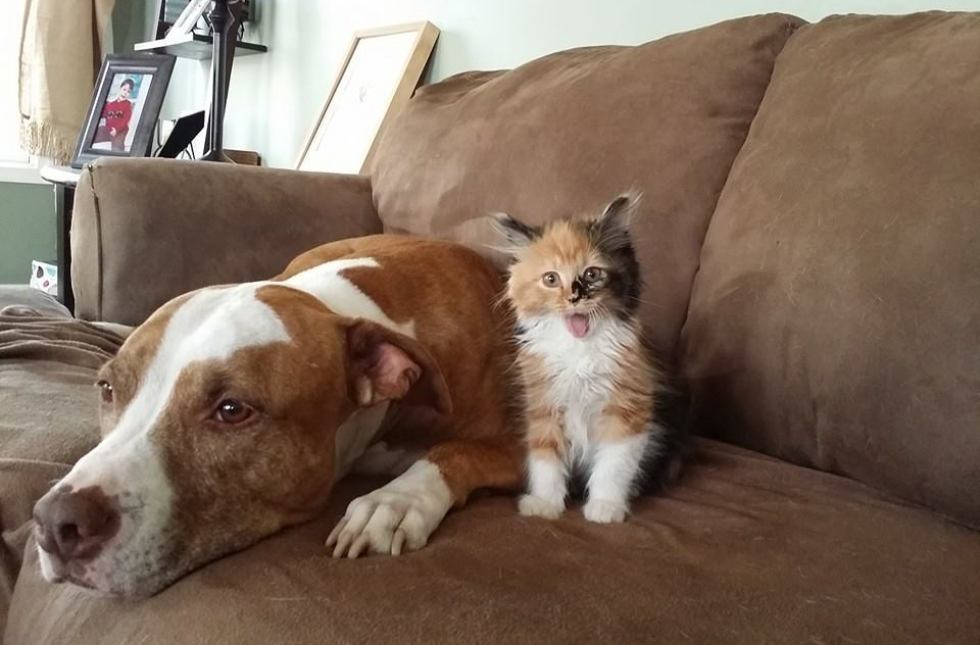 Spike, the boy, is 9 years old, and, no, he is not lactating. Piglet is a deaf 8-year-old pit mix who was rescued from a dog fighting situation about seven years ago, and is now a therapy dog. Betty White, also a pit, is 7 years old and was brought to BARCS -- the Baltimore animal shelter where Morabito is director of operations -- about a year and a half ago with severe burns, and now visits schools as part of a humane education program.
"She became a 'foster fail,'" says Morabito, which is what it's called when an animal brought in temporarily ends up sticking around. "She is so sweet."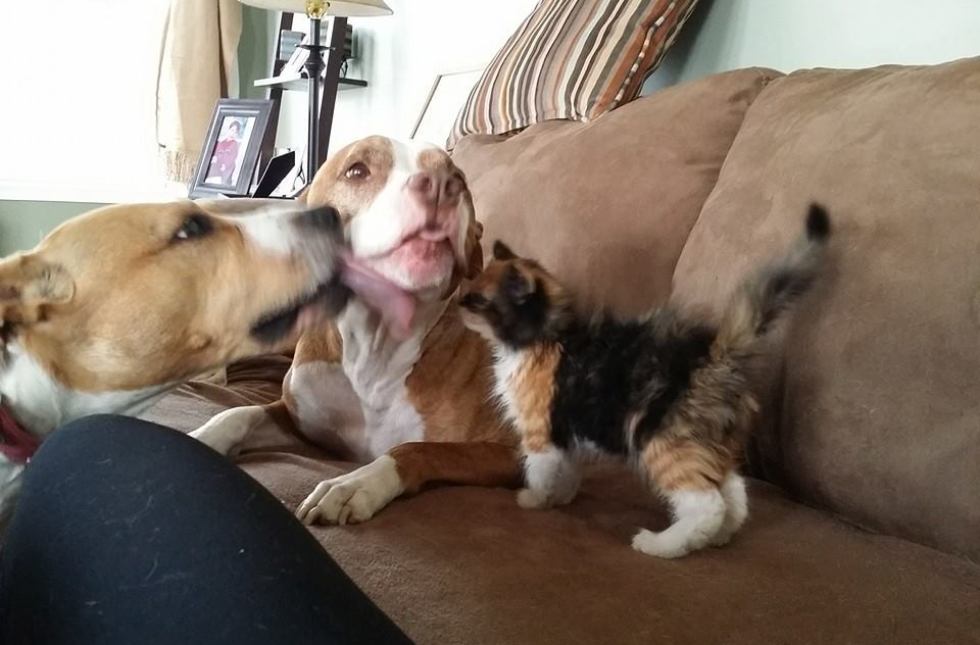 Another pet who came in as a foster, and never left, is Fiona the cat, who is about 9 months old. Reed, one more cat, was taken in as a stray six years ago. And a final animal member of the household, Bella, is a 7-year-old French bulldog who was rescued from a puppy mill raid.
"She runs the show in the house. The dogs all let her boss them around and the cats love her," says Morabito. "We've had her six years."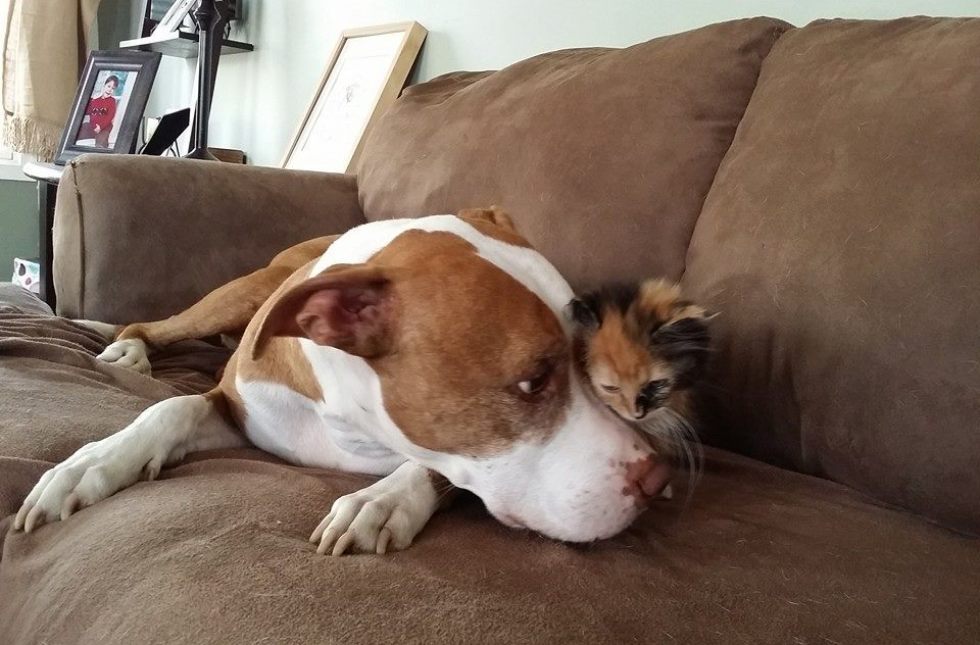 Matilda turned up at BARCS as a skinny stray about two weeks ago. Morabito incorporated the kitten into the household "to get her fattened up and socialize her," she says.
It's gone remarkably well. "Her cuddling with all of the animals is adorable. Matilda usually runs around in the morning and plays with Fiona because the dogs sleep in as late as we'll let them," Morabito says. "Once the afternoon hits and the dogs have been fed and walked, they retreat for more napping and Matilda joins them then for cuddling."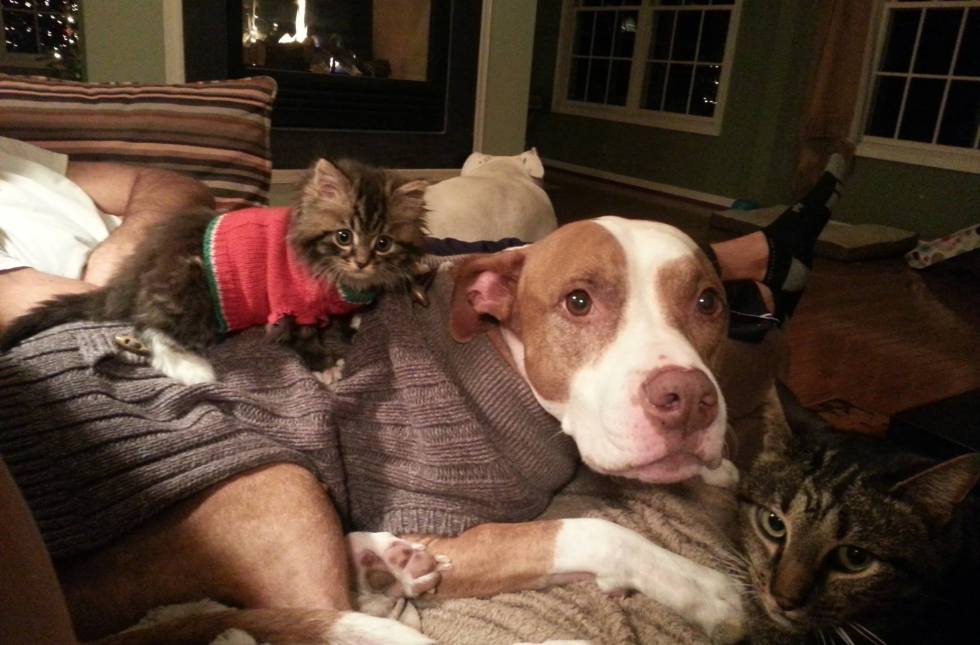 Thanks to eagle-eyed readers who wrote in to say they thought the kitten in this photo is not, in fact, Matilda. We checked up, and Morabito confirms that this kitten is "Puff Daddy, our foster who was adopted in December." Looks like more than one little cat loves the family pit bulls!
But even though Matilda is said to be "even cuter in real life" than she is in these photos -- which, frankly, we find hard to believe -- Morabito says she is still on the hunt for this little fluffball's forever home. Ideally one that already has some animals in it, maybe even some pit bulls, and with people who are ready to give Matilda a lot of attention for the next 15 years.
"My husband is not a cat person and I had to basically promise my life away that we will not keep another after Fiona," she says. "It's also kitten season here. Today alone we got in 21 kittens under 10 weeks so I do want to get her adopted so that I can take another."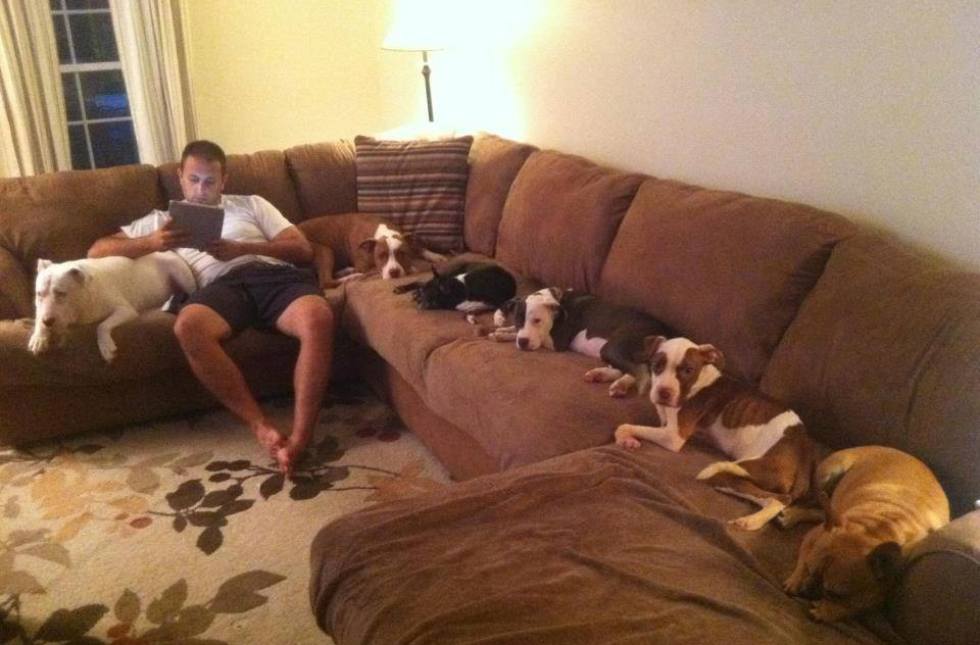 Find out more about Matilda the kitten from the BARCS animal shelter. And get in touch at arin.greenwood@huffingtonpost.com if you've got an animal story to share!
UPDATE, May 8, 2014: Great news! Matilda's found her forever home, Lisa Revella Morabito tells us. And hopefully her new family will also have a camera.
Before You Go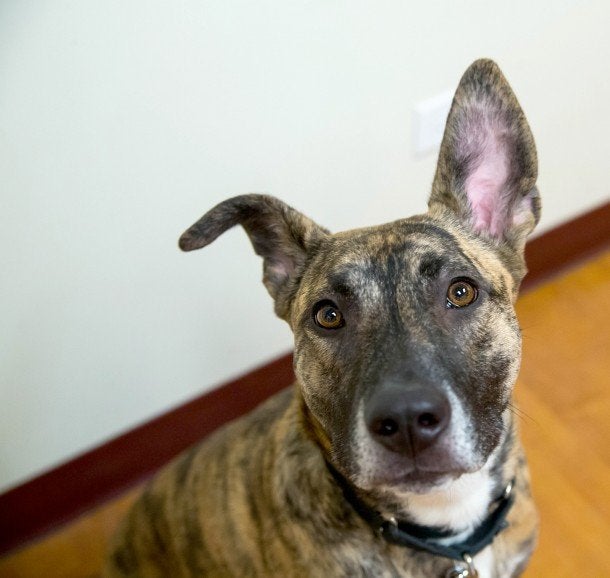 These Pit Bulls Need Homes!
Popular in the Community