Talk about being saved by a whisker.
A pair of kittens is on the mend after they became trapped inside a pile of burning brush in North Dakota, only to be saved by a passing photographer who heard them crying.
"My first thought was, I am going to have to watch this cat pass away," Carlos Pacheco, who was photographing the controlled fire earlier this month, told Valley News Live.
Pacheco said he had been snapping photos for about five minutes at the blaze near Grandin, about 30 miles north of Fargo, before he heard their cries.
Pacheco told the outlet he saw one cat trapped beneath the flames and the other resting nearby, breathing in heavy smoke.
"It was too hot for me to even get close to it, which is why I was surprised that the cat was even in it. I had to shield myself with my jacket to even attempt to grab her," he said.
Once he pulled away the cats and placed them in a cardboard box, he brought them to Fargo's Cat's Cradle Shelter. Both kittens arrived "in shock," according to the shelter.
"All four of her paws are burned and blistered and her fur and whiskers are singed," the shelter wrote of one of the cats in an Oct. 15 Facebook post. "Her brother has no outward signs of injury, however he is in worse shape due to smoke inhalation."
"We thought we were going to lose him," the shelter's executive director, Gail Adams-Ventzle, told The Huffington Post Sunday, speaking of the little boy kitten since named Manni.
Though Manni suffered the least visible injuries, he had extreme smoke inhalation. Later tests also revealed that he had a heart murmur, Adams-Ventzle said. "We don't know if it had anything to do with the fire or not."
As for the little female, since named Pyro, Adams-Ventzle said she suffered what appeared to be third-degree burns to her feet.
Fortunately, the two cats have begun to heal nicely.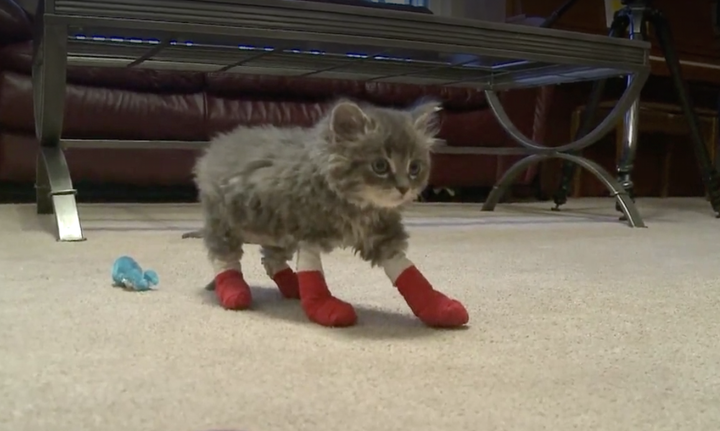 "They are doing GREAT!!!" the rescue group wrote on Facebook Thursday with photos showing Pyro's little paws wrapped up in bandages.
Once the kittens are fully healed they'll be up for adoption, though it likely won't take long for them to find a forever home. Adams-Ventzle said that Pacheco told the shelter he may once again offer the kittens his protection and care ― this time permanently.
"Either way, we're not splitting them up," she added. "They've been through so much together."