As engineers tinker away at perfecting self-driving cars, Google co-founder Larry Page is preparing to release a personal flying vehicle. 
An ultralight aircraft called the Kitty Hawk Flyer has been unveiled in a YouTube video that shows it zipping over a lake while commandeered by a single rider.
The electric, propeller-driven prototype is the work of Page's Silicon Valley startup company, Kitty Hawk, which announced that the vehicle will go on sale later this year.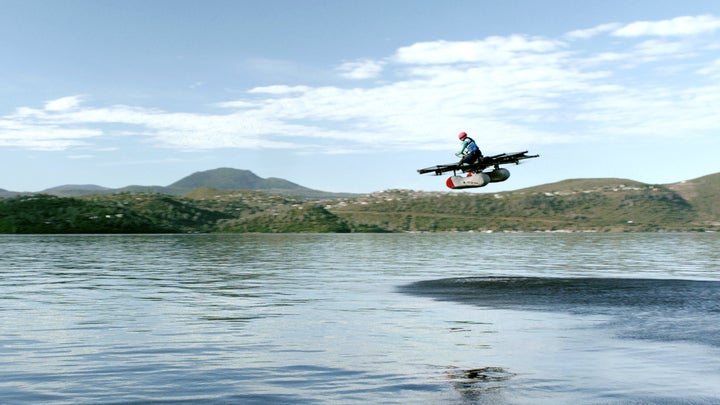 "As you can see it's a bit rough around the edges, but we were so excited to show you its capabilities that we didn't want to wait until we finished its design. The consumer version will be available by the end of this year," the company states on its website.
The prototype can fly up to 15 feet in altitude and can land vertically, eliminating a need for a runway, according to a press release by the company. The New York Times, which got a sneak peek at the aircraft, described the Kitty Hawk Flyer as sounding like a "speedboat."
No pilot's license or registration is required to operate the aircraft, according to the company citing the Federal Aviation Administration's ruling on Ultralight vehicles. The Flyer's use is limited to "uncongested areas" over freshwater, however. (Yes, that means no flying over lanes of stalled traffic.)
Many other questions remain unanswered, including how fast it can go and how long the battery's charge would last. The Times reported that today's batteries are unable to support trips up to 30 to 50 miles.
A Kitty Hawk spokesperson, reached by HuffPost by email on Monday, said they're unable to release more details at this time.
The final retail product is promised to have a different design than the prototype seen in the video released this week. The Times reported that it will also be a bit quieter.
Calling all HuffPost superfans!
Sign up for membership to become a founding member and help shape HuffPost's next chapter
BEFORE YOU GO