Kitty Kallen's death softly closes one of the last doors on a gentle yet deceptively powerful corner of 20th century popular music.
Kallen, who died Thursday in Cuernavaca, Mexico, at the age of 94, started out as one of "the ladies who sing with the band."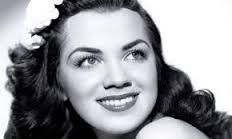 In her case, that included the bands of Jan Savitt, Jack Teagarden, Jimmy Dorsey, Harry James and Artie Shaw.
When the music business started to fragment after World War II, dissolving most of the big bands, Kallen followed the crowd and went solo, scoring her biggest hit in 1954 with "Little Things Mean A Lot."
She was voted top female pop singer of 1954 by Billboard and Variety. She appeared at the Copa and on American Bandstand. She sang on Broadway in Finian's Rainbow.
Like far too many of her fellow band singers, she then crashed into career-crippling problems, in her case paralyzed vocal cords. After a long hard battle she regained her voice, just not her spot on the radio. She hit the top 20 a final time in 1963 with "My Coloring Book" and finally retired relatively young.
Happily, her lovely and velvety smooth voice lingers on, and nowhere with more poignance than on "It's Been a Long, Long Time."
She recorded it with the James band around the early fall of 1945, just after World War II had ended. The song was conceived some 13 years earlier, but writer James Terlingo sold the rights, and the 1945 version was written by Julie Styne, with lyrics by Sammy Cahn.
Those lyrics were simple and sentimental: "You'll never know how many dreams / I've dreamed about you / Or just how empty they all seemed without you." They were written in the words of the girl back home, welcoming the soldier they both knew might never return.
Interestingly, they weren't a holler of joy. They were more pensive, almost melancholy. It had been a long, long war.
"Long Long Time" was among the last of the sweet, wistful ballads that permeated the music of America during the war: "I Don't Want To Walk Without You," "I'll Be Seeing You," "Til Then," "When the Lights Go On Again," "I'll Walk Alone," "Sentimental Journey," "Long Ago (And Far Away)."
"The White Cliffs of Dover."
It was a cornucopia of wonderful songs, written by the best writers of the day. They feel curiously unlike the songs from any other war, memorable as many of those songs also have been.
World War II just happened to come at a time in the popular music cycles when lush big bands with sweet-voiced female singers were producing a lot of the hits.
Hate the situation, love the music.
By the time we got to our next all-consuming war, Vietnam, rock 'n' roll had finished off the ladies who sang with the band, at least for top-40 purposes. The songs that resonated during the Vietnam war were more along the lines of Jimi Hendrix, Creedence Clearwater Revival, Junior Walker's "Shotgun" or, later, Marvin Gaye's "What's Going On."
First-rate stuff. Just a world away from the lonesome ballads that captured the sad ache of the previous generation's war.
With Kitty Kallen's death, pretty much all the singers who popularized those songs are gone. Doris Day is still with us, in her 90s. Vera Lynn, who sang those songs in Britain, is still alive at 98. Not many others.
Happily, their music is too good to vanish - and the context in which they recorded it is something we'd do equally well not to forget.
Calling all HuffPost superfans!
Sign up for membership to become a founding member and help shape HuffPost's next chapter