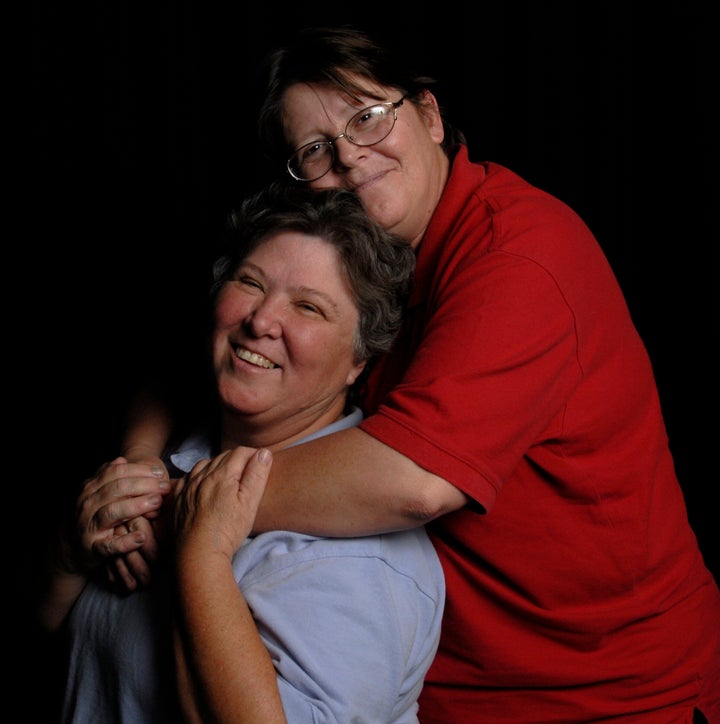 NEW YORK -- Two Buffalo women plan to be the first to legally wed under the state's new same-sex marriage law, which goes into effect on Sunday, one month after Gov. Andrew Cuomo signed it into law. The pair, Kitty Lambert and Cheryle Rudd, are to be married the minute after midnight as the Niagara Falls are lit up with the colors of a rainbow.
Sounding much like any other nervous newlywed-to-be, Buffalo resident Lambert told HuffPost they were "really excited, a little overwhelmed, a whole lot frightened." After 11 years together, she said, "I don't know why I'm frightened by this commitment."
Jitters or not, the couple has a big ceremony planned. Lambert, 54, and Rudd, 53, have five adult children and 12 grandchildren. The umbrella advocacy group New Yorkers United for Marriage is promoting the marriage as the first of its kind in New York State. Local politicians will be in attendance along with an estimated hundreds of friends and gay rights advocates for a meal, speeches, and a candlelight procession on Goat Island that will lead across Bridal Veil Falls and then to Luna Island. And the falls, of course, will be illuminated to look like a rainbow, a symbol of the gay rights movement.
During their many years together, Lambert and Rudd have faced challenges that no legally married pair would. When Rudd was in the hospital battling an aggressive thyroid cancer, a relative challenged Lambert's right to visit her.
Lambert said she was incensed. "I sleep next to her for how many years now, and you're going to tell me I'm a stranger?" she asked. But that is what she was, legally speaking, in the eyes of New York State. After their ceremony on Sunday, Rudd said, if her cancer ever goes out of remission, "nobody can stop us from coming into the room. If I need her for anything she's there, they can't stop her."
That experience and others like it informed Lambert and Rudd's work with their own grassroots advocacy group, OUTspoken for Equality. After eight years of advocacy that began at a time when the goal of marriage equality in the Empire State seemed distant, Lambert said, "there's no money for a honeymoon. We were a grassroots organization. Everything we did came out of our own pockets."
Their work may have paid off: one of Buffalo's state senators, Republican Mark Grisanti, was a critical last-minute convert to the gay marriage cause. Members of OUTspoken met with Grisanti at a luncheon held in Lambert's art gallery before the vote to discuss the need for the protections that marriage could offer to gays and lesbians. In his floor speech, Grisanti cited extensive research and meetings with constituents as critical in coming to his decision.
Grisanti won't be attendance on Saturday night and Sunday morning -- he has another wedding to attend, a relative's -- but Lambert said he was invited, along with other politicians, because they had "really put themselves out there to accomplish this task."
Task accomplished last month, Lambert reached out within days to an acquaintance of several years, Niagara Falls Mayor Paul Dyster, to officiate their ceremony. Lambert said she had long dreamed, growing up as a girl in Arizona, of getting married at Niagara Falls. One marriage later (to a man), she will live that dream, and Dyster is happy to accommodate.
The Marriage Equality Act also gives Niagara Falls an opportunity to "revive this image of us as the honeymoon capital of the world," Dyster said.
Within the town, Dyster noted, the marriage ceremony was "obviously the hot topic of conversation all across the city." He'd heard plenty from Catholic and conservative Protestants who had their misgivings, he said, but he believed "it's also the case that the community as a whole recognizes that the law has changed and there's an economic opportunity."
Dyster added that the gay marriage law made it easier for people he knows -- the owner of an inn, a woman in a tourism meeting -- to talk about their own lives as gays or lesbians, or as family members of gays and lesbians. He had heard for the first time emotional stories from friends about family members dying of AIDS.
"All of a sudden people who are gays or lesbians can talk about it," Dyster said. "So we're finding out that there are a lot more people we know who are gays or lesbians than we thought."
Niagara Falls is sure to get plenty of free publicity from the weekend celebrations, and the local tourism bureau is ramping up its effort to attract gays and lesbians to the area. But the city won't be spending any money on the ceremony, Dyster said. He is paying the $35 cost to keep Niagara Falls illuminated past midnight.
Across the state in the capital, Albany, the mayor plans to hold a spate of ceremonies, with a state Supreme Court judge at the ready to waive the legally required 24-hour waiting period between a marriage license and matrimony.
Dyster is not worried about the competition. "I don't know that anybody's got atomic clocks running on this anyways," he said.
Later in the day, New York City clerk's offices will be open for special Sunday hours to handle 823 couples eager to collect their licenses, and Mayor Michael Bloomberg will oversee the marriage of two of his employees.
Dyster said attorneys were working on figuring out how to beat all the other competitors to be the first, which also include the Town of North Hempstead on Long Island, as reported by Patch.
Whatever happens on Sunday night, Lambert and Rudd are happy. "This whole thing has been a wonderful journey and I did it with the best person. Absolutely the best playmate," Lambert said.
Popular in the Community