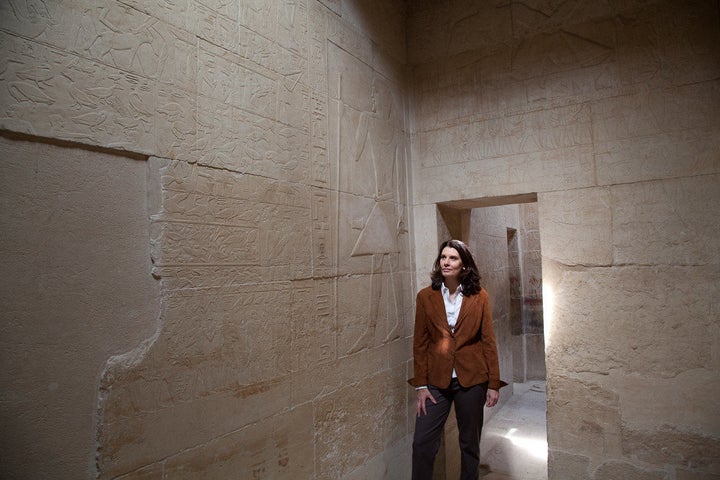 In 2009, after a long day of reporting and anchoring on CNN, Kitty Pilgrim would take the train north to her home in upstate New York. With two sons in college and a partner who traveled frequently on business, she'd often arrive to an empty nest. So she started writing.
"Commuting home I had more than an hour on Amtrak to write -- to let go of the insanity of the day and put myself in a glamorous, luxurious world," she said.
Over 18 months, Pilgrim's personal escape became The Explorer's Code -- a romantic thriller about an oceanographer, Cordelia Stapleton, who arrives in Monaco to pick up a posthumous award for her great-great-grandfather, a Victorian polar explorer. Stapleton receives his journal at the event, and learns she is heir to a missing deed for land occupied by the Svalbard Global Seed Vault, a secure storehouse of global seeds built to ensure biodiversity in the event of disaster. She teams up with a handsome archaeologist, and the two traverse Europe in search of the deed, stalked by ruthless Russian mobsters, evangelical cult members and others seeking the document. A subplot follows the decoding of the genome from the 1918 flu pandemic.
When Pilgrim finished the novel, she called an agent she had the good fortune to sit next to at a dinner –- Mort Janklow of the storied agency Janklow & Nesbit, which had launched Danielle Steel's career. "He said, 'I'll represent you but this will be very intense … you need to quit your job,'" Pilgrim recalled. "I was really hesitant to walk away from a solid paycheck and anchoring a primetime broadcast." But in June 2010, when her CNN contract came up for renewal, she left her 24-year broadcast career behind and signed a book deal with Scribner.
"The Explorer's Code" is now in paperback and Pilgrim's second novel, "The Stolen Chalice," was published on June 26. A third book is in the works. I recently spoke with Pilgrim about her post 50 career change. (Full disclosure: Pilgrim and I worked together over a decade ago at CNN.)
Had you ever written fiction before?
I wrote a Sherlock Holmes series when I was kid with me as his niece; I always wrote but I never thought I could be novelist.
You call your books "fact-based fiction." You're a member of New York's historic Explorers Club, have traveled to the places described in your novels and shoot videos as well. Why that approach?
I'm not a novelist by training; the only thing I know how to do is to go to the place, eat the food, see what it's like. I report and write the way I always did news packages, because my skill set only extends that far. The research takes three months; the writing is six months. I pick locations, scientific themes and include real details -– my intention is to inform as well as entertain. For The Explorer's Code I fact-checked the 1918 flu pandemic at the Harvard School of Public Health. The Svalbard Global Seed Vault is real –- I went up there. In the enhanced ebook, you can hit a link and see videos of the places [in the novel]. I really wanted to do intelligent escapist fiction.
Some post 50s say that reinvention is only for people who are affluent and well-connected. What would you say to them?
The craziness of the reinvention trend is that you have to do a dramatic movie scene -- quit your job, throw your stilettos into a bag and march out. The idea that you have to clear the decks and reinvent yourself is nonsense. You have to be smart about it. From writing to having a hard copy, the first book took a year and a half. I couldn't have gone without income for that long.
Don't give up your day job. You have to reach down into yourself and find that extra half hour a day to do something you care about a lot. If you want to do a reinvention, do it slowly and make sure you have your ducks lined up in a row. Do it from a positive perspective -- don't wait until you're out of work. You could be flying high in your current job, but think five to 10 years ahead. If you're sitting there unemployed, your creativity is not going to be very high.
The other thing is you don't need any big connections. All you need is one connection and a lot of determination to make the switch.
How did your family react to your career change?
It was very funny because my sons were really concerned. They sat me down and said, "Mom, you can't quit your job to write a romance novel; you're delusional." My son Beau was with me when I got the contract for a two-book deal from Scribner. We had a drink to celebrate at Bar and Books, a cigar bar on the Upper East Side. He called his brother on his cell and said, "Dude, you can't imagine what we're doing right now."
What's the riskiest thing you've done in your life since you've turned 50?
I went dog sledding on the polar cap, slipped off and was getting dragged by the dog sled. We were out in the middle of nowhere. We were 50 yards behind [our guide] and the dogs were going fast. My [videographer] was yelling, "Hang on! Don't let go!" I hung on. Otherwise, you'll be sitting there until they can come back and get you –- and you risk becoming a morsel for a polar bear.
What's the one thing you know now that you wish you knew when you were growing up?
That you actually don't have to try so hard to be something. Everyone keeps saying "What do you want to be?" You become that person by following your own strengths and interests.
At this stage of life, what's the one rule you feel you can break with impunity?
I can eat cake when it's not my birthday.
What is your greatest accomplishment?
Raising my children on my own while being a CNN reporter. My marriage dissolved when they were in preschool. I was in a bad situation that took a lot of effort to get out of, but I knew if I didn't I would be sitting around 10 years later regretting it.
I have six books outlined and the third is in progress. I'll write as many as I can. I also formed a media company to branch out into documentaries and other media products. I'm just learning the book industry and it's a huge learning curve.
What is the best advice anyone ever gave you?
No one ever gave me any advice. My mom always said, "you'll be just fine."
REAL LIFE. REAL NEWS. REAL VOICES.
Help us tell more of the stories that matter from voices that too often remain unheard.
BEFORE YOU GO
PHOTO GALLERY
Kitty Pilgrim