There never seems to be a lack of news stories highlighting the sad reality of abuse, neglect and abandonment to which companion animals are subjected. Some incidents are so horrifying they could cause a reasonable person to question other's humanity. There is, however, another side to the connection between people and companion animals. A side that is more hopeful and positive. A side where people come to the aid of animals in need, even at great personal sacrifice. This is one of those stories.

A few months ago in New York City, a man noticed six cats living outside of his apartment building. This is not an uncommon occurrence in the city. New York has a large feral cat population, but also has a number of cats who are simply abandoned in the streets by people no longer willing or able to care for the animal they have housed. This particular Good Samaritan undertook the task of feeding these six cats.

One cat in the group stood out because her hind leg dragged on the ground when she walked. Concerned that she was in pain and needed medical attention -- but having his own cat who did not tolerate other felines in the home -- this Good Samaritan sought out a local rescue organization to help the injured cat. That rescue was KittyKind, Inc., a no-kill, not-for-profit cat rescue that is based in the Union Square Petco in Manhattan.
Each year KittyKind, which is an all-volunteer organization, takes in hundreds of cats from the city streets -- many of whom are sick or injured -- with the ultimate goal of finding these cats loving homes.

KittyKind volunteers named the cat with the injured leg "Cherry," and placed her in a foster home. X-rays revealed that Cherry was likely struck by a car, resulting in a broken leg and dislocated hip. Because Cherry did not receive immediate medical attention after she sustained the injury, her leg and hip failed to heal properly. The only option which would allow Cherry to recover from her injury was to amputate the wounded leg. When Cherry's rescuer heard about the necessary surgery, he immediately volunteered to cover the cost of her medical care.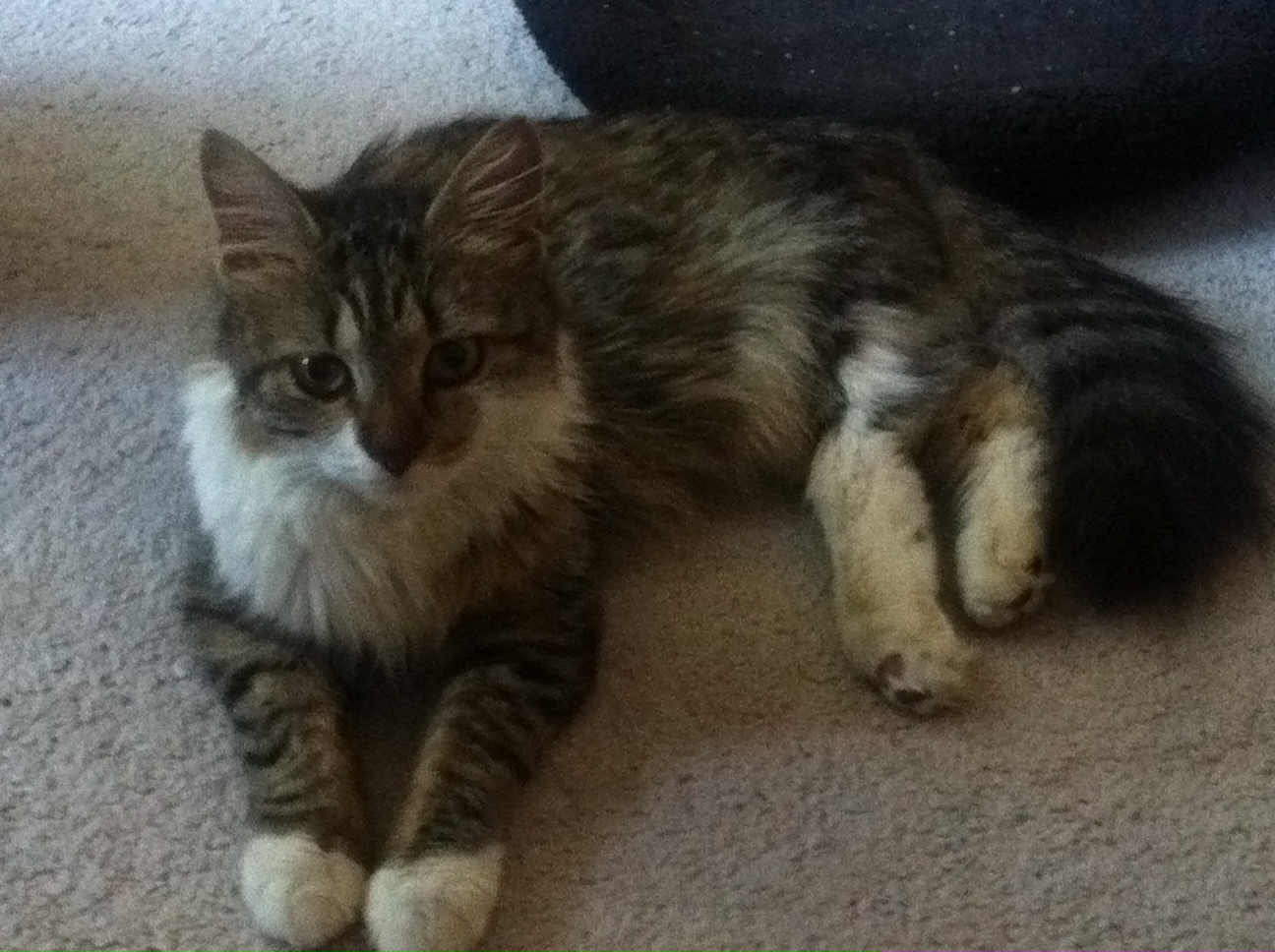 Cherry before her surgery with her injured leg.
Prior to the surgery, Cherry was a quiet and aloof cat, rarely displaying typical kitten-like behavior. After she recovered from the amputation, however, Cherry became a different cat -- bouncing and running around her foster home, and clearly enjoying human contact. Even more, she quickly adjusted to having only three legs and was able to get around as well as any other cat. Cherry was now ready to be adopted into a permanent home.
Cherry was an obvious candidate to represent KittyKind at the September 9, 2012 Adoptapalooza Adoption Event in Union Square, which was sponsored by the Mayor's Alliance for NYC Animals and the Petco Foundation. At the event, potential adopters looked past her injury and saw a sweet, loving and playful cat. A line of people showing interest in her quickly formed.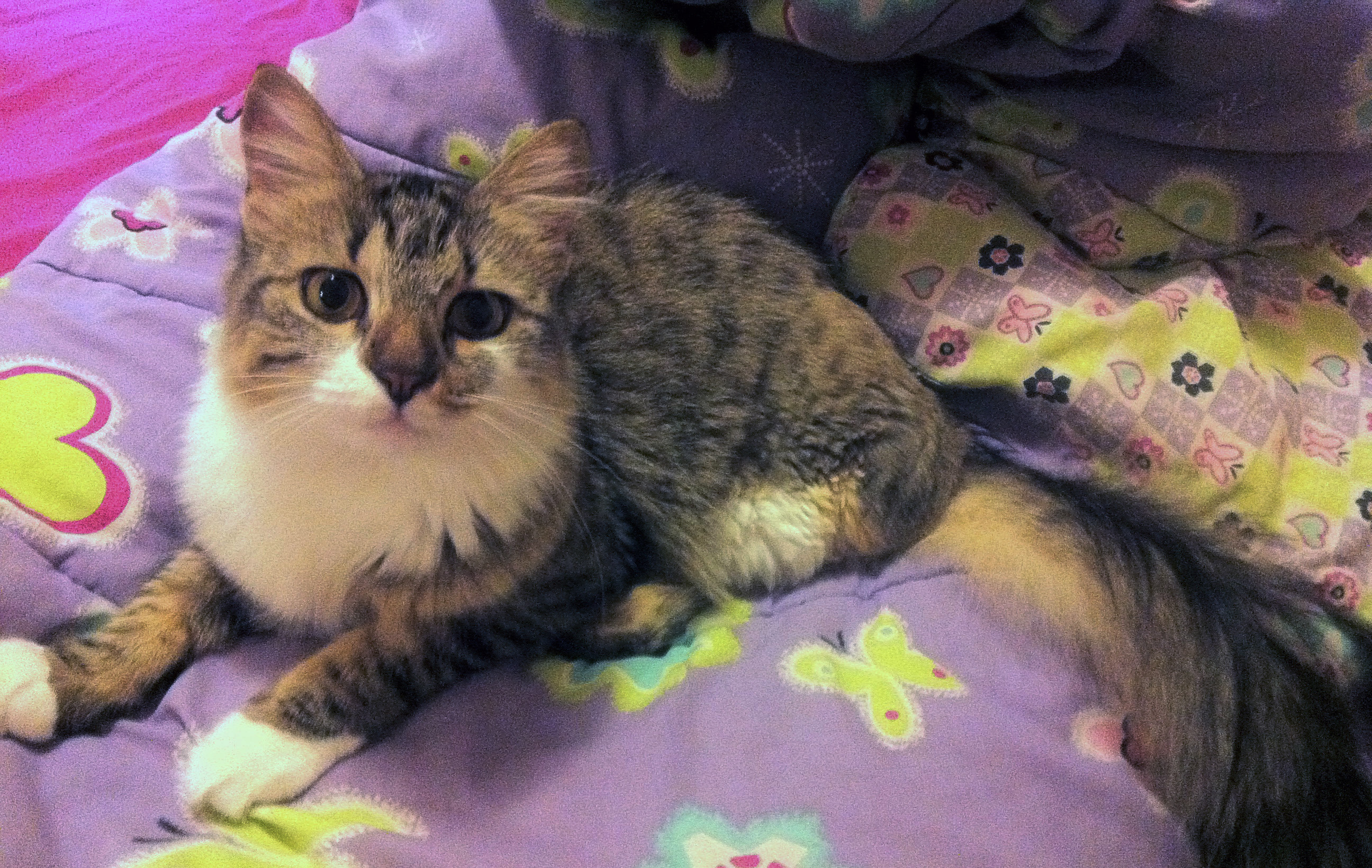 Cherry after her surgery, as a tripod cat, who can now get around much more easily.
Cherry now waits to begin her new life in a loving home, rather than the dangerous life that she had already experienced living on the streets. Her story would not have been possible, though, without the care and compassion of a New Yorker who sought to help an animal in need of medical care, and a rescue organization willing to work with him to see the story through to its happy ending. And Cherry's story is just one of many that could be written each day in New York City. If you are interested in adopting Cherry, contact zucca@kittykind.org.

You can help an animal in need by adopting, fostering, volunteering, or donating. Find out how at AnimalAllianceNYC.org.
Calling all HuffPost superfans!
Sign up for membership to become a founding member and help shape HuffPost's next chapter