From the island of picturesque landscapes, hobbits and rugby comes an actor by the name of K.J. Apa. 
The 19-year-old New Zealander made his U.S. debut last month, appearing in the film "A Dog's Purpose" and taking on the role of the red-haired comic book star Archie Andrews on The CW's latest hit show, "Riverdale." Prior to earning big and small screen roles in Hollywood, Apa, of Samoan descent, played Kane Jenkins on the New Zealand prime-time soap opera "Shortland Street" from 2014 to 2015 and appeared on the TV series "The Cul De Sac" in 2016.
But his new gig is amping up his recognition a bit. 
"When I was 13, my mom checked me into a modeling agency," Apa told The Huffington Post during a recent interview. "Then, out of nowhere, they asked me to audition for a TV show, which I did and I got going from there." 
Apa said he never aspired to be an actor ― he considers himself more of a musician ― but has come to love the craft through working on sets. If there's anyone's career he looks to emulate, it's not so much about their talent as it is their kindness. 
"I look up to a lot of actors," he said. "In terms of quality, I look at guys like Dwayne Johnson, for example, and Mark Wahlberg. Sure, they're not Oscar-winning actors, but everyone knows those guys turn up every day on set, there's never any drama, they work hard and they treat people well and I think that means a lot more, to me at least, than just being one of the best actors in the world. It's the way you treat people that really makes it." 
Below, find out more about Apa, his storyline on "Riverdale" and how he felt about the leaked video that almost affected the "A Dog's Purpose" release.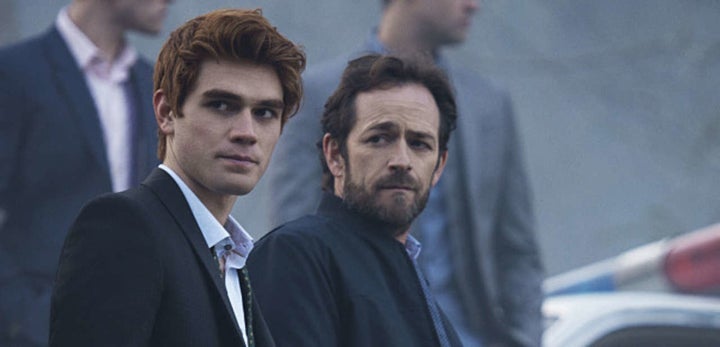 What has it felt like to be involved with "Riverdale"?
It's been awesome. It's been such a ride being able to work with Luke [Perry] and Cole [Sprouse]. I'm starting to become a family with these guys, because we're with each other literally 24 hours a day.
Are you ready for all the attention that comes with being a CW star?
I think I'm ready. I mean, I don't know. I don't really think about it too much and I think it's sort of a gradual kind of process. It's good that it doesn't just hit all at once.
What's been your favorite part about playing Archie? It must be cool to take inspiration from the comic books, but make the character your own.
It's definitely a responsibility to play this iconic character and, beyond that, I have to tread lightly and treat it with a lot of respect. I take it seriously. Although it's not a direct translation from the comics, it should still be honest and still play with all the iconic aspects that the comic had, as well. So yeah, I feel really great and thankful to be able to be a part of it.
What have you noticed about the "Archie" comics vs. "Riverdale"?
Overall, I think the characters in our show are dealing with real-life problems that anyone in high school can relate to. And I also think we're dealing with [a] murder mystery that is so much darker. Although it's different from the comics, it's also really similar at the same time. We still have the iconic love triangle, which is going to be playing out throughout the whole season.
Tell us about that love triangle between Archie, Betty and Veronica?
The middle of the season that we're in now, the triangle gets lost a little bit because we have such heavy storylines. We really do come back to it in the later half of the season, for sure, but everyone who's involved in the triangle have all gotten over what happened after the first episode. I think everyone is doing their own thing now, but for sure at the end in the finale it will [heat up again].
Yeah, for sure. They already have so much in common with the music. Archie does really like Valerie a lot because she's talented and, apart from being beautiful, her talent and music is something that Archie admires and he thinks that she can help him with his music, and he wants to be better. I think there's a lot of chemistry there. But I also think it's not going to ... it's only going to last without ... [pause] I was leading down somewhere that I probably shouldn't go! [Laughs]
Do you believe Archie and Betty belong together or are you a Veronica person?
I can't decide. Honestly, if you gave me the choice, I always say I'm like Archie because he's the most sympathizing person in the world. So, I can't say!
Are you passionate, like Archie is, about singing and performing as much as you are about acting?
I'm really passionate about music. I do love acting, but music is the end goal for me. Not so much singing, but more like playing guitar is something I really love.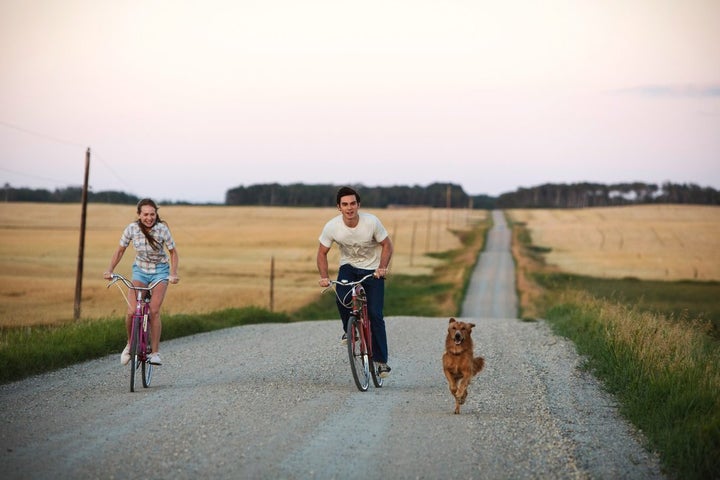 It was my first film ever and, to date, it was my favorite production that I've ever been a part of. It's a shame that a video has created an altered perception of a movie that's about love. They say that video was a little bit manipulating and, in a way, it created an untrue vision about our movie. Every day that I was on set, I witnessed firsthand our production and crew and the dog wranglers and the director, and they treated those animals with respect every time. I can only really judge from what I've seen with my own eyes and that's what I saw. I didn't see anything inappropriate or I would have stood up and said, "I don't believe in it." I have a lot of love for animals.
I love that movie so much, I think about it so much and it makes me cry sometimes —it has a place in my heart, for sure. For a first movie, I love it and I hope people love it, as well.
Now that the trainers have been cleared of the charges, do you hope more people will get out to the theater to see it?
It's that thing where all media is good media, you know what I mean? I think most people can figure it out for themselves. My thing was, why would they just so happen to release a video right before the movie airs? If they really cared about animals, they would have released that video as soon as it happened. That was something that I was thinking about. But the movie is doing really well and I'm really, really proud of it.
Anything you took away from playing Ethan in "A Dog's Purpose" that you brought to "Riverdale" to play Archie?
I think Ethan is really similar to Archie. I think, in life, those two characters are both growing up and figuring out what they're good at and figuring out their dreams. For Ethan, it's football, and for Archie, he thinks it's football but he realizes it's something else with music.
I can definitely relate, like going through the same thing with the old man where he wanted me to play rugby but I wanted to act so I went for it. The high school culture in America is so different than it is in New Zealand. I had to kind of adapt to and learn about a whole new culture. With the movie as well, that was the first time I had to play that. It's not hard – we're surrounded by it from movies and TV and this image of high school: the prom, pep rallies.
I loved working with Britt on that movie, she was incredible. Cami and Lili are great people ― really, really good actors. This is their dream, they've been going after this for a while and they've got it. I can't relate to that — I've been a person who never really wanted to act and I just kind of fell into it. I'm thankful for it and I love it now, but it wasn't really anything I was trying to do. But it's amazing because it's their dream and they're living it.
"Riverdale" airs Thursdays at 9 p.m. on The CW. "A Dog's Purpose" is in theaters now. 
REAL LIFE. REAL NEWS. REAL VOICES.
Help us tell more of the stories that matter from voices that too often remain unheard.
BEFORE YOU GO
PHOTO GALLERY
The Ten TV Shows America Couldn't Get Enough Of In 2016