Members of the Knights of the Ku Klux Klan turned out for a "meet and greet" in Spirit Lake, Idaho, on Saturday, only to find themselves outnumbered by law enforcement officers and people protesting their presence.
Only a handful of officers and demonstrators were needed to outmatch the KKK. KREM reported that only six supporters attended, and the event failed to attract any new members. Twelve law enforcement officials and 11 protesters showed up, often shouting down the speakers. Only one minor incident took place, when a protester reportedly unplugged a KKK speaker's microphone after he began using racial slurs.
A flyer released by the Aryan Nations said the event was designed to attract those "tired of illegal immigration," "hate crime legislation designed to target whites" and the "under reported non-white crime rate."
While Winkler's beliefs are fringe, even for Northern Idaho, he held enough sway to run for sheriff of Bonner County, Idaho, last year. He attempted to bolster his campaign with cross-burning events and outspoken racism, and was ultimately defeated handily by his opponents.
Correction: An earlier version of this story misstated the name of the county in which Winkler was running. Winkler was running for sheriff of Bonner County, Idaho.
Before You Go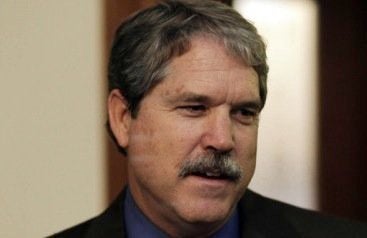 Racist Remarks Made By Politicians
Popular in the Community