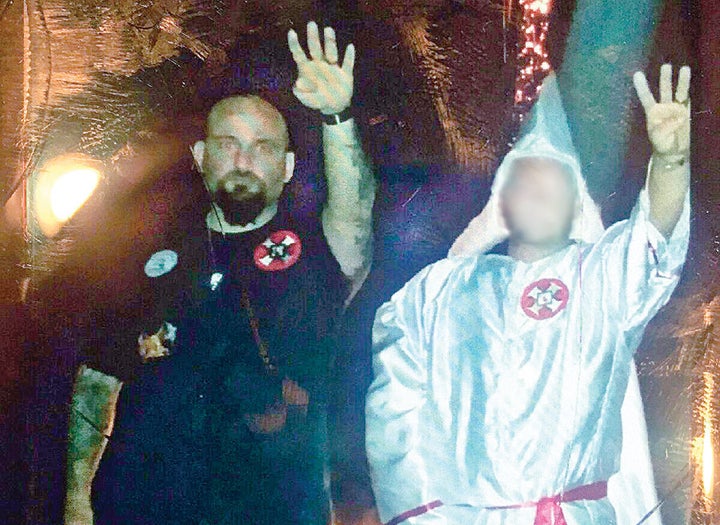 Louisiana police detective Raymond Mott was fired this week after a local newspaper showed him giving the Nazi salute and wearing a Ku Klux Klan crest at a rally.
The Jennings Daily News published a photo of Mott at a 2014 anti-immigration rally, wearing his KKK garb. Police Chief Ray Marcantel immediately called on the Lake Arthur Town Council to fire the officer, who refused to resign, according to the Southern Poverty Law Center.
The detective initially said he was working undercover when the photo was taken, but he later admitted that he was lying and was involved with the Loyal White Knights chapter of the KKK at the time.
On Wednesday, Mott tried to explain himself.
"The picture speaks for itself," he told local ABC affiliate KATC. "I'm standing at a rally against illegal immigration. There's not much to be said about the picture. I've never denied it was me."
Meanwhile, District Attorney Michael Cassidy told the paper that there were numerous complaints about Mott's conduct as an officer. Local authorities will review the arrests he made, and will likely drop charges against defendants in cases where Mott's testimony is the only evidence available.
Lake Arthur residents said they couldn't believe there was a member of the KKK on their local police force.
"Nowadays, all over the United States cops are getting killed and cops are killing others," Ace Beverly of the Better Lake Arthur Foundation told KATC. "Me, myself, personally, I don't want that to happen right here in my own hometown."
Support HuffPost
Every Voice Matters
Popular in the Community