Over the past month, a group identifying itself as the Loyal White Knights of the KKK has been bombarding homes in small towns in southern Georgia with fliers that appeared timed to the upcoming election.
Law enforcement officials say they've had dozens of instances of people receiving these fliers, which come in peculiar packaging. The fliers have been in ziplock bags weighed down by dry rice, occasionally left on people's yards.
One fliers obtained by The Huffington Post reads: "The KKK Wants You" with the subhead, "Help us fight the spread of Islam in our country." The flier lists a hotline number that goes straight to voicemail. The voice on the recording is of a man who says he is with the Loyal White Knights. Through heavy breathing, he uses a homophobic slur and calls for ending "third-world immigration into our white homelands."
"If they are such hard workers, how come all their countries are damn third-world hellholes?" the voicemail recording goes. The voicemail recording says that only "faggot communist liberals" are fine with immigration and asks "whitey" to "think about" that logic.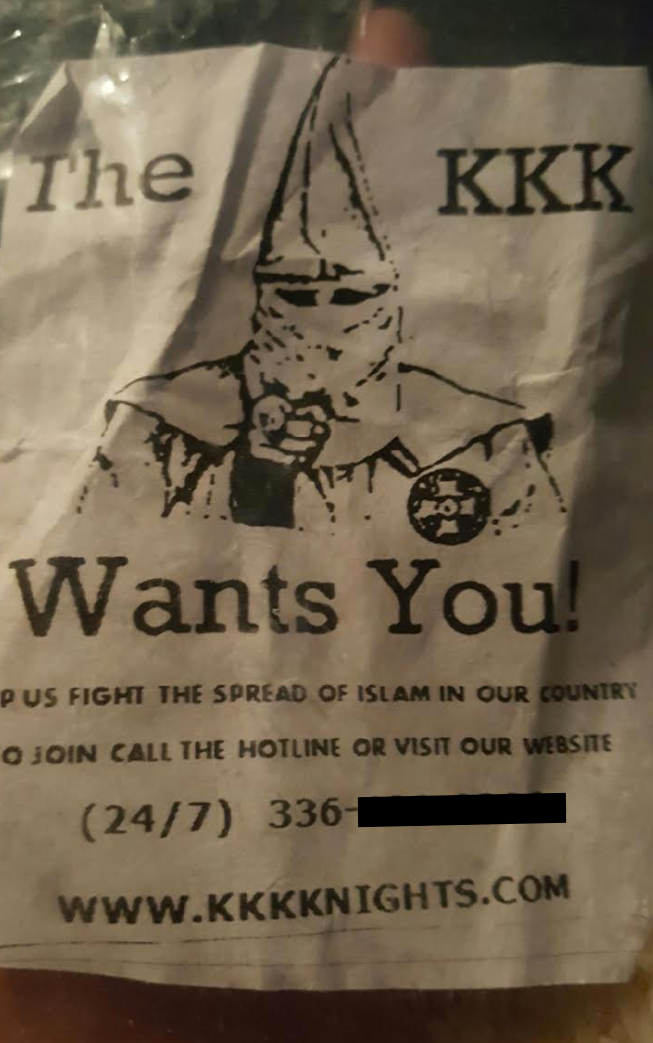 A law enforcement official in Homerville, Georgia, said they had no leads at the current moment about who was responsible for the fliers. But he noted that there was an uptick in recent weeks, including instances he had been alerted to in Albany, Georgia. 
"All we know is that they are being thrown out all over the city. We don't know who is throwing them out," said detective B.J. Hampton with the Homerville Police Department. "It is almost like a recruiting website. They are putting it in a plastic sandwich bag and putting rice in it so it won't blow away."
The HuffPost reader who passed along a copy of the flier said she was aware of other copies calling for voters to back Donald Trump and others offering support for Hillary Clinton (which, she suspected, was done to deliberately disturb Clinton backers). But Hampton said he had not seen any literature that referenced the candidates. The passing around of the fliers, nevertheless, comes amidst growing concern about the rise of hate groups during the course of the election, and particularly in its closing months. This week, the KKK's official newspaper endorsed Trump (which the campaign disavowed); a white nationalist began a homophobic robocall campaign targeting third-party candidate Evan McMullin in Utah (which he apologized for) and fliers from other hate groups have been reportedly distributed elsewhere in the South.
Another flier obtained by HuffPost had been sent to residents in Alabama, Georgia, Kansas and Louisiana.
"Please join and help us take our country back," the flier reads. "Black Lives Matter Black Panthers are telling followers to kill white people and police officers in the name of justice for the killing of Negro's [sic] by policemen in the line of duty. These Negro's were not innocent. They were thugs breaking the law, and standing up against police." 
Calling all HuffPost superfans!
Sign up for membership to become a founding member and help shape HuffPost's next chapter