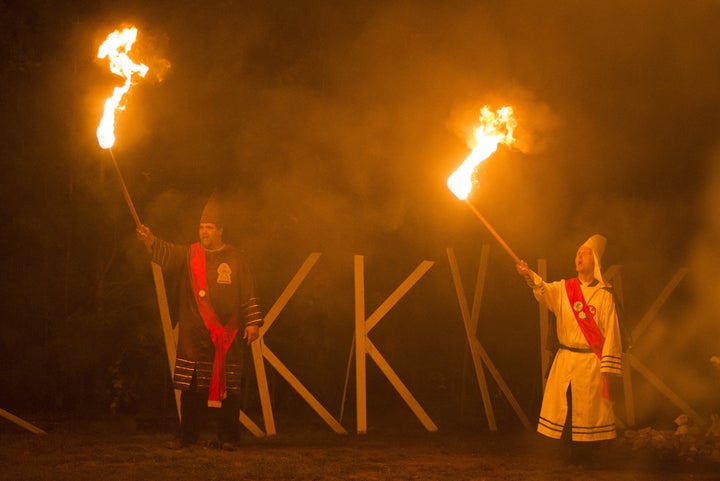 Anti-transgender advocates have friends in the KKK.
The leader of a white supremacy chapter has taken responsibility for hateful fliers found distributed to residents in an Alabama town urging them to join in standing up against the transgender community.
Grand Dragon Robert Jones, who oversees the Loyal White Knights KKK chapter in North Carolina, told The Huffington Post Tuesday that the fliers were distributed by their members in Alabama and Mississippi.
"I think that it's sick that the federal government is trying to push us on a state level," Jones said of his view on the Obama administration cracking down on a North Carolina law that prohibits transgender-friendly restrooms.
"I think that it's going to become an issue in the future," he said. "I have a feeling a lot of violence is going to come out of this."
Jones' claimed responsibility a day after a resident of Dothan, Alabama contacted police after finding one of the fliers at his door. It was one of at least two fliers found, Dothan Police Captain William Benny told HuffPost.
A copy of the flier, obtained by the Dothan Eagle, identifies transgender individuals as an "abomination according to the Kings James Bible," specifically Deuteronomy 22:5. That passage speaks out against individuals wearing clothing of the opposite gender.
The flier goes on to accuse transgender individuals of "jeopardizing the safety of bathrooms all across the nation for our women and children. This needs to STOP."
Jones called the fliers a success.
"We got five new members just today from Dothan, Alabama," he said.
Benny noted that the leaflet's content is protected by the First Amendment right to free speech, "no matter how vile it is." Still, he said they notified the FBI over it potentially promoting a hate crime.
Jones defended their language, however, calling their organization a non-violent, civil rights, Christian order, which fights for "equal rights for whites."
Asked if he's ever met a transgender individual he answered yes, saying "We see these people all the time." But he shrugged off the difference between gays and transgender people saying: "They all look the same to me. The men are dressed like women. The women dressed like men."
Benny said the homes that received the pamphlets Monday appeared to be at random.
"There's nothing that stands out in that neighborhood that would make me think of something like that," Benny said while referencing the LGBT community.
"There have been no other complaints. I'm hoping that this is just an isolated incident," he added.
He also said that, to his knowledge, there are no active KKK chapters nearby.
Contact info printed on the fliers direct individuals to the KKK's national hotline and website where they express anti-homosexual views.
The KKK's involvement comes amid rising controversy following North Carolina's controversial HB2 law which prohibits people from using a restroom that doesn't match the gender of their birth.
This story has been updated to include Jones' comments.
Before You Go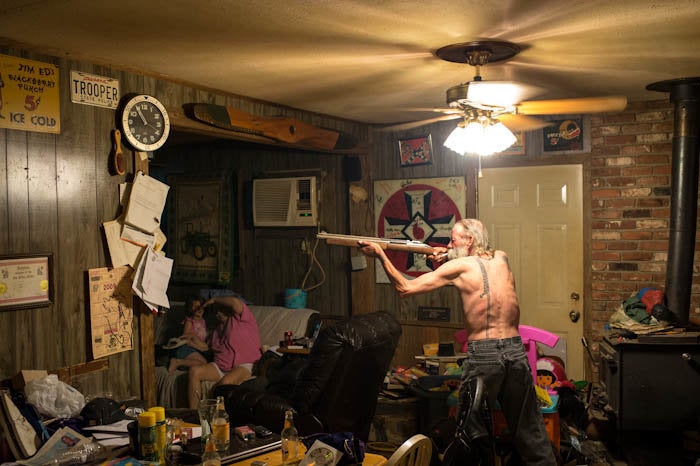 A Day in the Life of the KKK
Popular in the Community