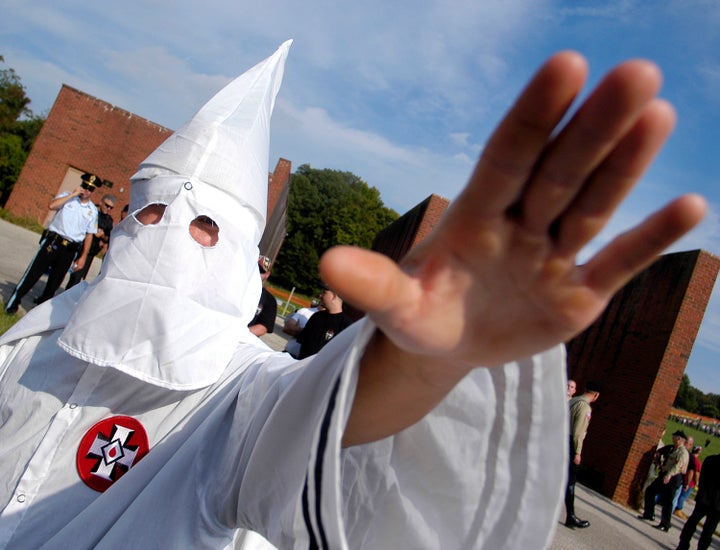 The Sons of Confederate Veterans is retaliating against the Ku Klux Klan for planning a rally in Memphis against the renaming of three city parks, Fox 16 and WREG Memphis report.
The KKK applied for a permit to hold a March 30 rally in opposition to the renaming of three parks -- Nathan Bedford Forrest Park, Confederate Park and Jefferson Davis Park. The Tennessee leader of the KKK reportedly told Action News 5 the gathering would be "the largest rally Memphis, Tennessee has ever seen."
"It's not going to be 20 or 30. It's going to be thousands of Klansmen from the whole United States coming to Memphis, Tennessee," said the leader, known as the "Exalted Cyclops."
The group Sons of Confederate Veterans opposes the KKK's plans to gather, spokesman Lee Millar told Fox 16.
"I'm afraid that a counter rally or an anti-Klan rally from other elements in the city might show up and the situation might turn into a riot or something ugly as it has before," Millar said. "So we would prefer that the Klan not come to Memphis."
Despite his opposition to the KKK rally, Millar said he agreed the park names should be left alone.
"These are 100 year old historic parks," Millar said. "They need to leave the names alone. By changing them, they're bringing a lot of rage among the citizens of Memphis and drawing personal attention and negative attention to Memphis trying to erase history."
The statue of Confederate fighter Nathan Bedford Forrest astride a horse towers above the Memphis park bearing his name. It's a larger-than-life tribute to the warrior still admired by many for fiercely defending the South in the Civil War – and scorned by others for a slave-trading past and ties to the Ku Klux Klan.

Though the bloodiest war on American soil was fought 150 years ago, racially tinged discord flared before its City Council voted this week to strip Forrest's name from the downtown park and call it Health Sciences Park. It also voted to rename Confederate Park as Memphis Park and Jefferson Davis Park as Mississippi River Park.
Toney Armstrong, Director of the Memphis Police, said law enforcement is "expecting large crowds" of both the KKK's supporters and opposers at the event.
"We'll prepare for the worst and pray for the best," Armstrong said.
REAL LIFE. REAL NEWS. REAL VOICES.
Help us tell more of the stories that matter from voices that too often remain unheard.
BEFORE YOU GO
PHOTO GALLERY
Out-Of-Touch Politicians