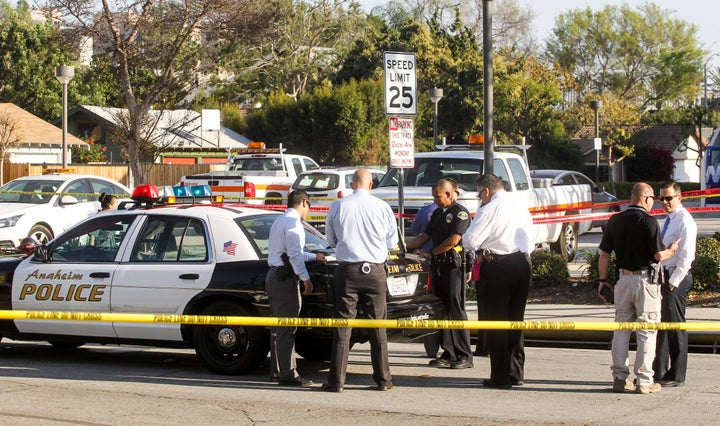 Warning: This story contains graphic photos and video.
Three people were stabbed Saturday during a Ku Klux Klan rally in Anaheim, California, including one person who was in critical condition after apparently being stabbed with a flagpole, police said.
Thirteen people were arrested after counterprotesters clashed with participants in a planned KKK rally.
The violence erupted at about noon, an hour and a half before the KKK rally was scheduled to begin at Pearson Park, the Los Angeles Times reported. Several dozen counterprotesters had gathered at the scene that morning to face off against the Klan.
Two vehicles with Klansmen pulled up to the scene, and counterprotesters began attacking them, said Sgt. Daron Wyatt of the Anaheim Police Department. Counterprotesters could be seen kicking a member of the KKK on the ground, he said. The Times reported the man on the ground was wearing a shirt that read "Grand Dragon."
When police got to the scene, they found a counterprotester bleeding on the ground. Wyatt said the counterprotester had apparently been stabbed with the ornamental end of a flagpole by at least one Klansmen. The unnamed victim was transported for treatment with critical injuries.
Photos taken at the scene show a man lying on a bloody sidewalk.
Following the stabbing, several other skirmishes broke out over a city block. Police found another counterprotester on the ground with apparent stab wounds, and nearby a Klansman holding a knife. The victim was in stable condition, Wyatt said.
A third person, who was not identified, was also stabbed during the incident, police said.
In another altercation, three counterprotesters were arrested after allegedly assaulting a member of the KKK. The condition of the Klansman was not known.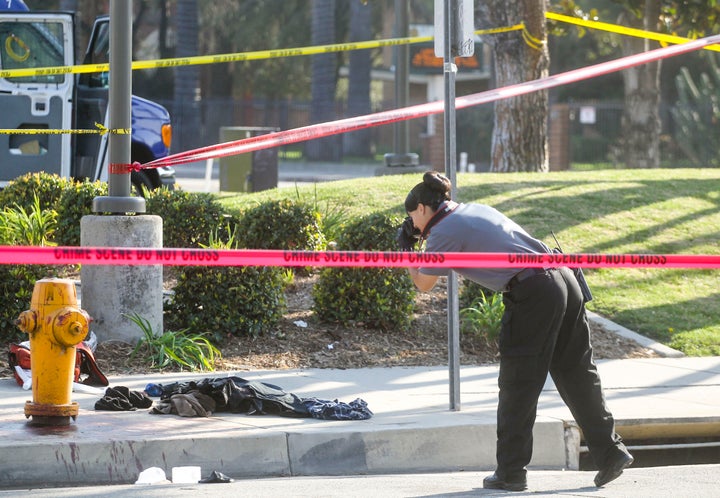 Another member of the Klan was being transported for possible broken ribs after he was kicked by counterprotesters.
In all, 13 people were taken into custody -- one female and five male members of the KKK, and one female and six male counterprotesters.
A video apparently from the scene shows a person being treated on the ground and police working to secure the area. (Warning: Video contains graphic material.)
The KKK has historically been a force of some prominence in Anaheim, according to the Times:
The Klan has a long and troubling history with the city. Klansmen were once the dominant political force in Anaheim, holding four of five City Council seats before a recall effort led to their ouster in 1924.

At the height of the group's power in Orange County, nearly 300 Klansmen lived in Anaheim, patrolling city streets in robes and masks. A large KKK rally once attracted 20,000 people to the city.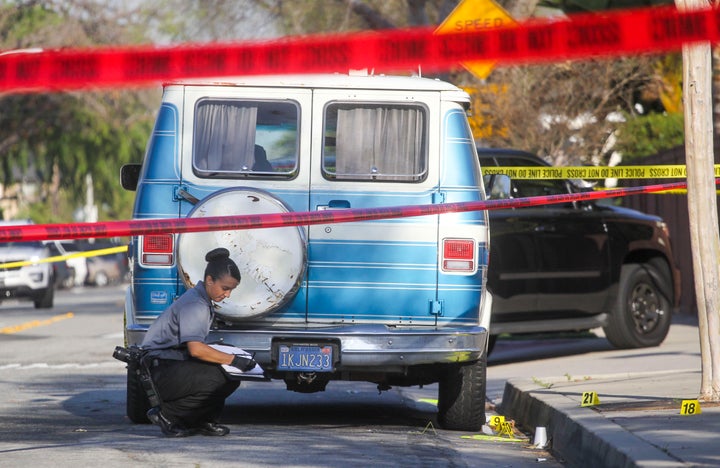 Support HuffPost
The Stakes Have Never Been Higher
Related
Popular in the Community