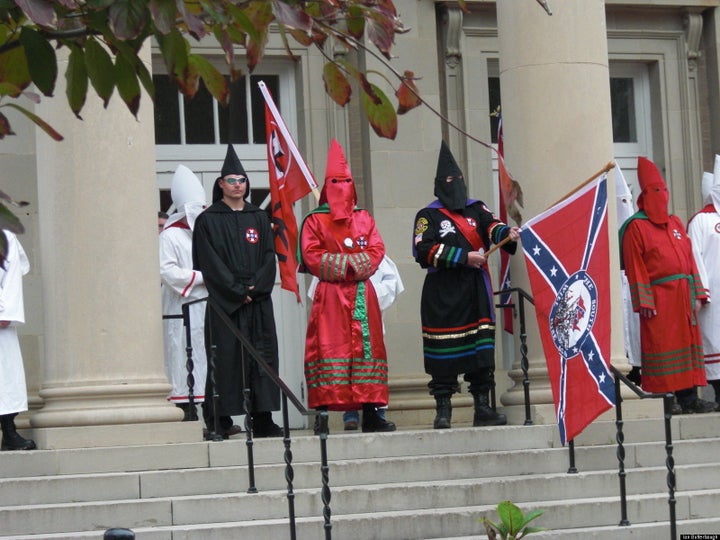 The KKK gathered at Ole Miss today to protest the University chancellor's decision to remove "From Dixie with Love" from the school band's song list. The song had drawn controversy because some fans chanted "the South will rise again" when it was played at Ole Miss football games.
*** SCROLL DOWN FOR PHOTOS & VIDEO ***
According to the AP, around twelve members of the Mississippi White Knights of the Ku Klux Klan waved flags and issued Nazi-style salutes. The AP estimated that 250 people showed up to protest the Klan's presence.
Kevin Cozart, a senior at the University and the coordinator for operations at the Sarah Isom Center for Women and Gender studies, sent in some photos along with a report from the scene:
Under an overcast sky and greeted with a wall of boos and calls to leave, a few members of the Mississippi Chapter of the Ku Klux Klan rallied on the campus of the University of Mississippi this morning... for less than ten minutes. Little could be heard of any message they attempted to convey. Dressed in the highly recognizable robes, the ten Klansmen that showed up simply stood and waved their banners of hate and ignorance from the portico of Fulton Chapel, a fitting place since it is the home of the Theatre Department's productions. The sizable crowd that had gathered to see them was extremely hostile regardless of color, race, creed or university affiliation. After all of the fanfare, bravado and planning (including the use of bomb sniffing dog around the area), the brief appearance by the Klansmen is the very definition of anticlimactic.

The real story of the day was the students, faculty, staff and alumni who gathered peacefully and read the University's creed in unison repeatedly a few hundred feet from where the Klan had gathered. Organized by One Mississippi, a student group working towards greater social integration at Ole Miss, protesters wore shirts that said "TURN YOUR BACK ON HATE... (I live by the UM Creed)" and stickers with one simple word: "Unity." Before and after the rally, they talked to fans in town for the game about their message and plan to make their way through the 10-acre, park-like Grove, passing out copies of the UM creed to fans.

Today, the members of the real Ole Miss family were not afraid to show their faces. They were not afraid of the Klansmen. They stood with their backs to them. They stood together to say with one voice that Ole Miss "believe(s) in respect for the dignity of each person." They stood as the leaders of a new Mississippi, a Mississippi that her citizens and a nation can be proud of.
Were you at the rally today? Send your photos to sports@huffingtonpost.com or upload them here.
Popular in the Community