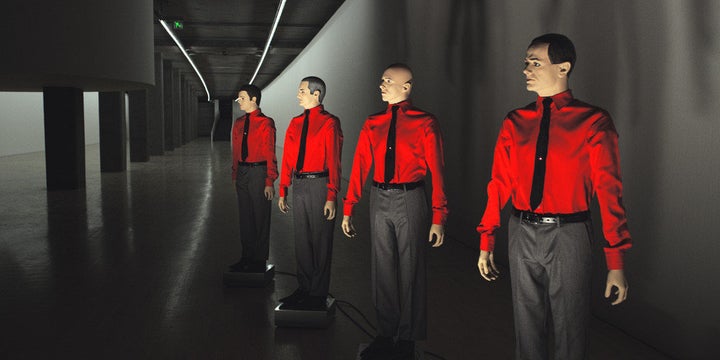 This week is a hard one for Kraftwerk fans. Only 450 tickets were available to the general public for each night of the German band's concert series at The Museum of Modern Art, aptly titled, "Kraftwerk – Retrospective 1 2 3 4 5 6 7 8." In order to find out more about the museum's approach to the music, we interviewed Klaus Biesenbach, the Chief Curator at Large at MoMA.
Called "the Museum of Modern Art's most chicly perverse curator" by New York Magazine, Klaus Biesenbach is a man who makes calculated choices, though he claims otherwise. In a phone interview with HuffPost Arts, Biesenbach said, "As a curator you don't conceive of anything, it just comes together."
Biesenbach grew up in the shadow of Dusseldorf, where Kraftwerk's Kling Klang studios was based. When he moved to Berlin, the curator started his own space, Kunst-Werke Institute for Contemporary Art, and in 1996, the ambitious curator founded the Berlin Biennale for Contemporary Art. Two years later, Biesenbach tried to get Kraftwerk to play the Biennale, but it didn't end up working out. He said, "When I started at MoMA, Marina Abramović and Kraftwerk were in my luggage." By this, he means that the two shows were his top priority. After seeing the Teutonic quartet perform at the Velodrome in Manchester, he realized a live performance was the only way to do the band justice.
Earlier this year, MoMA put on "Swanlights," described as "a large-scale concert and performance event" at Radio City Music Hall. Antony (from Antony and the Johnsons) was backed by a 60-piece orchestra. With Kraftwerk, the experience was meant to be much more stripped down. Biesenbach says, "The interesting thing is that they do everything –- the videos, the sound, the music. They are like conceptual artists." In the way of Marina Abramović's blockbuster show, "The Artist Is Present," Kraftwerk is meant to be an intimate, immersive experience between the audience members and the band. Biesenbach says, "We kind of rebuilt [Kling Klang] studio in the atrium, so when you come it's like a studio visit; it is art in the making." The band is featured in a "vitrine" -- a space that projects 3-D videos to accompany the artists as they perform on a raised platform. Viewers wear 3-D glasses as they observe the ramrod straight quartet command their synth stations with the expected sang-froid; visions of computer data, radioactivity, and the beloved Autobahn will float from the screen to the stage through this technological feat.
In the latest issue of Bookforum, Choire Sicha writes that Biesenbach's work "is really about the conflicts of commerce, cool, and aspiration." With Kraftwerk, Biesenbach brings all three together.
PHOTO GALLERY
Kraftwerk At MoMa
See WNYC's video coverage of opening night madness below:
Calling all HuffPost superfans!
Sign up for membership to become a founding member and help shape HuffPost's next chapter
BEFORE YOU GO