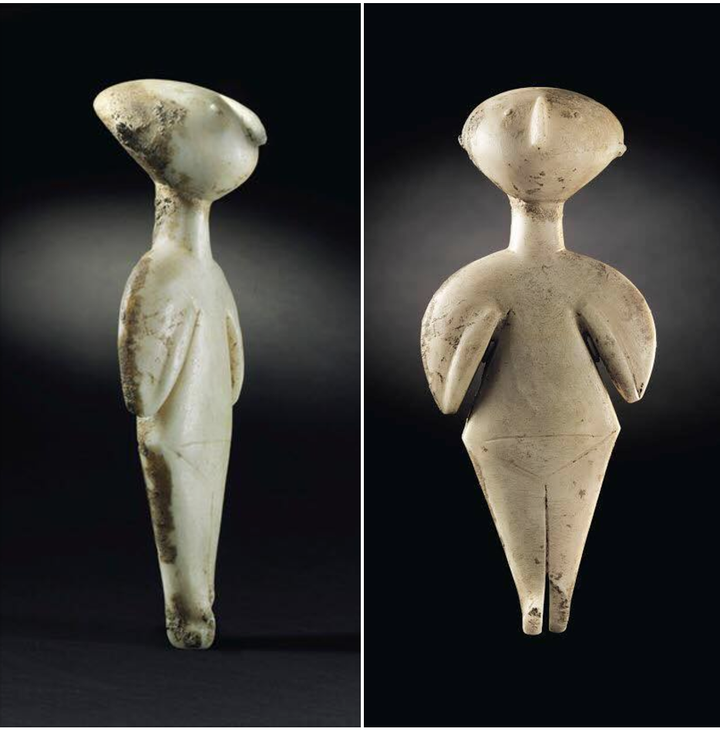 Tennis anyone? Somebody might check Bob Hecht's memoirs. We know the late antiquities kingpin was a tennis addict and that he hobnobbed at Lew Hoad's Campo de Tenis near Marbella where he no doubt found a few clients for his freshest finds. But on what other tennis playgrounds of the rich might he have been courting potential clients? Could Hecht, for instance, have supplied Tennis Hall of Famer Alastair Martin with the 5,000-year-old Guennol Stargazer/Kilia idol that hedge fund manager Michael Steinhardt bought in 1993 and put on the block several months ago at Christie's where it went for $14.5M, a piece now being contested by Turkey and Christie's et al. in the Southern District of New York? Or was art dealer John Jacob Klejman the source of the fertility idol? And if Klejman supplied Martin with the Guennol Stargazer/Kilia idol, did he also sell the Anatolian Stargazer to Nelson Rockefeller (see transcript below)---a piece that found its way into the collection of real estate mogul Leonard Stern?
All of the above parties except Steinhardt and Stern are now deceased, and the provenance of the Kilia idol Turkey says was smuggled from Kulaksizlar (Eastern Aegean) has its own crusty patina. But Turkey's lawyers at Herrick, Feinstein hint in recent court documents that Klejman was the middleman for the Guennol Stargazer/Kilia, a man they previously claimed handled the Lydian Hoard---a story I covered for The Economist ("Collectors or looters?", 10/7/1987). They note the following:
"For example, if Christie's Steinhardt, and/or others withheld information regarding Klejman's involvement with the idol, that fact would tend to show that Christie's Steinhardt and/or others were aware that Klejman's involvement with the idol was a red flag for honest collectors."
The court is not blocking discovery of the name of the idol's bidder who subsequently backed out of the purchase at Christie's and who may be able to verify who sold the idol to Alastair Martin. But wouldn't art dealer Ed Merrin know since he was the go-between for Martin and Steinhardt?
Merrin also exhibited Stern's above-mentioned Anatolian Stargazer in his "Masterpieces of Cycladic Art" show that I covered for The Economist ("Unholy alliance?", 5/19/1990).
Both sides to the Guennol Stargazer/Kilia idol dispute present final arguments to the court in the coming weeks and it may be of some interest to read the transcript of a two-part recorded interview John Jacob Klejman's daughter, Susanne, a Holocaust survivor, gave to the United States Holocaust Memorial Museum about her father. Susanne Klejman Bennet, by the way, is the mother of US Senator Michael Bennet (Dem/Colorado). Senator Bennet's father, Douglas Bennet, ran US AID during Jimmy Carter's administration and was an aide to US Ambassador Chester Bowles in India, where Senator Bennet was born.
Gail Schwartz: How many generations can you go back with your family in Poland?
Susanne Klejman Bennet: In the 17th century my father's family came from Holland to Poland. This was during the time of the Spanish invasion of Holland. My mother's family were Lithuanian and Russian. But she, herself was born in Poland. . . .
A friend in Poland sent me a clipping once about a direct ancestor of my father's from the mid-19th century who apparently owned factories and very early on had actually helped his workers to lead somewhat better lives than they normally would have and had been written about at some length. Sort of an early reformer. And that's about it because my parents were around in the early 30s. When the war broke out my mother was 31 and that was rather early to talk to their parents about their own families.
Gail Schwartz: Tell me your parents' names.
Susann Klejman Bennet: They were John Jacob Klejman and Halina Klejman.
Gail Schwartz: Do you know when your father was born?
Susanne Klejman Bennet: He was born in 1906 in [S____], Poland.
Gail Schwartz: And your mother?
Susanne Klejman Bennet: My mother was born in 1908.
Gail Schwartz: And what kind of work did your father do?
Susanne Klejman Bennet: My father had an art gallery. He was an art dealer, an antiquities dealer, as it was called then in Warsaw. And my mother always worked with him. . . .
Gail Schwartz: So your family before you were born was obviously a well-to-do family and took vacations and were upper class or whatever, or upper middle class.
Susanne Klejman Bennet: Yes. . . . Well like most Jews of the professional class in Warsaw, they were educated abroad because the university had a tiny quota for Jews. So my father went to the Sorbonne, my mother went to Lausanne. . . .
Gail Schwartz: Where did you come to in the United States and when was that?
Susanne Klejman Bennet: We went in August of 1950 from Mexico City via Cuba actually. We went to Cuba for four days---to Havana---[then] to Manhattan.
Gail Schwartz: You settled in Manhattan.
Susanne Klejman Bennet: In Manhattan. . . . My father had his first art gallery, which was at 8 West 56th Street, right off Fifth Avenue. . . .
Gail Schwartz: Where were you living?
Susanne Klejman Bennet: We were living there too. [My parents] started to learn English in Mexico but they weren't that fluent. . . .
Gail Schwartz: Your parents' state of mind at the time. As you said they were working very hard, your folks worked six days a week.
Susanne Klejman Bennet: They worked very, very hard. But very promptly my father became a very major dealer in New York.
Gail Schwartz: What was the name of his store?
Susanne Klejman Bennet: Klejman Gallery. First it was at West 56th and then he moved up to Madison Avenue in what was then the Parke Bernet building. It became Sotheby's---982 Madison, which was across from the Carlyle [Hotel].
Very early on my English teacher---I think it was---one of my teachers in 8th grade somehow heard me talking one day about my father having African art, because he had always had European decorative arts before the war, but after the war, with very little money one of the things he had been interested in when he was in Paris studying had been African art. So that became a major part of what he had after the war. It wasn't very expensive to buy then.
And she [SKB's teacher] said, "I'm going to tell my son." He was one of the curators at MOMA, which was then the Museum of Modern Art, of course.
And the next thing is that the son brought Nelson Rockefeller to the gallery. That was the beginning of his doing very, very well with becoming a major dealer in New York.
Gail Schwartz: So he met with well known clients, such as---
Susanne Klejman Bennet: He developed major clients. All of the major museums in the States really.
Gail Schwartz: Do you think he related any of his [war-time] background to his clients?
Susanne Klejman Bennet: No, I'm sure he never talked about it.
Gail Schwartz: So they had no idea of what he had gone through. . . .
Susanne Klejman Bennet: People like Rockefeller, I'm sure, were aware of the background of people but certainly no one ever talked about anything except art.
Gail Schwartz: Who were some of your father's other clients? Well known.
Susanne Klejman Bennet: Various Rockefellers---JD, Nelson. Henry Ford. The one I liked best was Greta Garbo. Eric Maria Ramarque---and I have a letter from him somewhere. The Duke and Duchess of Windsor. By the time he ---whom I did not like---by the time he went back to having some decorative art again, porcelain and things. Just about anybody who collected art in the States ended up in [the gallery]. The de Menils became clients during that period.
It wasn't very long really because he started in 1950 and he had to retire in 1974, 1976, because he had Alzheimer's. So it wasn't that long
He was a major donor to the Metropolitan Museum of Art and my parents' names are now inscribed on the staircase going up, which was sort of amazing when you consider our background and what happened to us [during the war].
Gail Schwartz: Any other clients that your father had?
Susanne Klejman Bennet: Some of the major architects of that period. Edward Durrell Stone.
Gail Schwartz: And then you showed me a picture of Diego Rivera.
Susanne Klejman Bennet: That was when we were living in Mexico that I got to know Diego Rivera.
Gail Schwartz: Through your father's art connections.
Susanne Klejman Bennet: Yes. . . . After we moved to New York they [parents] got to know the Kennedys---though I don't know how important any of this is really. But Stas Radziwill---who married Jackie Kennedy's sister---his father, the old prince, had been a client of my father's before the war. And the prince survived the war. His wife did not. She died in a German prison where they were imprisoned. The prince survived. His daughter and son both did. And Stas Radziwill introduced my parents to the Kennedys. And for years both Jack and Bobby would buy their little Christmas gifts---mostly tiny antiquities----little vases from my parents.
When they [Kennedys] came to New York, they always stayed at the Carlyle, which was across the street [from the gallery]. And every single time would hop over to my father and borrow some things from his gallery for Jack Kennedy's suite. Things with a marine theme. So there was a little ship, which I still have and some other things to sort of decorate it [the suite] while he was there and then back it would come. And then my father would take it home because he was thrilled to be able to do this for Kennedy, who he thought was wonderful. And he didn't want to sell the thing, so he kept them.
My mother especially liked Bobby Kennedy, who liked her a lot. And he would bring her gifts from his trips, which was kind of fun. It was sort of amazing after what they had been through.
Gail Schwartz: Being in the ghetto and labor camp.
Susanne Klejman Bennet: And barely surviving.
Gail Schwartz: And here they were. . . .
Related
Popular in the Community