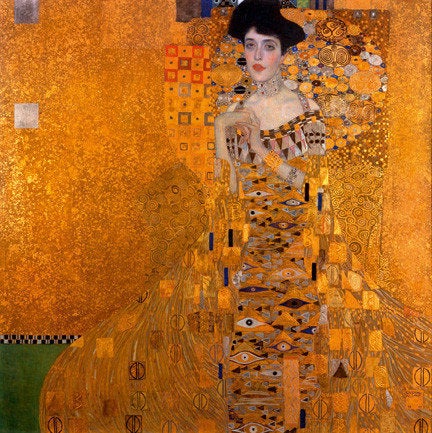 On my last trip to New York, I dumped my bags at the hotel and grabbed a cab to the Neue Gallerie uptown. There I spent a delightful hour perusing their exciting collection... especially one painting, the legendary gold-flecked portrait, "Adele Bloch-Bauer I."
Like many people I am entranced by this exotic, intriguing and mysterious portrait of a wealthy Austrian woman painted by Gustav Klimt in 1907. As I stood in front of it, two teenage girls were beside me, and one turned to me and said with tears in her eyes, "Isn't she beautiful?"
I had to agree. It and a few other Klimts were the subject of a contentious lawsuit brought by the subject's Jewish family against the Austrian government and its Belvedere museum, claiming the paintings were wrongfully confiscated by the Nazis and never returned after the war. In a significant victory, the family received several paintings back and had Christie's auction them. The largest price ever paid for a painting up to that date, $135 million, was paid in 2006 by billionaire Ronald Lauder for the Adele portrait... and that was the art which I so thoroughly enjoyed in New York.
There seems to be a Klimt mania spreading throughout the world. I would suspect that, next to Picasso, he is now the most popular modern artist. With the 150th anniversary of his birth (July 14, 1862) being celebrated throughout Vienna and the world this month, there is a feeding frenzy of Klimt obsession hereabout. I was amused and interested that the New York gallery was selling an entire store full of Klimt merchandise, until I saw the Getty shop here doing likewise.
When I had heard that the J. Paul Getty Museum was having an exhibition of Klimt sketches, The Magic of Line, I made arrangements to see it this week. I asked my ex and her friend Lorna Berle (widow of Milton, of course) to join me on the art expedition, and I related how I had been invited by architect Richard Meier to walk this wild plateau with him before it was built. ("Watch out for rattlesnakes" was his warning.) We arrived early on Friday night at the Getty (1200 Getty Center Drive, 310-440-7300, off Sepulveda Blvd. I would suggest that you visit during the day rather than on a weekend night, when the traffic and construction can be a nightmare, but whenever it is worth the trip.)
I had boned up on Gustav Klimt at the Wikipedia website, and learned that the artist had been a rather scandalous figure in his time around the turn of the century. For example, while he was married it was said that he had fathered 14 children by various women, including several who had modeled for him. His increasingly frank erotic/sexual sketches and paintings were the talk of Vienna, and several attempt to shut down his exhibitions were made. In a Wall Street Journal piece, Agnes Husslein-Arco, director of Vienna's Belvedere museum, says: "He was a hippy, he was a totally crazy guy, very full of himself."
She says that, after the death of his father and brother, he escaped to Venice and Ravenna, Italy, in 1899 where the flickering gold in Byzantine mosaics caught his eye, reminding him of his father's work as a goldsmith, hence the gold leaf in future paintings like "Judith" in 1901 and "The Kiss." She goes on to say that his paintings were ridiculously expensive at the time and he was picky about which women he painted, telling them what to wear and how to pose. Interestingly, Wikipedia says that his art is all in the public domain, and posts pictures of much of his art... which explains why so much Klimt merchandise is about, since no royalties are required. (Along with a Barbie doll, there's even a Google doodle!) Lorna told me that couturier John Galliano, in his Christian Dior Spring 2008 haute couture collection, used Klimt as his inspiration.


Klimt sketch using charcoal on paper.
There are a hundred sketches at the Getty, and as I wandered about I marveled at the masterful draftsmanship which I was observing, starting in his 20s until his death in 1918 during the influenza epidemic. Underlying all of the great golden paintings, friezes, watercolors, murals, was this intense ability to catch the essence of a subject in a few strokes. One image, called "Fish Blood," (see above) depicts twisted, nude women with long flowing hair floating on a thin stream of water while a large fish with etched scales swims alongside them as their bodies float off the page. Stunning. Make certain to watch the five-minute film about Klimt at the back of the exhibition.
At the same time, the very efficient and engaging food team at the Bon Appetit Management Company, who handle all of the food service at the Getty, notified me that they would be serving a special "Klimt dish" two nights a week and every day at lunch during the exhibition. How exciting... great art and fine food. I happened to have written the first review of this stunning restaurant just after the museum opened, giving it a rave... which I still do. So I reserved a table in the sophisticated dining room after we visited the art.
Bon Appetit has more than 400 cafes in universities, museums and corporations, with all of their food being made from scratch -- soups, stocks and sauces -- utilizing environmentally-sound ingredients. Tonight the Klimt dish was a Niman Ranch pork schnitzel with Yukon gold whipped potatoes, Parmesan, arugula and rosemary-honey mustard. ($20 for lunch, $26 for dinner, with a $7 Austrian beer flight.) Delicious, but you can also choose from the main and special menu... Yellowtail crudo, Colorado lamb belly, Duck Breast, or Pacific Halibut, which my girls ordered, so many exciting choices. I told my companions of my passion for the new Austrian restaurant in Beverly Hills, BierBeisl, exquisite authentic Austrian food... but no Klimts on the wall.
Chef Matt Lee, along with Exec Chef Mayet Cristobal and Pastry chef Charmaine Macrohon, are turning out exquisite food here for lunch and dinner. I had brought a chilled bottle of Laetitia Brut Reserve with me and although they have a full bar and don't encourage corkage, they indulged me and I shared my sparkling wine with manager Farzin; he thought they might put it on the next wine list. Lorna ordered a "Skinny Bitch," vodka and diet coke, and told me that it was the hottest drink in London this Olympic time. Our wait person, Daniel, remembered me from my last visit, saying he had started here as a busboy years ago and worked his way up... wonderful story.
The show runs until September 23, so I strongly recommend you come here for lunch or make a dinner reservation on Friday or Saturday night and arrive early for a stroll through one of the most exciting art exhibitions in recent memory.
To subscribe to Jay Weston's Restaurant Newsletter ($70 for 12 monthly issues) email him at jayweston@sbcglobal.net.
Calling all HuffPost superfans!
Sign up for membership to become a founding member and help shape HuffPost's next chapter