By Clare Hutchison and Shadia Nasralla
LONDON (Reuters) - One couple has boldly gone where no other has gone before by tying the knot in Britain's first Klingon wedding ceremony at a Star Trek convention to celebrate the much-loved TV series in London on Friday.
The couple, 23-year-old Jossie Sockertopp and 29-year-old Sonnie Gustavsson, came from their native Sweden to marry at the "Destination Star Trek London" event, which will see 17,000 "trekkies" flock to London's ExCel centre this weekend.
The pair, who met four years ago at the retirement home where they both work, were inspired to hold the ceremony after watching an episode of "Star Trek: Deep Space Nine", in which Klingon character Worf marries science officer Jadzia Dax in a traditional Klingon ceremony.
"We saw the clip from the series...and we thought it was very romantic about beating hearts and a battle for each other. We really liked it, that's why we want to do this," Sockertopp said.
It took around three months to plan the event, which was Britain's first wedding ceremony to contain blessings in Klingon, the guttural-sounding language spoken by the Star Trek characters of the same name.
The bride eschewed the traditional human white dress for a floor-length red robe with a diamante headdress, matching her husband-to-be. Prosthetic foreheads with deep wrinkles and stringy black manes completed the look.
Three bangs of a gong ushered the bride and groom to an altar adorned with decorative screens and a throne made from animal bone and hide. The celebrant, Peter Wyllie, conducted the wedding ceremony and included some phrases in Klingon.
"That was a bit of a challenge and I hope I got some of the sounds right. I had it written phonetically, so that made it a little easier," he said, adding that it sounded similar to the Welsh language.
It was the second wedding in two days for the couple, who had a legal ceremony at a registry office in Sweden on Thursday.
"The legal part is done, this is just a fun ceremony," Sockertopp said.
Both weddings had been kept a secret from their families until a few days before the newlyweds jetted to London. None of their relatives attended the Star Trek-themed nuptials.
"Mum didn't talk to me for three days and my father wonders if there is something contagious about weddings as my big sister got married in secret last week. It must be something in the gene pool," Gustavsson said.
The newlyweds will spend their honeymoon at the convention, which sees all five captains from the Star Trek TV series appear on stage together for the first time. The gathering is the first major Star Trek live event in Britain. for more than a decade.
(Additional reporting by Edward Baran and Steve Hignett, editing by Paul Casciato)

Before You Go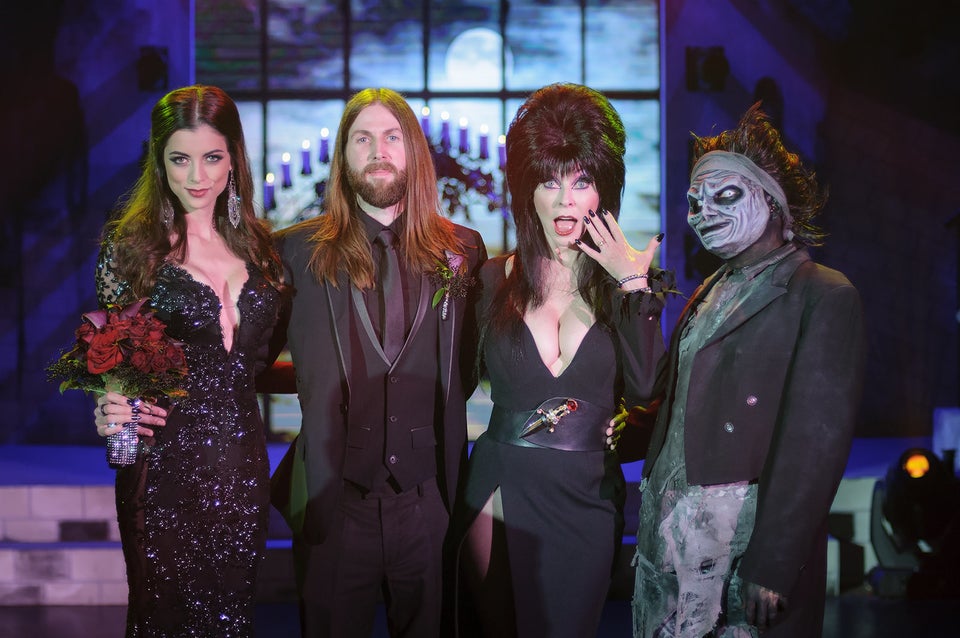 Wacky Weddings and Proposals
Popular in the Community