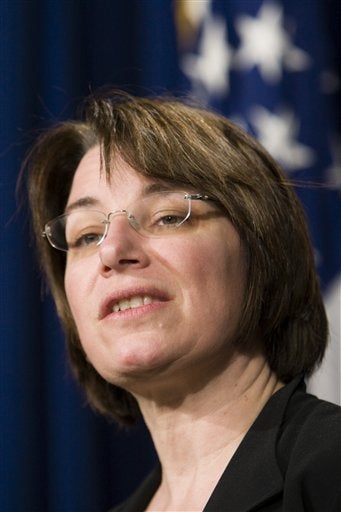 Senator Amy Klobuchar (D-Minn.), whose name has been floated for the upcoming Supreme Court vacancy, said on Tuesday that she would turn down an offer from the president to be nominated for the bench.
Asked if she would serve if asked by President Obama, the Minnesota Democrat told the Huffington Post on Tuesday: "No, I love my job."
"My state has one of the least... senior delegations for various reasons," she added, "including [former Senator] Paul Wellstone's tragic death and various other decisions for our voters and the more stability we have the better, and I'm not going to abandon our state at this time."
Klobuchar, who was elected to Congress in 2006, is an alluring choice as a Supreme Court nominee. Her service on the Senate Judiciary Committee, combined with her young age, and the respect she engenders from across the aisle has convinced more than a few political observers that she'd be a smart selection.
The problem, of course, is she doesn't want it. And at various points in explaining why that's the case, she hinted that the strain of a potentially bitter confirmation process isn't all that alluring.
"Clearly we are at a time in this country in the last decade where one speech, or one line, or one court ruling, or how one case was handled will always be trumped up, whether it is fair or not," she said, to a group of reporters on Capitol Hill. "So we have to expect that. No one has been perfect in their life in everything they've said. But overall I still believe those hearings last summer were civil and while there some tough questions and some unfair questions, they were overall civil."
"I could never even get out of the starting block because of my speeches," she jokingly added. "You know how [Justice Sonia] Sotomayor referred to herself as a wise Latina. Well I referred to myself as a wise Slovenian."

Popular in the Community