The recent news that Klout, one of many social scoring companies, is being sold to the social media company Lithium Technologies, for $100 million has overshadowed the pivot it made in an attempt to remain relevant.
Klout will still rank people based on their social engagement, but it will now suggest content that the game players may wish to share. Instead of creating original content that your audience wants to share, Klout will present content from others that can be shared. The hope, presumably is to increase the likelihood that users' content will be responded to or be retweeted.
Joe Fernandes, Klout's CEO, claimed in a recent interview that the change was in response to players who kept asking how they can increase their score. Klout's score is essentially based on the number of mentions and retweets a person's content receives across Twitter, and to a lesser extent, other social networks. For Klout's players, any tactic or tool that will help artificially inflate their scores is certainly a welcome addition to the game. The higher your score is, the more likely they'll receive Klout Perks, a hodgepodge of free product samples and trial offers from businesses who pay Klout for access to you.
With a few high-profile executive departures and a general waning of excitement around the brand, Klout needed something to boost interest and re-excite those interested in raising their scores. After all, the true value of Klout is a large and active player base attempting to increase their scores. Like any social media company, it's a numbers game. The more players, and the more frequently they play, the happier Klout's investors and business customers are.
Essentially, Klout is becoming a content aggregation service. Content aggregation and social sharing is nothing new -- many online services provide this option -- yet that does not mean it's not a valuable tool for Klout. To its credit, Klout's interface for reviewing and sharing other's content across multiple social channels is rather slick. Thanks to its partnership with Microsoft, Klout can pull data from Bing and presents newly published content to Klout players, who, in turn, can share it directly from Klout's game board.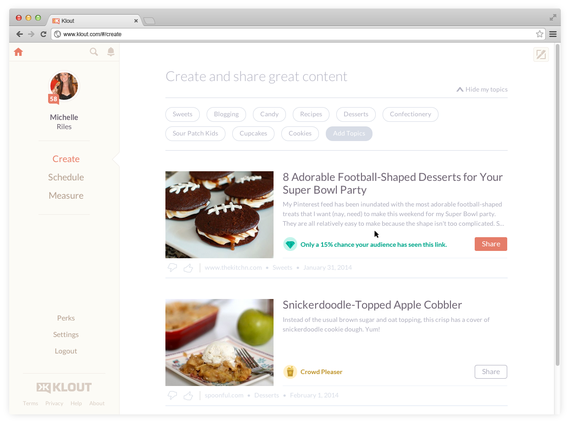 Mr. Fernandes claims this isn't a pivot; rather, it's another feature added on to the platform. It's an interesting debate. I tend to agree with him because Klout's business model remains attracting social media users to play the game in order to increase their Klout scores. This new feature is just another tactic towards that business goal. Klout's social scoring program and gamification tactics are still core to its service.
On the other hand, journalist Chris Taylor suggests Klout has moved from "playing the referee to playing the coach," which is an apt analogy. Instead of simply ranking players for their engagement levels across various social channels, it now provides a tool to help players increase their score.
Does Content Marketing Make One Influential?
I've been a vocal critic of social scoring platforms in general, and Klout in particular; however, this new content aggregation service is something that I can get behind. I applaud Klout for expanding past judging people for their social media activity and providing those users with a useful tool.
However, as a marketer, the problem for me remains the fact that this new service is wrapped up in a gamified program that encourages people to share content simply for the purpose of increasing their score. It's artificial and does nothing to help identify true influencers for brand marketers. It will certainly have an impact on the social amplification that its players can achieve but that isn't influence marketing, it's broadcasting. It will certainly have an impact on the number of users that play Klout's game, and that's good news for its new owner and a rumored IPO.
Content aggregation is a powerful tool for those focused on content marketing. It can be a time saver for social media marketers as well as a powerful educational tool for those learning how to engage in social media. Yet even those "social media experts" who actively play Klout's game will pull out the authenticity card when describing best practices in social media marketing. How authentic is it to share content for the purposes of artificially increasing an influence score? Compare that to creating original content (or sharing other's content) just because it is valuable to your audience and community building efforts. Building engagement, reputation, and eventually influence based on real communication and relationship building instead of gamified marketing tactics?
When tools like Hootsuite, Compendium or Curata provide content aggregation services, they do so for the purposes of helping marketers better manage their online engagement. Such tools are valuable because their stated goal is to help you be a better content marketer. Yes, they too are businesses and seek to make a profit just like Klout (something I would never judge a company for trying to achieve); however, from a marketer's point of view, those services are not skewed. Each is a facilitation tool designed to help you collect the right content for your audience, which, in turn, builds a stronger and more valuable community. Klout's content aggregation service, no matter how slick it may be, is designed to support Klout's business goal by keeping game players engaged in increasing their score.
Gamification Is The Achilles's Heel of Influence Marketing
Regardless of the value of Klout's new content aggregation service, gamifying engagement skews the true nature of online conversations and only serves to muddy the waters for marketers trying to cut through the clutter and identify what patterns exist that truly influence a consumer to purchase a product or not. The only winners here seem to be those trying to increase their Klout scores in order to receive swag... and Klout investors of course.
What are your thoughts? Will content aggregation make Klout's anointed influencers more influential? Or just better game players?
Calling all HuffPost superfans!
Sign up for membership to become a founding member and help shape HuffPost's next chapter