Kmart workers across the country say they're being strong-armed into working holidays, despite the company's promise to rely largely on temporary, seasonal and volunteer workers to staff its 41-hour shopping marathon that begins at 6 a.m. on Thanksgiving Day.
A Kmart worker sent The Huffington Post a photo of a sign telling workers they can't take time off from November 17 to November 30 and December 15 to January 4 (Kmart is closed on Christmas so workers don't have to request that day off). The worker, who asked to remain anonymous to protect his job, said the sign has been up near the customer bathrooms and in the break room of his northern California store since early October.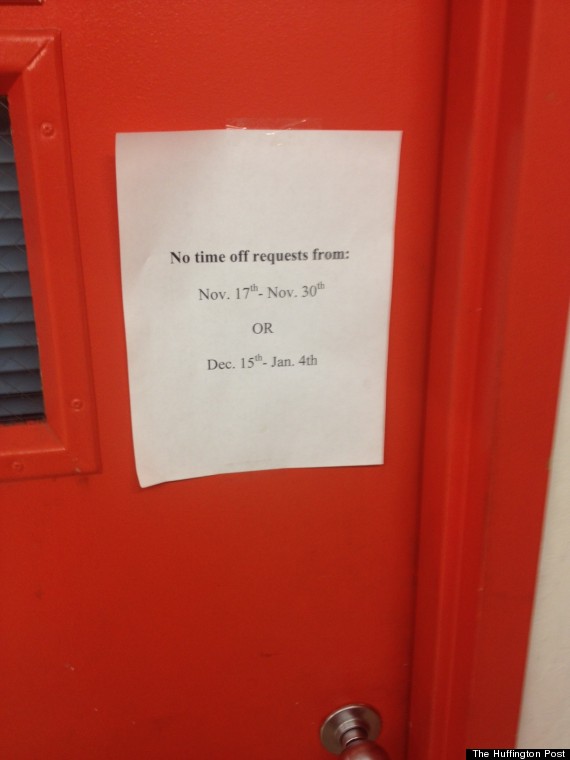 Kmart spokespeople described both signs as "rogue" and not representative of company policy, adding that the chain tries to use seasonal, temporary and volunteer workers during the holidays. Regular Kmart employees get paid time and a half for working on Thanksgiving.
But the signs indicate Kmart is leaning on non-volunteer full and part-time workers to staff the holidays, as well.
In an email sent to store managers earlier this week, Tim Austin, the company's vice president for retail, said to "pass along my most sincere thanks" to staffers working the holidays.
"Please make sure wherever possible that we schedule our teams in a fashion that ensures they are able to spend some part of the day with their families and enjoy their own Thanksgiving meal," Austin wrote in the email.
The Kmart worker who sent the sign said he and his fellow employees were given some schedule flexibility, though they all have to work at some point over the Thanksgiving weekend. For his part, he said he doesn't mind working the holiday because he appreciates the overtime pay.
"I am new to retail, so I thought this was normal for the holiday season," he wrote of the sign in an email to HuffPost. "Reading all the comments about it, I see it's a pretty big deal."
Kmart caught customer and worker flak when the company announced last week that it wouldn't be closing its doors from 6 a.m. on Thanksgiving Day until 11 p.m. the next day. Though many of the retailer's competitors are also open for parts of Thanksgiving Day, none are going as far as Kmart, indicating the struggling chain may be desperate to get shoppers into stores.
Here's the first sign a Chicago-area worker sent to HuffPost: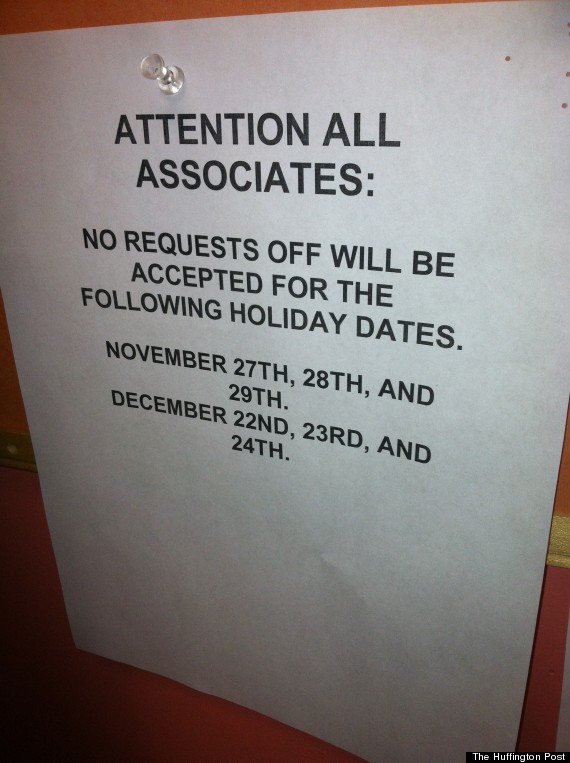 Calling all HuffPost superfans!
Sign up for membership to become a founding member and help shape HuffPost's next chapter
BEFORE YOU GO
PHOTO GALLERY
Black Friday 2012