Tyler Seiger, a four year veteran of Kmart, described working on Thanksgiving last year as "utter chaos." The 20-year-old ran around the store looking to please shoppers who would "actually get angry and yell at you because you can't give them a deal ahead of time."
This year is likely to be much worse.
Kmart announced this week that it's going further than competitors to get shoppers into stores during Thanksgiving and Black Friday, one of the most profitable periods of the year for retailers. Kmart stores are opening at 6 a.m. on Thanksgiving and staying open for 41 hours straight.
Kmart opened on Thanksgiving last year as well, but closed for a few hours that evening and for a few hours before reopening on Friday morning.
This year's schedule means workers like Seiger will have trouble taking time off on Thanksgiving if they want to.
Georgette Griffith, a permanent employee who works part time at an Alabama store, said managers denied her request for Thanksgiving off.
One Chicago-area Kmart worker offered a similar story and emailed a photo of this sign, which she claimed is posted in employee offices, to The Huffington Post.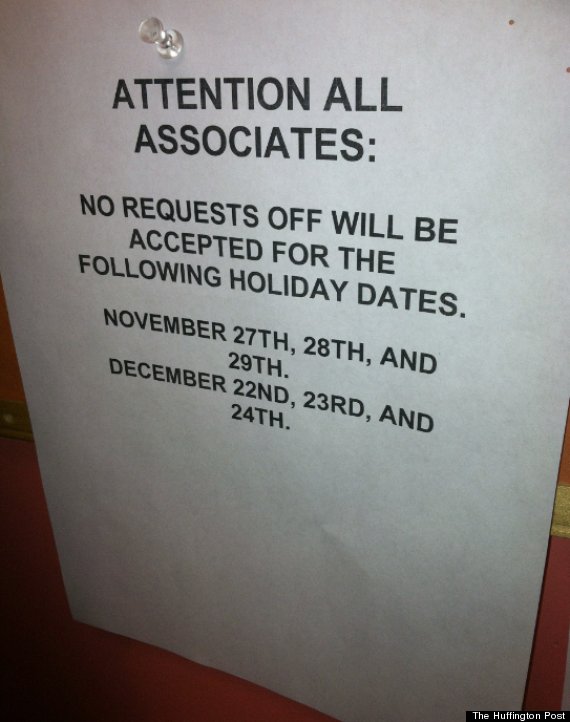 Kmart told The Huffington Post it is trying to accommodate time-off requests from regular staffers and hopes to rely on seasonal and "volunteer" workers on Thanksgiving. "All associates, both seasonal and volunteer, are compensated with holiday pay," company spokeswoman Shannelle Armstrong said. She said the Chicago-area sign "appears to be a rogue and unauthorized posting."
For Seiger, who makes about $8.75 an hour, the Thanksgiving marathon likely means work shifts so exhausting he'll miss Thanksgiving altogether.
"By the time that we get home on Thanksgiving, we're just going to be passing out and then we have to wake up the next day to work a 12-hour shift on Black Friday," said Seiger, 20, who works about 40 hours a week while going to technical school for an HVAC license. "It gets way out of hand."
Kmart may need the grueling holiday schedule to lure shoppers back into its struggling stores, according to Brian Sozzi, CEO of Belus Capital Advisors. The retailer's same-store sales have been weak over the past two years.
"They have to pull out all the stops to get people reconnecting with Kmart brand," Sozzi said.
For Griffith, the Alabama worker, pulling out all the stops means missing a Thanksgiving celebration she's been looking forward to for months. The 41-year-old lives in Montgomery, Ala., hundreds of miles from relatives in New Orleans. Every year, the family gathers there, going from house to house visiting relatives who remain in the city after Hurricane Katrina.
But this year, Griffith said she probably won't be able to make it because she has to work. "I have a 2-year-old who asks every day to see my brother in New Orleans, so I was really looking forward to being able to get down there," Griffith, 41, said.
Despite the personal difficulties that can come with working on Thanksgiving, one 49-year-old employee stocking shelves at a Manhattan Kmart said Wednesday it wasn't too much to ask, given the competition in retail. He worked the holiday last year and doesn't have a problem doing so again.
"All the retail stores are open on Thanksgiving," said the worker, who asked to remain anonymous so he wouldn't jeopardize his job. "The window of opportunity is so short. As you can hear, the holiday music is already playing and it's not even Thanksgiving yet."
Still, one Kmart veteran of several years said she wished her employer would sacrifice a day of profit for the benefit of workers like her.
"It's stupid," the employee, who also asked to remain anonymous to protect her job, said. The 51-year-old said she's not sure about her hours yet, but if she ends up working Thanksgiving morning, as she expects, her daughter will have to keep track of all the food to make sure it's ready for her family's holiday meal. "They don't let people have a life."
Even before Kmart vowed to stay open for almost two days straight, the company's Thanksgiving schedule was too grueling for some.
William Talley, who worked at Kmart for seven years, said he almost quit his job during his Thanksgiving shift last year.
Within minutes of showing up, "there was this onslaught of people," with very few staffers to help them, according to Talley, who said he made about $50,000 a year working full time for the company. The worst part of the ordeal, though, was leaving his family at 5 p.m. on Thanksgiving. "My mother passed away this March, so that was my last Thanksgiving with her and I had to cut it short."
The experience ultimately pushed Talley, 50, to find a new job at RadioShack.
"They're closed on Thanksgiving," he said.
Related
Before You Go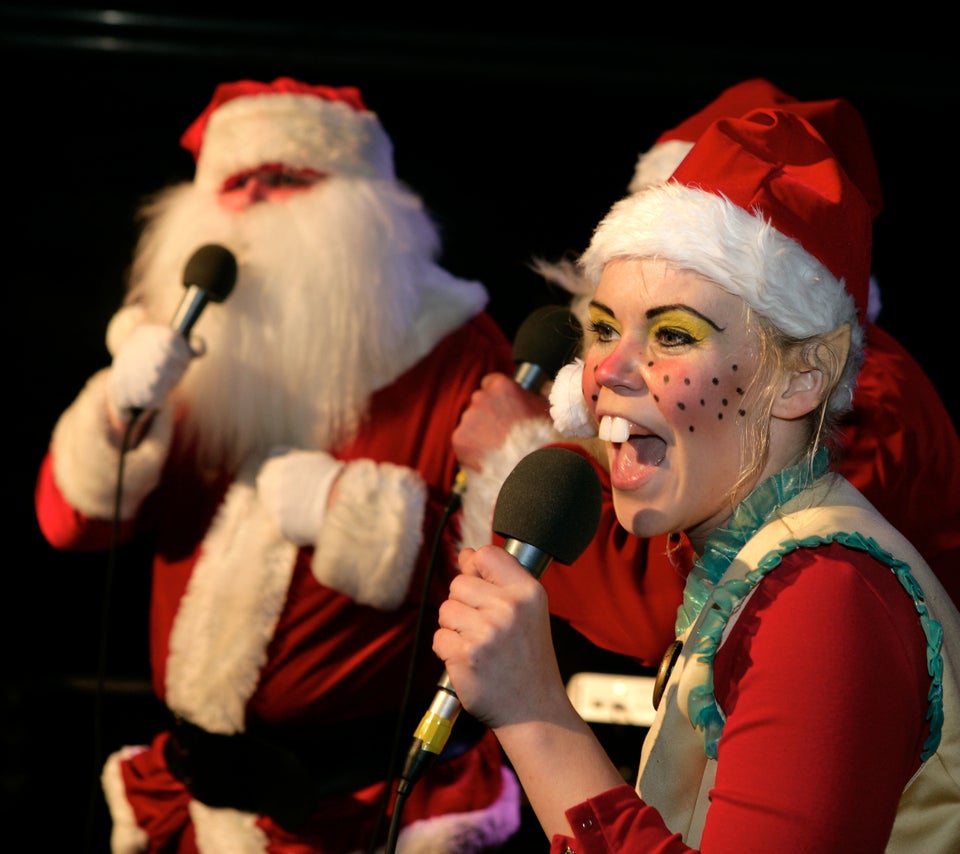 5 Worst Holidays Jobs Of 2012
Popular in the Community