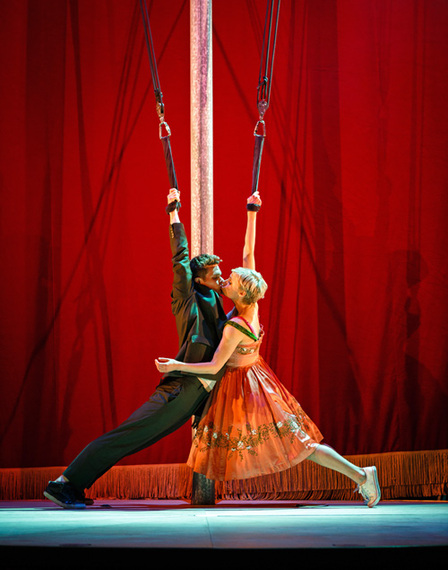 Andrew Durand as Tristan, Patrycja Kujawska as Yseult: legendary passion
Photos by Steve Tanner
It's tragedy, a tale of love and death, of treachery and mercy; it's comedy, propelled by giddy sprints and springboard bounces; it's circus, with actors swinging and hanging from ropes and straps; it's musical, boasting melodies that range from "Crazy" and "Only the Lonely" to excerpts from Wagner's Tristan und Isolde, plus original numbers in a gaggle of styles.
It's an ancient legend, newly told with the energy, inventiveness and cohesion that defines Britain's unique Kneehigh theater.
It's Tristan and Yseult at Berkeley Rep. See it if you can.
The story is more than 1,000 years old, probably traceable to Cornwall, at the southwestern tip of England, and recounted in many variations and languages ever since. In Kneehigh's hands, it's utterly timeless, delightful and engrossing.
Kneehigh unfolds its narratives with clarity, as Berkeley audiences saw in last year's The Wild Bride, but never with simplicity and directness. Aristotle probably would have been appalled.
Even before the house lights go down, we have to wonder, "What's going on? Who are these people in black jackets and hoods wandering across the stage and through the aisles, sometimes looking at us through binoculars?" They're actors, making connections; many more connections follow in the show's two-plus hours.
A musical prologue shows off a complex but skeletal setting: concentric platforms with a mast-like post at center stage; steel ladders, a sloped catwalk, and a well-elevated landing at the fringes. A neon sign identifies the landing as "The Club of the Unloved," where four instrumentalists and singer Carly Bawden pour out familiar tunes that reinforce the theme of love bedeviled by suffering.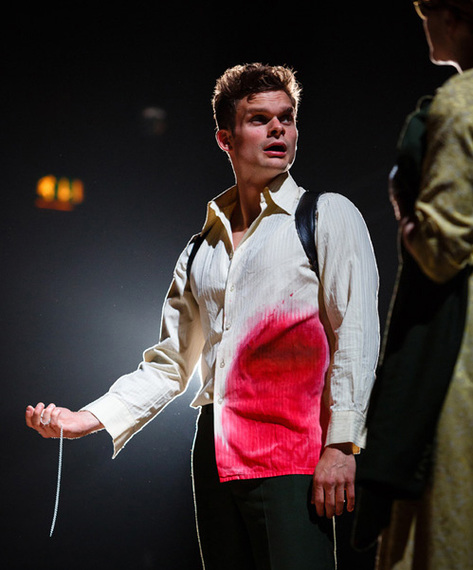 Andrew Durand as Tristan: Blood must be shed for his king and his love.
When the lights dim, Kneehigh transports us to a Cornwall ruled by a glowering King Mark (Mike Shepherd), whose security and realm are soon challenged by a thuggish Irish invader (Craig Johnson) and cohorts. A spectacular knife fight ensues, with Tristan (Andrew Durand) leading the successful defense but suffering a near-fatal wound. And that injury, in turn, draws Yseult (Patrycja Kujawska) to the rescue, though she does not know the man she saves.
Ingredients for a love story? Certainly. But one with a multitude of twists and complications, the most crucial being that the King has chosen Yseult to be his bride, not knowing that she and Tristan have already connected, emotionally and physically.
I won't spoil some marvelous surprises but would be remiss to ignore two more superlative performances.
One brings the burly Johnson back to the stage in a nightgown, as Yseult's maid. The role is hilarious until it turns darker, drawing pathos and poignancy out of the ridiculous.
The other is turned in by Giles King, as the monarch's flunky and Tristan's nemesis. He's amusingly oily throughout, but soars as a paparazzo who goes to acrobatic heights to get a photo that might undermine Tristan and ingratiate himself with the king. The picture fails to achieve its desired effect in the royal court, but the feat of taking it is guaranteed to bring down the house.
In predictable Kneehigh fashion, just about everyone in the company shows off a full range of theatrical talents: acting, singing, dancing, clowning and doing acrobatics, and the four musicians shine with myriad instruments to support the play's many moods.
The production was adapted and directed by Emma Rice, who teams with actor Shepherd as joint artistic directors of Kneehigh. Credit them with another triumph.
Tristan and Yseult runs through Jan. 18 in Berkeley Repertory Theatre's Roda Theatre, 2015 Addison St., Berkeley. Tickets are $29-$99, from 510-647-2949 or berkeleyrep.org.
REAL LIFE. REAL NEWS. REAL VOICES.
Help us tell more of the stories that matter from voices that too often remain unheard.