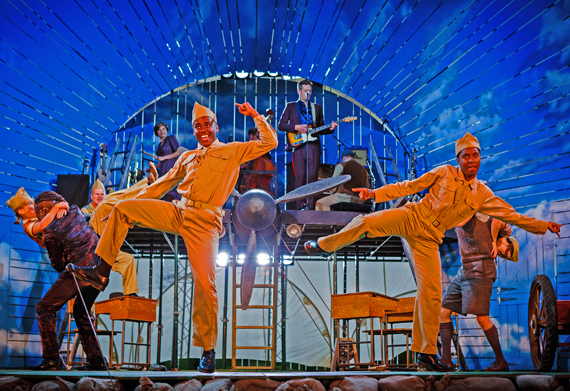 Ncuti Gatwa, left, and Nandi Bhebhe: exuberance against backdrop of war

Even in wartime, life goes on, often in ways that push aside the darkness of horrific events. We see it almost daily in newscasts -- especially on BBC -- that show smiling kids playing in the ruins of Aleppo. We can see it on stage for the next few weeks, through the creative genius and immense skills that have shaped 946: The Amazing Story of Adolphus Tips at Berkeley Rep.
Adapted from Michael Morpurgo's award-winning novel of the same name, minus the 946, the play explodes with energy, exuberance, musicality, theatrical craft and loads of heart while telling a story steeped in tragedy. Tragedy occupies the show's background, however: The foreground belongs to a 12-year-old girl named Lily and the cat she loves, named Tips. The name "Adolphus" is added later, inspired by acts of kindness.
The tale unfolds in the farming village of Slapton, on England's southwest coast, mostly in 1943 and 1944. That's when the locals were evicted to give American troops a site to practice the upcoming invasion of France. The nearby beaches were chosen because of their similarity to terrain the GIs would encounter in Normandy, on D-Day. Because of grim foul-ups by both American and British officers, which allowed German torpedo boats to wreak havoc on landing craft, the exercises remained secret for decades.
Morpurgo joined with Emma Rice in developing the show for Britain's Kneehigh Theatre and Berkeley Rep. Rice also directed, once again showcasing the vitality and insight that made The Wild Bride and Tristan and Yseult such knockouts in prior visits to Berkeley.
Her cast of 12 fills dozens of roles, but not always as conventional characters. Performers sprint around and across the Roda Theatre's ample stage, do cartwheels and leaps that defy gravity, jitterbug, sing, make music, manipulate puppets with personality, stage battles with flaming ships in galvanized buckets and much more, propelling the show with speed and clarity.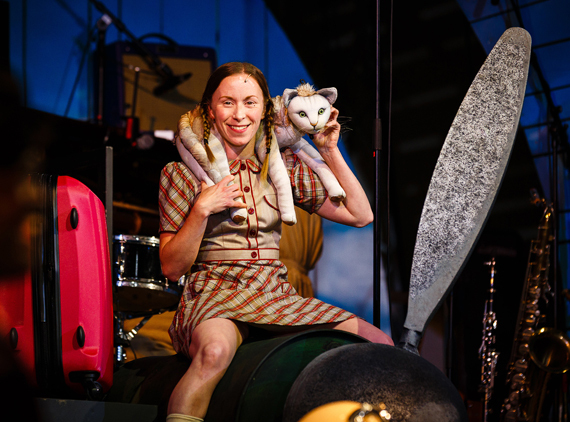 Katy Owen as Lily, a spunky 12-year-old who would do just about anything for her beloved cat.
As Lily, veteran British actress Katy Owen radiates gawky youth and petulance, as well as affection and loyalty, though she also slips into other inconspicuous roles on occasion. For the rest of the cast, there's no limit to the transformations between young and old, male and female, aristocrat and rube.
A few examples of the versatility: Ewan Wardrop is the supercilious Lord Something-or-Other, who orders the village's evacuation; he's also the chattery mother of a teen-aged boy who was sent from London to Slapton to escape the bombings. Mike Shepherd plays a crusty old farmer who refuses to evacuate; he's also a perky, independent grandmother. Akpore Uzoh belts out songs old and new in a role labeled Blues Man, then turns dramatic as a nostalgic American veteran.
Much of the action and emotion involves two GIs who stumble into Lily's home as strangers and return many times as friends. Not only are they American -- perhaps the first the Brits have met -- but they're black. They're smitten by the fact that the Brits treat them without any hint of bias as well as by Lily's devotion to her lost cat, which they struggle to find even during live-fire exercises. Nandi Bhebhe and Ncuti Gatwa fill the roles with touching sincerity and, when staging calls for it, exuberance, athleticism and energy.
The script fails to mention that the U.S.Army was segregated during World War II, but its conclusion -- presumably set in the '90s -- reflects the extent to which race relations could change during the intervening years. Considering the season, I refuse to play Grinch and accuse Morpurgo of facile sentimentality. Good things can happen to good people, and in 946 they do. See for yourself; it's a superb effort, and perfectly fitting for the holiday season.
946: The Amazing Story of Adolphus Tips runs through Jan. 15 in Berkeley Repertory Theatre's Roda Theatre, 2015 Addison St., Berkeley. Tickets are $29-$97, from 510-647-2949 or berkeleyrep.org
REAL LIFE. REAL NEWS. REAL VOICES.
Help us tell more of the stories that matter from voices that too often remain unheard.