The New York Knicks are not headed anywhere good -- the sooner the organization comes to terms with that reality, the better. The question then becomes, what to do with Carmelo Anthony, the 29-year-old scoring dynamo who is set to become a free agent this summer? Since his arrival at Madison Square Garden three years ago, Anthony has dazzled Knicks fans with memorable performances, most notably his Garden-record 62 points in January. But with the good has also come the bad: porous defense, errant shot selection and little postseason success.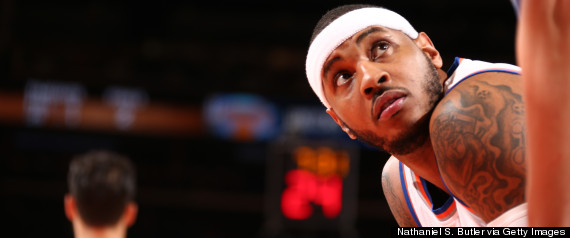 The Knicks are now a wretched 20-31 in the top-heavy Eastern Conference. They are averaging 92.6 possessions per 48 minutes, second fewest in the league. They allow opponents to shoot 46 percent from the floor, which slots them 19th in the league. And head coach Mike Woodson is known as a defensive guru!
The time to trade 'Melo is now.
The deadline is Feb. 20, so the Knicks have precisely nine days to find a suitor. If owner James Dolan and his minions are unable to do so, then Anthony is all but assured to walk as an unrestricted free agent in July. It's a measure of just how pathetic this franchise has become. The lure of Manhattan, of playing in the Garden, is not enough to keep a star anymore. That is what Dolan has done to this team.
The way out of this mess is to trade Anthony. At the very least it would be a first step on a better path.
By trading Anthony, the Knicks can extract value at a critical moment. The team has an opportunity to build around young assets like third-year guard Iman Shumpert and talented rookie swingman Tim Hardaway Jr., both of whom are on their rookie contracts. Woodson will be gone, in all likelihood -- and probably should have been fired a long time ago -- and once rid of him and Anthony, the Knicks have a chance to institute a new coaching regime. For all of his faults, Carmelo is still one of the premier scorers in the NBA -- a "one-name" star like Kobe, LeBron or Dwight. He's enjoying the most efficient and productive season of his career, averaging over 27 points and a career-high 9 rebounds, while shooting over 41 percent from 3. Teams reeling from injuries or that are in rebuilding mode would be a great fit for his abilities. There was even talk of a Carmelo-Blake Griffin swap not too long ago!
It's worth noting that an expiring contract (e.g., Pau Gasol of the Lakers) has little value to the Knicks. Their egregiously capped-out payroll has left them with no flexibility in the short term. Case in point: Stoudemire has a player option worth $23.4 million for next season, while Bargnani's player option is worth a staggering $11.5 million. One potential trade partner for the Knicks is the Derrick Rose-less Chicago Bulls, who could trade the vastly improved Taj Gibson and sharpshooter Mike Dunleavy, and then use its amnesty clause on Carlos Boozer in the offseason.
The point is that Dolan and GM Steve Mills don't have a lot of options. The East features two dominant teams in Miami and Indiana, with a bunch of average clubs behind them, most of which are better situated than New York both now and in the long-term.
Anthony has enjoyed some wonderful individual moments in New York City, but has done little good for the organization as a whole. The Knicks need to trade him and soon, before he walks this summer -- and leaves them with nothing.
Email me at jordan.schultz@huffingtonpost.com or ask me questions about anything sports-related at @Schultz_Report and follow me on Instagram @Schultz_Report. Also, be sure and catch my NBC Sports Radio show, Kup and Schultz, which airs Sunday mornings from 9-12 ET, right here.
Calling all HuffPost superfans!
Sign up for membership to become a founding member and help shape HuffPost's next chapter