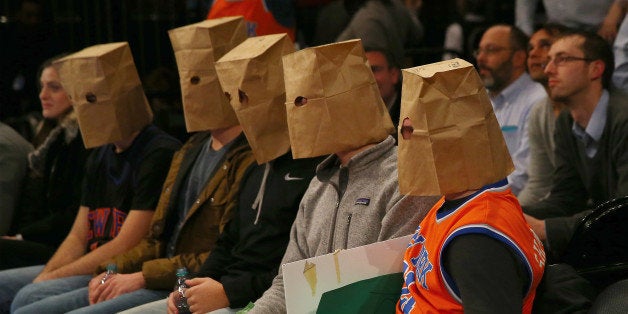 Now is the winter of Knicks fans' discontent.
Temperatures have fallen in New York City during the early days of 2015, but there might not be anything colder in the Big Apple than those woeful Knickerbockers. Depleted by injuries and trades while also being confounded by Phil Jackson's Triangle Offense, the 2014-2015 Knicks have stumbled their way to a NBA-worst 5-34 record.
With the team muddling its way toward to its 14th straight loss at Madison Square Garden, a group of fans sitting near the court sported brown paper bags on their heads to show their disappointment. From their high-priced seats, these fans watched as James Harden and the Houston Rockets dismantled the Knicks on Thursday night.
The crew of TNT's "Inside the NBA" followed the fans' lead when it came time to discuss the Rockets' 120-96 win over the Knicks. It was New York's 24th defeat in its last 25 games.
During the Knicks' previous home game, a 95-82 loss to the Milwaukee Bucks on Monday, another group of fans could be heard chanting "Fire Fisher." Derek Fisher, the Knicks' first-year head coach, has presided over the franchise's longest-ever, single-season losing streak.
While the bag-wearing fans garnered plenty of attention, the most representative reaction to the Knicks' lackluster play may have come from the team's biggest star. Carmelo Anthony, sitting out with a sore knee, reacted to a wayward shot by teammate Cole Aldrich against the Washington Wizards on Wednesday in a way that most fans could relate to:
REAL LIFE. REAL NEWS. REAL VOICES.
Help us tell more of the stories that matter from voices that too often remain unheard.