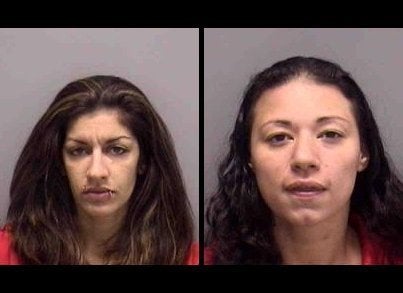 Authorities in southwest Florida recently detained a woman who not only allegedly had hundreds of prescription pills in her possession, but also had two weapons hidden in two very unusual places.
One of them was tucked away in an abdominal skin fold, and the other was found inside the suspect's vaginal cavity, police said.
The investigation began on April 21, when Deputy John Poole, with the Lee County Sheriff's Office, was on routine patrol in the city of Fort Myers. According to an arrest report obtained by The Smoking Gun, Poole was driving east on Danley Drive when he allegedly spotted two women engaging in a brawl in the middle of the street.
Poole exited his patrol vehicle and made contact with the two women, who said they were "arguing over getting cigarettes," Poole wrote in his police report.
The women identified themselves as 28-year-old Gloria Esther Perez and 24-year-old Kelly Nicole Olson. Perez provided Poole with proof of identification, but Olson said she couldn't produce any.
While attempting to verify the young woman's personal information, Poole noticed that Perez kept "putting her hands into her pockets and near her private area." Both females were also becoming "increasingly nervous," the deputy noted in his report.
Poole radioed for assistance and a female deputy was dispatched to the scene to pat down the suspects. When the female deputy arrived, she immediately recognized Olson as 26-year-old Whitney Noelle Krimmel, a woman with whom she had previous contact.
Krimmel was placed under arrest for providing a false name to a law enforcement officer. The female deputy then completed her search of Krimmel, during which she allegedly found 25 different prescription drugs, totaling more than 350 pills, inside her purse.
After searching Krimmel, the female deputy patted down Perez -- reportedly discovering more than 300 pills. Following the searches, Perez claimed she was ill and was transported to Gulf Coast Hospital. During examination, medical staff allegedly found two knives, "one being hidden in her vagina, and the other in a roll of fat in her stomach." Another bottle of pills was also located in her body fat, police said.
Krimmel has been charged with 25 counts of possession of a controlled substance without a prescription, 11 counts of possession of drug paraphernalia and one count of false identification given to a law enforcement officer. She is being held in the Lee County Jail on bonds totaling more than $80,000 and is scheduled to appear in court on May 23.
Perez was booked in the county jail on two weapons possession charges and a dozen narcotics counts. She remains jailed in lieu of $25,000 bond and is scheduled to appear in court on May 31.
While the alleged vaginal stash is shocking, it pales in comparison to a recent arrest in Scranton, Pa., in which police say they found more than 100 items -- including 54 bags of heroin and loose change -- inside a 27-year-old arrestee's vagina.
Popular in the Community