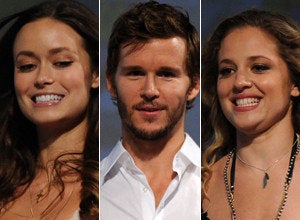 See if you can follow along here; this story gets pretty layered.
Live Action Role Playing -- or, LARPing, for short -- is a relatively new hobby in which fans of a certain kind of fiction (generally, a medieval or sci-fi based) take their obsession from role playing card and board games (think: Dungeons & Dragons) and, instead of just rolling dice, they become part of the action themselves. Wearing armor and carrying weapons (in the usual medieval LARPs), they run around and simulate battle, carrying out story lines both written by authors and themselves.
What was once a quiet phenomenon has now hit the mainstream, and as such, has even secured its own movie. Enter "Knights of Badassdom," starring "True Blood" star Ryan Kwanten, "Game Of Thrones" star Peter Dinklage, "It's Always Sunny In Philadelphia" recurring actor Jimmi Simpson, Summer Glau, Steve Zahn, "Community" favorite Danny Pudi and Margarita Levieva. So, we've got a fictional film about people who traffic in fiction. Clear enough.
But here's the kicker: soon, the adventure becomes real, with a fictional enemy come to life. So, now, a true life adventure for fictional characters in a movie based on fictional people who in true life do fictional things.
"The LARPing community is very sacred about the way they are perceived. They don't want to be considered a joke, and we didn't want them to be a joke. The theme of the movie is wish fulfillment," he said. "Matt [Wall, one of the writers] and I actually went on a couple LARPs... Once you put on a helmet and armor and grab a sword, you are in goddamn Braveheart or Excalibur! That was the moment that I knew how to approach this movie: absolute respect to culture, but still have a little fun with it. If someone sees the movie and afterwards says, 'I wanna LARP!' then we have done our jobs."
Got it? No? Well, read the synopsis below, and if that fails, just take a look at the trailer. If anything, you'll at least get some laughs.
In this humorous fantasy adventure from, Joe (Ryan Kwanten) is a heavy metal rocker who's just gone through a painful breakup with his girlfriend, Beth (Margarita Levieva). His concerned roommates (Steve Zahn, Peter Dinklage) kidnap him to their LARP (Live Action Role Playing) gathering, where he enters a realm of fantasy escapism in which pretend knights, elves, and barbarians clash with foam weaponry on a mock battlefield. When Joe's "sorcerer" roommate (Zahn) inadvertently summons a deadly succubus that takes Beth's seductive form, bloody reality crashes down on their fantasy world. Once LARPers start to turn up dead, the make-believe wizards and warriors must become the real-life heroes they have been pretending to be in order to conquer the evil that has been unleashed.
Calling all HuffPost superfans!
Sign up for membership to become a founding member and help shape HuffPost's next chapter