Katie Deline-Ray is affectionately known by her loved ones as the "crazy nest lady." She isn't quite sure how many mini handmade havens she's knitted and crocheted for injured baby animals to take refuge in over the years. But she's certain it's a lot.
"I stopped counting after the first couple hundred I made," she says.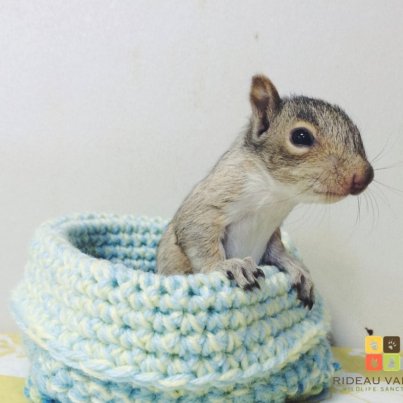 Photo credit: Rideau Valley Wildlife Sanctuary
Deline-Ray, who lives in Ontario, Canada, is founder of Wildlife Rescue Nests. She designs and makes sturdy, soft, adorable nests, which she donates to wildlife rescue groups to use as little recovery lairs for sick, injured and abandoned animals. She also shares her patterns for others to replicate.
Deline-Ray began making her cutie-pie concoctions in the winter of 2013, while she was recovering from a broken hand, and "spending way too much time online."
One thing led to another -- as happens on the internet -- and she discovered a woman who was making similar nests for U.S.-based wildlife groups, as an alternative to the boxes and other hard, less-fetching objects often used to contain the animals these groups care for.
"I thought it was a such a wonderful and kind idea and went searching to see whether there was anything like it set up for our wildlife rescues in Canada," she says. "To my surprise there wasn't. So I started contacting wildlife rescues and they were very interested in the idea and agreed to try some out."
Some modifications were made to already-existing patterns -- designing a flat bottom, for example, and, later, a "cave nest" for burrowing animals. And then, like a little fledgling bird taking its first flight, the nests went out into the world.
These days, Deline-Ray dispatches nests -- always for free -- to 60-some wildlife rescue groups across Canada, the United States, Australia, Ireland and the U.K., where injured and orphaned squirrels, birds, raccoons, bats, possums, skunks, chimpmunks, rabbits and even, one time, a teeny mink, nestle inside the warm, soft spaces while they are convalescing.
"She sent us a few samples last spring and we have not stopped using them since," says Monika Melichar, president of the Woodlands Wildlife Sanctuary. "The little ones love the snug feeling the nest provides, and feel safe and protected. When we cover the nest with a light cloth, the wild ones have a sense of snuggling under mom's wing."
Thanks to Tracy, who made this nest for Woodlands Wildlife Sanctuary! After the bunnies are done with it, it is going to be hung as a baby squirrel nest :) Great idea!

Posted by Wildlife Rescue Nests on Thursday, April 30, 2015
Future plans include making more nests, recruiting new volunteer knitters and crocheters -- there are an estimated 250 folks participating already -- and helping as many wildlife rescuers as possible take care of their animals, in this one completely charming way.
"I have no formal training with animals or wildlife, just a great love for it. I grew up in the country, and the woods were my playground. I was that kid that would stand for hours just to get the chickadees or the hummingbirds to land in my hand to eat," Deline-Ray says. "I love making the nests because I have a great admiration for all the amazing work the wildlife rescues do. I feel like I have a part in giving back to wildlife in a small way."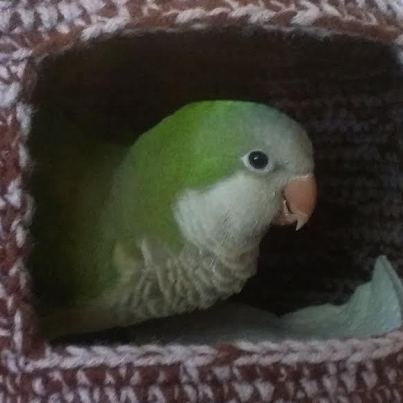 Deline-Ray's parrot commandeers a nest. Photo: Katie Deline-Ray
And get in touch at arin.greenwood@huffingtonpost.com if you have an animal story to share!
Related
Before You Go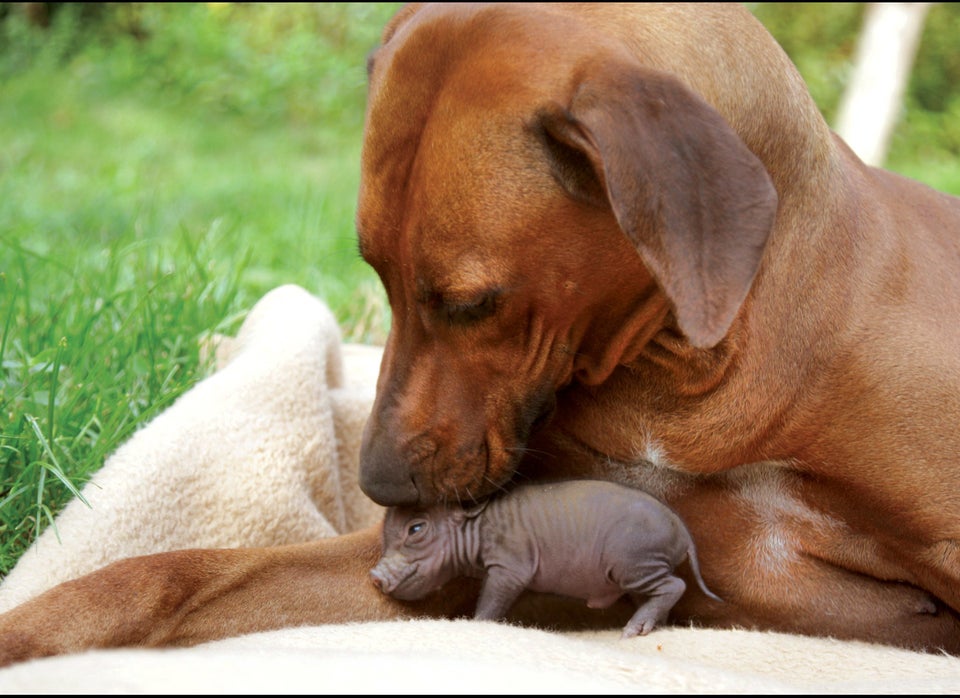 Unlikely Animal Friendships