Knitting is a centuries-old pastime. In the past decade, it has made a colossal comeback. It's hard to pinpoint where knitting started, but it more than likely was introduced by Arabian sailors and merchants who sailed and traded throughout the Mediterranean.
For many, knitting is a form of therapy (minus paying expensive hourly rates). It's a major stress reliever. The sky is the limit in the creativity department; all you need is a pair of knitting needles, yarn and a pattern. It's a solo or social hobby, where you can unwind on your own or gather casually with fellow knitters.
With the popularity of knitting among the young, the old and everybody in between, there are now knitting vacations. Knitting is portable and small knitting projects are easy to pack for a vacation.
For avid knitters and anyone wanting to learn the craft, why not combine vacation days with clicking needles. Add a schooner and salt water into the mix and knit away as the wind fills the sails.
Based on the coast in Rockland, Maine, J. & E. Riggin has three knitting cruises lined up for the summer of 2012. On each sailing trip, 24 knitters gather on the 120-foot, two-masted schooner.
Elizabeth Poisson is the shore operations manager for the schooner, which is owned by two captains. The trip is dependent on the wind. "If there is a lot of wind, we sail to Bar Harbor," Poisson stated. "Some passengers knit from the time they come up on deck with their first cup of coffee until the end of the day, when they are down below knitting in the galley by lantern light." Others set knitting aside for bountiful conversation. "Either way, it's fun," Poisson said.
Aside from mostly women on the cruises, there are men, too. " We had a single lawyer who came last June for a month of sailing. He caught the knitting bug during the knitting cruise, and now is a member of a knitting group in Missouri, Poisson said." "Some husbands come along for the sailing and help the crew of 6."
So where do knitters sit on the deck of the boat and what do they wear during the sailing trip? "We tell people, pack as though you're going camping, " Poisson said. "Bring layers and a windbreaker jacket. Basically you find a seat on deck." (You should wear boat shoes or rubber-soled shoes and bring a canvas boat tote as well.)
Each knitting instructor sends a list of knitting-related items, yarn and projects for each sailing trip. Knitters can bring current projects which they would like to finish and projects they need guidance to complete. Bring yarn to begin a new project, too. (It's suggested to bring several small projects.) "Any project that you can carry around on deck is a good project to bring," Poisson explained. "Passengers tend to move around often, moving with the sun and the sails." " Hats, mittens, socks, baby sweaters and scarves are ideal projects to bring."
As for the sailing, the trip can be interactive, too. It's not required, but guests can lend a helping hand with ship duties such as raising the anchor and sails. "We never turn down an extra set of hands, " Poisson said. "Many hands make for lighter work."
June 8 to 11 4-day cruise is $696 with instructor Bill Huntington of Hope Spinnery in Maine
The focus will be on small projects.
July 18 to 24 4-day cruise is $788.00 Knitting details to be announced.
September 3-8 6-day cruise (all women) $977.00 with instructor and author Margaret Radcliffe
The focus will be on edges, casting on, bind offs, borders and techniques.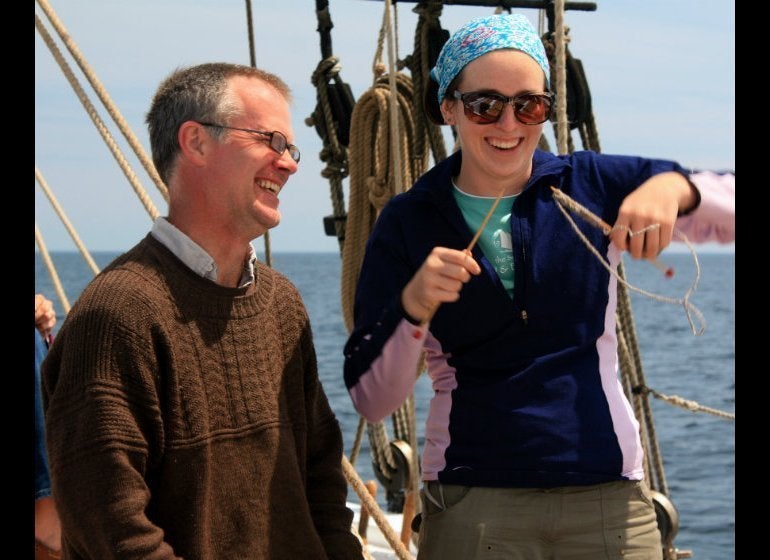 Sailing, Knitting & Dining Aboard Schooner J & E Riggen
Popular in the Community