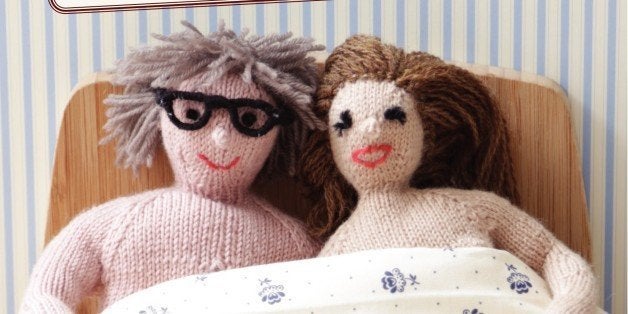 You've heard of pearl necklaces, but wait until you see the purl necklace!
It's called "Knit Your Own Kama Sutra," and features twelve sex positions straight from the ancient erotic handbook depicted in the form of knitting.
For instance, the chapter for a position called the "Erotic V" shows a knit man and woman having sex on top of a knit copier -- and they've got great yarn sex hair as an added bonus.
The naughty knitting sex guide is the kinky creation of Trixie von Purl, the pen name of British-based knitting expert Geraldine Warner, who has written less explicit manuals under her real name.
Warner admits that research was a blast.
"I had lots of fun looking through any Kama Sutra books I could get my hands on (including a bizarre one with a joyless, terrifying looking gentleman strenuously holding each stance) to come up with the right positions," she told HuffPost by email. "I brainstormed the funniest situations I could think of, then retreated to my knitting boudoir for 5 months to make it all happen."
Warner says she tried to push herself in both sex and sewing to get the project to completion.
"As far as the knitting is concerned, I always like to challenge myself in terms of techniques and I think that comes through in the patterns," she said. "I'd probably say I adopt a similar approach to my love life. Ahem."
Surprisingly, sewing the characters in the act of sowing their oats was easier than some of the inanimate objects in the sets -- to a point.
"The knitted pieces are actually pretty straightforward, although the telephone (conveniently off the hook in the accompanying image) is a bit fiddly," she said. "The hardest part was getting the dolls into position and keeping them there, although it's amazing what you can do with some pipe cleaners, wooden tooth picks and dowel rods. I mean, generally in life too."
REAL LIFE. REAL NEWS. REAL VOICES.
Help us tell more of the stories that matter from voices that too often remain unheard.
BEFORE YOU GO
PHOTO GALLERY
Knit Your Way Through The Kama Sutra