In director M. Night Shyamalan's "Knock at the Cabin," Ben Aldridge and Jonathan Groff play a pair of men who must endure emotional and physical torment from fearsome assailants while grappling with the threat of the apocalypse.
The two actors are nonetheless hopeful that audiences will look beyond the movie's supernatural, if wildly topical, premise to observe the gay love story at its center, too.
"Gay marriage wasn't even legal when I came out of the closet in 2009, so this feels like the gift of a lifetime," Groff told HuffPost. "It wasn't lost on us while we were shooting [how] blessed we are to be on that wave of progress."
Released Friday, "Knock at the Cabin" is an adaptation of a 2018 novel by Paul Tremblay titled "The Cabin at the End of the World," albeit with a radically different ending. The movie centers on married fathers Andrew (Aldridge) and Eric (Groff), who are enjoying a vacation with their 7-year-old daughter, Wen (Kristen Cui), at a country home by a secluded lake.
The family's idyllic getaway, however, is disrupted when four strangers bearing makeshift weapons emerge from a nearby forest to storm their property. Eric sustains a head injury in the ensuing scuffle, and the group takes him and Andrew hostage before presenting them with a grisly conundrum: One member of the family must voluntarily sacrifice their life to stop the world from ending.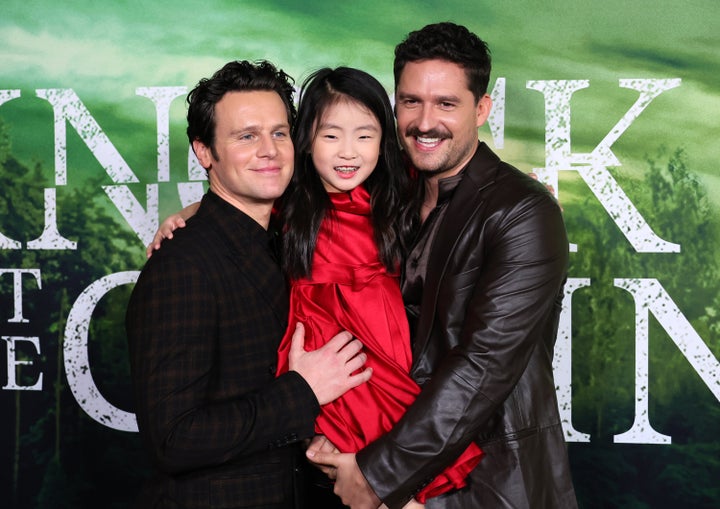 In flashbacks, it's revealed that Andrew was the victim of an anti-LGBTQ hate crime that may have involved one of the home invaders, Redmond (Rupert Grint). Naturally, Andrew suspects that he and Eric have been targeted because of their sexuality, even as their cultish captors' doomsday claims seemingly begin ringing true.
While faithful to Tremblay's book, the movie's use of homophobia and other queer-specific traumas as subtext has turned out to be divisive among critics. (Read HuffPost's review of the film here.) Groff, however, said Shyamalan's intent was for him and Aldridge to always "feel the love" in the scenes, "even when there was confusion and even when there was pain."
"From the first read of the script to actually playing it, I didn't realize until we were doing it how much of a love story we were playing between us outside of the lines — including the lines, of course," he recalled. "But that was a real element that he kept reminding us of as we made it."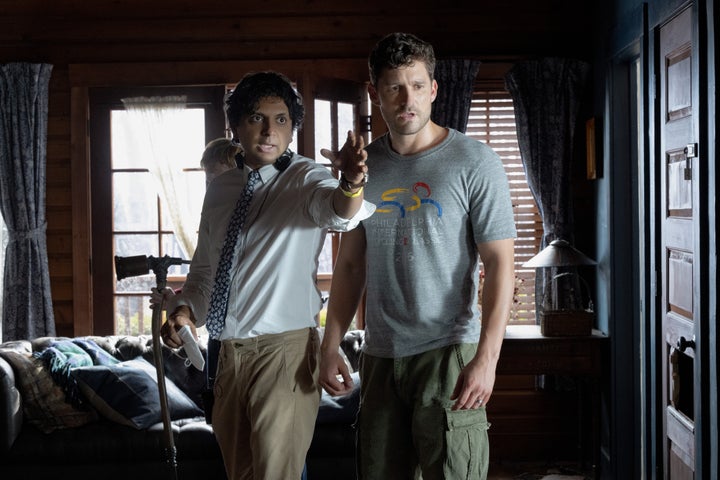 Aldridge, meanwhile, credited Cui ― who is making her screen acting debut in the film ― with helping keep the mood light on set.
"We had a lot of fun with Kristen in between all of the intensity," he said of his young co-star. "She's unflappable and unfazed. [Shyamalan] has worked with so many child actors and can be incredibly hard and blunt with them. But I think probably more than anyone on that set, Kristen knew that we were acting. She would make us laugh rather than the other way around. It was kind of like she did her own version of taking care of us, really."
Aldridge, who came out as gay in 2020, has been outspoken in interviews about concerns he'd previously held regarding how his sexuality could impact his Hollywood career.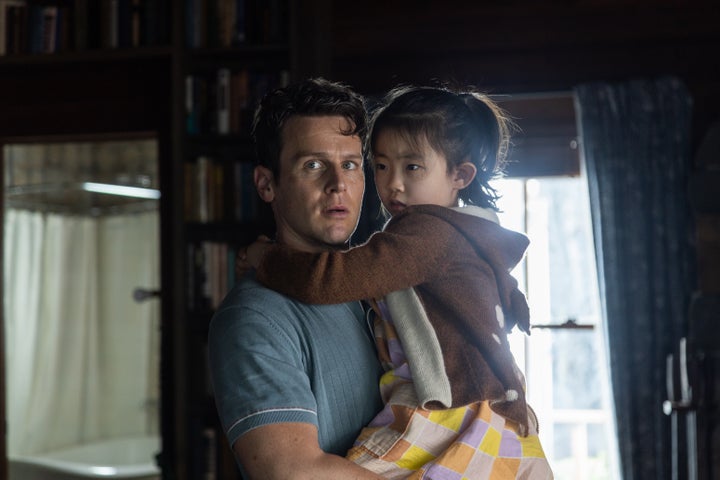 Instead, he's found even greater success as of late, most notably in last year's movie adaptation of Michael Ausiello's memoir, "Spoiler Alert," in which he played a photographer named Kit Cowan whose relationship is tested following a terminal cancer diagnosis.
Together, both projects have afforded Aldridge the chance to provide audiences with the kind of representation he felt was missing in his early years. "I could never have imagined when I left drama school that this would be a possibility," he said. "I just feel very grateful."
Groff, meanwhile, has been a favorite of queer audiences since HBO's "Looking," which focused on the lives (and loves) of three gay men in San Francisco. His movie career has been flourishing, too, thanks to appearances in 2021's "The Matrix Resurrections" and Disney's animated juggernaut "Frozen," in which he voiced Kristoff.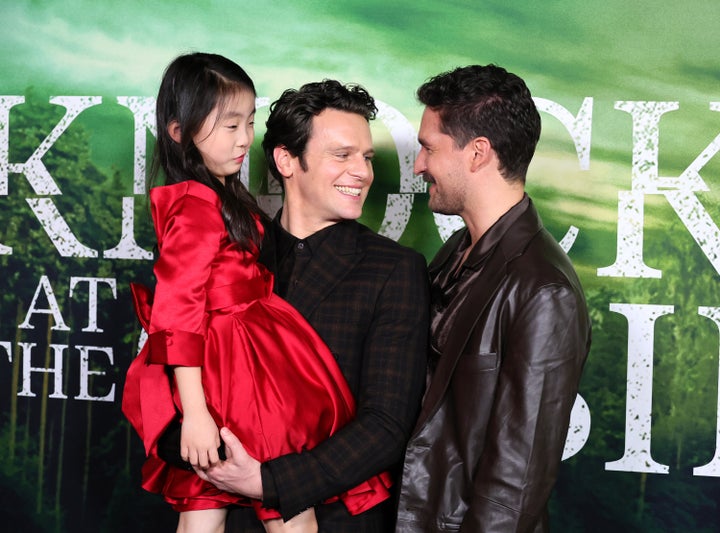 These days, he's gearing up for a long-awaited return to the musical stage following his Tony-nominated roles in "Spring Awakening" and "Hamilton." In September, he'll appear alongside Daniel Radcliffe in the first-ever Broadway revival of Stephen Sondheim's "Merrily We Roll Along," which recently wrapped a sold-out off-Broadway run at New York Theatre Workshop.
Interestingly, Groff will always associate "Knock at the Cabin" with his "Merrily We Roll Along" role, given that he began preparing for the musical while on the movie's Pennsylvania set.
"I'd go down to the treadmill every morning at 5 a.m. before we shot, and I'd be listening to 'Merrily.' So they kind of feel intertwined, even though they seem so dissimilar," he said. "But I don't think of roles fitting in any type of canon. It's just pulling an arrow and shooting it off, and going back for another one."
Catch a trailer for "Knock at the Cabin" below.
Popular in the Community