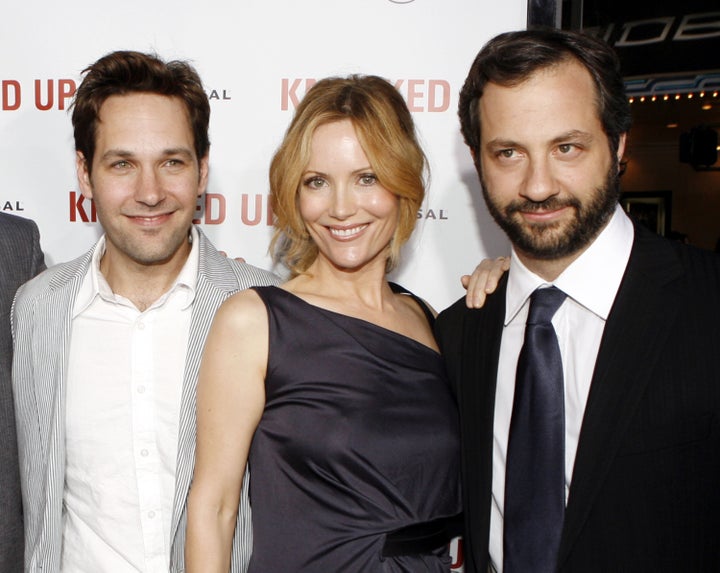 "It is just a story from Pete and Debbie's current life," he told the site. People really responded to their characters and problems. I felt like there was a lot of ground I could explore with them, so we'll be shooting in July and will come out the following June. There are some fun details yet to reveal but I will let them come out slowly."
Paul Rudd and Leslie Mann stole the show in Judd Apatow's 2007 film, 'Knocked Up,' and now theft won't even be necessary: Variety reported, and The Wrap later confirmed, that the director is bringing back Rudd and Mann -- and their characters -- for his next film.
In 'Knocked Up,' Rudd and Mann play Pete and Debbie, a mid-30's couple with two kids facing the realities of jealousy and the difficulties of growing older. Ostensibly, they're the supporting act for Seth Rogen and Katherine Heigl -- Mann plays Heigl's older sister -- in their own baby/relationship drama, but the two had such on-screen chemistry that Apatow was moved to give them their own starring vehicle, set for a 2012 release.
The plan keeps Apatow's inner circle in place and in films. Rudd has appeared in seven Apatow-produced films, including 'Anchorman' and the upcoming 'Wanderlust.' Mann is even closer to Apatow; in addition to starring in five of his produced films, she is also his real-life wife. The couple's two daughters appeared as Rudd and Mann's children in 'Knocked Up.'
Apatow has had no problem pairing Mann off with other men in his films; in addition to Rudd, she was the love interest of Adam Sandler in 2009's 'Funny People.'
Currently, Rudd is appearing in the romantic comedy 'How Do You Know,' and later in 2011 will be seen in the indie film, 'My Idiot Brother.' Mann will have a busy 2011, as she's set to appear in five separate movies.
Here's a clip of Rudd and Mann discussing their roles in the first film.
WATCH
:
Popular in the Community