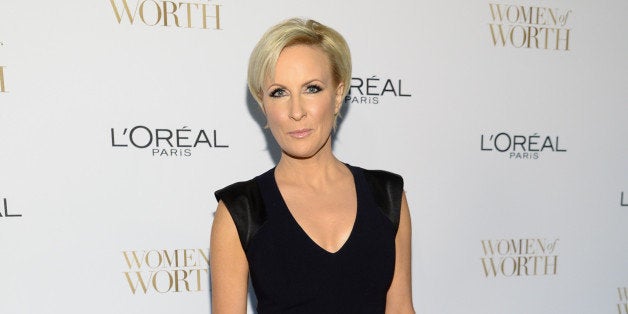 Mika Brzezinski has written and spoken extensively about the challenges she faced along the way to professional success -- including, and especially, the challenges that came from within.
Now Brzezinski, a co-host of "Morning Joe," is sharing her own lessons on a larger scale, opening up the conversation on how women can succeed meaningfully at work and in life. Leading up to the publication of her latest book, Grow Your Value, in May, Brzezinski has partnered with the NBCUniversal News Group to host "Knowing Your Value," a 5-city, multimedia conference bringing together women of all ages and professions to discuss pathways to career success. In each city, Brzezinski and a group of guest experts will explore some of the roadblocks women face throughout their careers and discuss ways for them to create the life they ultimately want for themselves.
In a conversation with Arianna Huffington today, Brzezinski explained how the conference will spotlight women's stories to empower and inspire women looking to make changes in their lives and careers. Here are a few excerpts from the conversation.
"Learning to know your value is quite a process," Brzezinski told Huffington. "Today so many women are working, and they're great at what they do, but when it comes to putting a number on themselves they clam up, find no words, self-deprecate, and leave money on the table. We teach women to know their value. Once you know your value, the next thing you need to do is grow it, develop your brand, and develop your potential."
Don't try to please everybody
"A lot of women, as they break the glass ceiling and reach great successes in their lives, find themselves dashing between multiple personalities," said Brzezinski. "In my book and on stage, we will hear from very successful women who have paid the price because it's impossible to be all those people all at once and all the time. You crack... If you are going to have great success, you are going to have to make sacrifices and fundamentally transform the way you think to get the best value out of all your relationships. That means not trying to please everybody -- you can't run around trying to please people all your life. That was my story for many years and, to be honest with you, I almost burned out."
"One thing that will be different, that we will be able to do in these multimedia events, is that they will be very interactive," said Brzezinski. "And not just with the audience, but with the online community, too, in a very workshop-y kind of way. We're going to get women up on stage to help them get more value out of the connection they are trying to make -- things like their posture, eye-contact, handshake, even the way they dress, communicate and conduct a conversation."
Demand respect before friendship
"We have to find our own authentic voice," said Brzezinski. "We have to allow ourselves to be aggressive without feeling like we're not pretty. This does not always come naturally -- we feel we need to be friends with everybody in the room. I'm going to turn around the equation: You need to demand respect first. You can always be friends later, but only after the deal. This will be good for them too because you will bring value."

REAL LIFE. REAL NEWS. REAL VOICES.
Help us tell more of the stories that matter from voices that too often remain unheard.