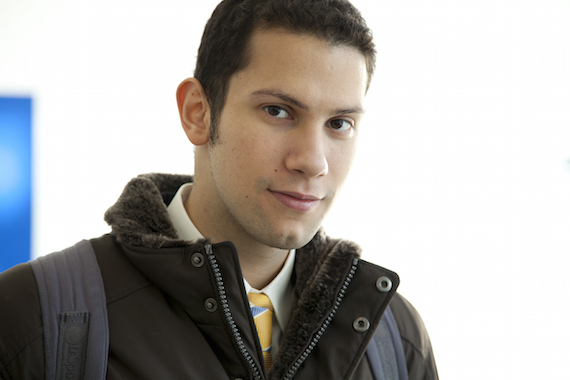 Omar Khedr, photo courtesy of Julie Hassett-Sutton/Frantic Studio via Global Kids
I got to experience Global Kids in 10th grade through my high school, the Academy of American Studies, which was a great school. But before I went there, I went to a large New York City public high school. If you were not a standard, normal person there, you were in trouble. I wouldn't raise my hand to answer a question. I thought, "Why do I want to be the class nerd and have the problems that that entails?" But once I found Global Kids, that wasn't an issue. Global Kids says, "There's nothing wrong with being smart or engaged. Own up to what you are and be as much as you can be."
It's a magic formula. The kids themselves were curious, and Global Kids knew how to capitalize on that and say, "This is a great thing for your future, you're going to want to be a part of this. And you're going to get something out of it besides just future value. You're going to get something personally, deep inside yourself."
The staff knew how to design workshops that got people to think about problems from different angles. And for a kid who's 15 or 16 years old who's really trying to discover who he is, it's useful to know that he's part of a global community and not one community only.
The Global Kids Summer Institute at the Council for Foreign Relations was a once-in-a-lifetime opportunity that kids normally wouldn't get. It introduced us to global thinkers and individuals who have served in public office at the highest levels. The ability to ask these experts direct questions and get a response has stayed with me forever. A variety of leaders from around the world talked to us about issues like child soldiers, HIV, espionage, and conflicts that are really at the heart of who I am, like the Palestinian-Israeli conflict.
The Council was a world filled with intelligence, reason and logic. It awoke a fire in me. I've always been a competitive person. I represented New York State in swimming when I was in high school. I have that athlete mentality, so I just needed a target. I got that from Global Kids at the Council on Foreign Relations, and that has propelled me to go forward academically, as well as in other areas.
Through my high school, I applied to the GE Greatest Generation scholarship and I was one of only eight students from NYC public schools who won the scholarship that year. It gave me the opportunity to attend New York University. The GE scholarship and the network of inspiring individuals it exposed me to at NYU and elsewhere helped enhance the skills that I learned at Global Kids.
Global Kids empowered us and broke our fear of questioning the experts. They did this through making us do our homework so that we knew our topics, and they did it through ice-breakers and through social gatherings. We drew strength from our classmates and from the Global Kids staff who said, "You are doing great work and you can contribute to the conversation."
This post is part of a series produced by The Huffington Post and Global Kids (GK) in conjunction with Global Kids' 25th anniversary. These stories were crafted from extensive interviews with featured GK alumni. Read all of the posts in the series here. Learn more about Global Kids here.
Support HuffPost
The Stakes Have Never Been Higher
Related
Popular in the Community