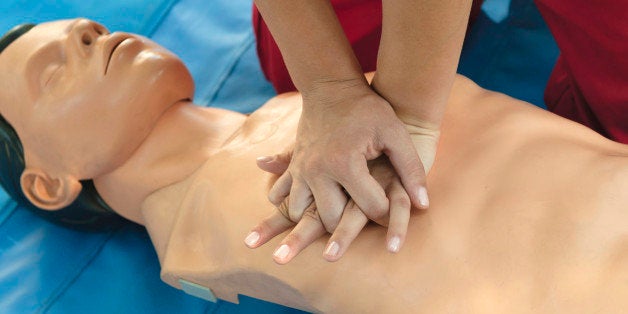 When my husband took a CPR class through his workplace several years ago, he decided to learn this lifesaving skill because, as he said, "There was no reason not to learn." Little did we know that he would ever need to use cardiopulmonary resuscitation, let alone in our house... and on me!
I woke up on Mother's Day last year with my children singing a special song they wrote for me. I went down the hall to enjoy a homemade breakfast prepared by my husband. As the morning went on, I had heartburn and it didn't feel like any version of it I had ever had before. I hadn't eaten anything that would have caused it, and I also recalled experiencing some shortness of breath walking up the stairs the night before.
I called the doctor and after hearing my symptoms, he said it could be esophageal but couldn't rule out a heart attack. I was instructed to take an antacid and if it didn't improve, go to the emergency room. I only had expired antacids, so I didn't take anything and it wasn't getting better. My husband suggested we go to the hospital so I could get checked out. I was 44 years old, it couldn't be a heart attack! I agreed to go to the emergency room. As I prepared to leave, I collapsed in my bathroom.
After hearing a thud, my then 10-year-old daughter alerted my husband who found me on the floor. He immediately called 911 and after providing basic information, he began CPR while my children prayed.
My husband pushed as hard and as quickly as he could on my chest to keep the blood circulating in my body. Every medical professional has called my husband, Tom, a hero because he performed CPR. Had he not, I wouldn't have survived long enough for anyone else to help me. What he did was so basic, but it is something that so many others are afraid to do or don't know how to do.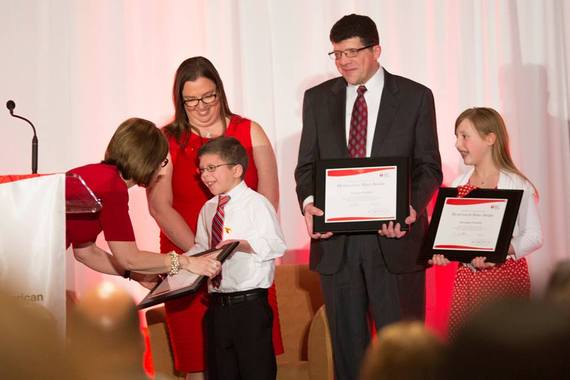 At the 10th Annual Greater Hartford Go Red For Women Luncheon, American Heart Association CEO Nancy Brown presented Heartsaver Hero Awards to the family of Leigh Pechillo recognizing their heroic actions in helping to save her life. L to R: AHA CEO Nancy Brown and the Pechillo Family, Robby, Leigh, Tom and Allie. Photo credit: Hoffman Auto Group
Are people uncomfortable putting their mouth on someone else's to help them breathe? The AHA now recommends Hands Only CPR which doesn't require any mouth-to-mouth to be administered. People don't have time to be certified? While being certified is the optimal choice, you can easily access videos online through AHA to learn the basic skills needed so you can familiarize yourself with this life saving procedure.
The American Heart Association is diligently advocating for CPR training to be required in high schools across the country, providing our children with the skills to save lives. Currently, there are 21 states in the U.S. where CPR training is or will be required for graduation.
Arming yourself with the knowledge and skills to perform CPR could be the difference between life and death of someone you know and love.