The college hackathon is a strange, formidable place.
Or at least it is for someone who doesn't actually hack. Not yet, at least. I'm a neuroscientist and businesswoman only now realizing that computer science may just be the coolest and most necessary thing ever.
So I thought - what better place to start than a hackathon? And as a student at the University of Pennsylvania, there was an amazing one right in my backyard - PennApps XII. Sponsored by companies like Comcast, CapitalOne Apple, Bloomberg, Goldman Sachs, Uber and the Thiel Fellowship, Penn and surrounding-area students had an excellent event right at their fingertips.
Of course, I wasn't actually hacking. Instead, I attended events like the Health Symposium and workshops in IOS, Android, HTML and Arduino. "[The Health Symposium] introduced a new set of Clinical Mentors to lend scientific expertise, and had new health-focused partnerships with prize sponsors and employers," says Penn senior Mary Sun, who was involved in organizing PennHealth, one of the specific tracks hackers were encouraged toward.
As a Biological Basis of Behavior major, I was immediately interested in hacking health. And I wasn't the only one - PennHealth received amazing response at PennApps XII. "The industry itself is in dire need of large-scale technological disruption," Sun explains. "You are hard-pressed to find a more direct way of creating social good. New problems are being discovered and solved every day at an unprecedented pace, and the technologies that can be applied to improve the industry are limitless. In my opinion, technology will be one of the lynchpins of the healthcare revolution."
The entire first day - Friday, September 4th, I was learning about technological trends, receiving introductory workshops on languages that I knew I would later pursue, and meeting amazing people who were organizing and participating in the event. All was going well.
That is, until the companies set up their booths.
All afternoon of the first day of the event - Friday, September 4th, there had been scattered company reps, faces with nametags, hordes of students thrashing each other in a quest for free stuff. But it wasn't until later in the evening that nearly every tech-related company involved with PennApps showed up. And when they did, I became lost in a sea of intimidating surroundings.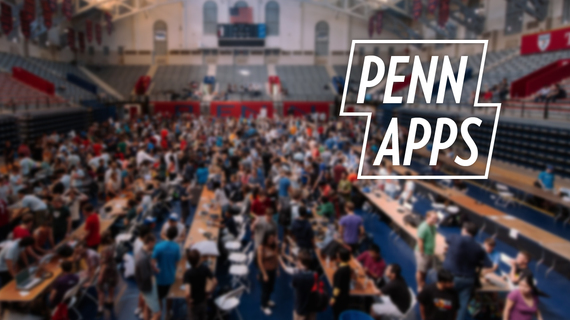 Facebook, Airbnb, Google, IBM, EA, eBay, Apple - you name the tech giant, and they were there. I hadn't known of some of the other present companies before, but they were just as impressive: Neuromore, a neuroscience technology company, developed a software to capture and use biodata in real-time for rapid insights and experiences; OpenBCI, another neurotech startup, developed an open-source brain-computer interface "OpenBCI Board" to sample EEG, EMG, EKG, and more. It was like staring the future in the face.
Everywhere I turned, company reps were passing out "Apply to be a software engineer!" flyers, modulating swag-grabs from teenagers who were hungry for brand names, and conversing in acronym-soaked jargon with students within earshot.
It was that time in the hackathon that everyone had formed teams and started to get a grip on their ideas. Suddenly, my creative space to talk to people individually about their ideas, to attend workshops and events, to interact with the few sponsor tables that were there at first, had become a frenetic amalgam of people who just knew so much more than myself.
But then I realized - that's okay. That's why I am here: to learn about phenomenal things, to make my first step toward learning how to make those phenomenal things, and to meet the phenomenal people behind those things. I didn't have to know it all. I just had to take it all in, an enormous episode of imbibition that would prove more rewarding than I had ever thought possible.
So I talked, and I listened, learning more about the fantastic research and technology being implemented at Neuromore and OpenBCI, learning from Goldman Sachs how technology is applied to their work, and talking to students about their ideas. One of my favorites - MoleML, a machine learning-, image recognition- and feature-extraction-powered app for detecting melanoma and basal cell carcinoma from a single cell phone image, ended up winning Best Health Hack. "When you have an idea in the regular life, you often just let it go, or dismiss it thinking that someone has done it before," says Penn freshman Abhi Suri, a member of the MoleML team along with Anton Relin, Joe Azar-Williams and Matt Liang. "What's unique about PennApps is that those ideas that would have been considered moonshots become a reality."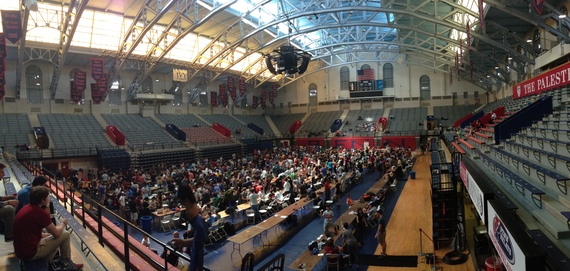 But MoleML wasn't the only hack to blow judges away. Other winners included DigitalCoffee, a hardware device that wakes you up when you doze off through glasses and a Pebble watch that vibrate when your eyes close for too long; Ilustratr, an app that intelligently generates illustrations for text such as children's stories; SemQuery, a search engine intended for querying databases; Simple Mapper, a simple range finder using video from a single camera intended to produce data akin to a LIDAR; The Platypus Project, a hack that analyzes and produces real-world data which are collected and expressed through platypuses, and the grand prize winner FifthSense, an assistive platform designed to make the features of smart devices accessible to the visually impaired by communicating through braille.
"PennApps was amazing," says Emmett Neyman, a Penn freshman and winner of the Best Humor Hack and Most Innovative Electric Imp Project for The Platypus Project (along with his team members, Aspyn Palatnick, Zheng Tian and Max Fine). "I had an amazing time, met a lot of awesome people, and saw some incredibly impressive things. I didn't sleep much - only 5 hours out of 50 - so I might not have the most vivid or objective memories of that weekend, but it was the most fun I've had since entering college."
Everyone had their own experience and takeaway from PennApps. "This hackathon forced me to focus in a way I had never focused before," says Anton Relin of MoleML. "It taught me the limits of my body. Hackathons really are the 'sport' of programmers - they force you to go to extremes like any major league sport does for their respective players." For Mary Sun, "PennApps was a unique way to explore the intersection between medicine and computer science."
And for myself, PennApps was another world. Had I stayed behind, had I not willingly placed myself into an environment where I was a novice in a sea of experts, I would not have developed my newfound fascination with computer science, with implications for my academics and career. I would not have talked to CEOs of neurotech startups, learned how to hold my own in technological conversations, and discussed groundbreaking ideas with my peers.
I may have expertise in neuroscience and business, but positioning myself in an industry where I knew so much less than the average person opened the door for new relationships, passions and areas of expertise.
I stared the future in the face, and only because I was willing to feel incompetent. I was willing not to be the smartest person in the room. I was willing to learn.