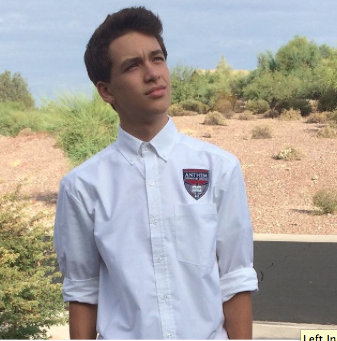 Anthem Preparatory Academy freshman, Marius Britt has it all figured out. "I wasn't nervous at all," Britt says of his first day as a high school freshman. "It's not like I got advice from any one person...but everyone did want to give me advice, I mostly ignored it," Britt laughs. He runs through his roster of classes, classifying each one as "easy," "hard," or "boring." Humane letters (an intersection of English and History) is easy. For the first time in his academic career he's happily doing the assigned reading. "After reading Beowulf and Canterbury Tales [last year], Huck Finn is easy... so far I've read eight chapters and it's good," he pauses "I'm going to ace Humane Letters," he says confidently. Britt rattles off the rest of his classes. He remarks that Geometry is hard but interesting then waits for a reaction like he has just set off a bomb.
In middle school, Britt may have earned the label "class clown" from his peers, but the teachers likely knew him as something else. Frequently sent to the principal's office for distracting the class, Britt was a regular in detention. His teacher's often lamented Britt's work ethic and priorities. They assured his parents that he was certainly bright enough to excel but cared more about making his friends and classmates laugh. Britt was an average student at best. When asked what brought about the sudden change in attitude toward academia, he is nonplussed. "Well, eighth grade doesn't matter," Britt says as though this is the most obvious conclusion. "As long as you pass [middle school] it's all the same. But I know high school matters."
Britt has always been active and engaged in extracurricular activities without too much prompting from his parents. He has participated in Taekwondo since kindergarten, and is now a third-degree black belt. He plays for Anthem Prep's basketball team and is also a talented musician. Britt plays piano, bass and guitar in his band "Bacon Apocalypse." When asked to explain the name, he just gives a look that says: "If you have to ask, you're too old." To round out his activities, Britt has also just joined Anthem Prep's knitting club of which he plans to become President. "I think it'll look great on college applications...but I haven't told my parents yet," he admits sheepishly.
The fourteen-year old Arizona native is taking life day-by-day. Looking forward to his senior year, Britt -- standing at 5 feet 11 inches -- imagines he'll be "really tall and big," and looks forward to not having to wake up early in college, which he considers a given. The youngest of three, Britt's older siblings are already out of university. When asked about his college plans he admits to not giving it much thought. "I know I should be thinking about it, but I'm not. My brother wants me to go to ASU like he did but I'm just winging it. Obviously I'm going to college somewhere though. Knowledge is power." He then tells an anecdote to illustrate this point about his relentless trips to and from the sink to fill up his water glass. Eventually, he filled up a bowl of ice water and cut his trips in half. "Knowledge is power," he repeats.
Calling all HuffPost superfans!
Sign up for membership to become a founding member and help shape HuffPost's next chapter