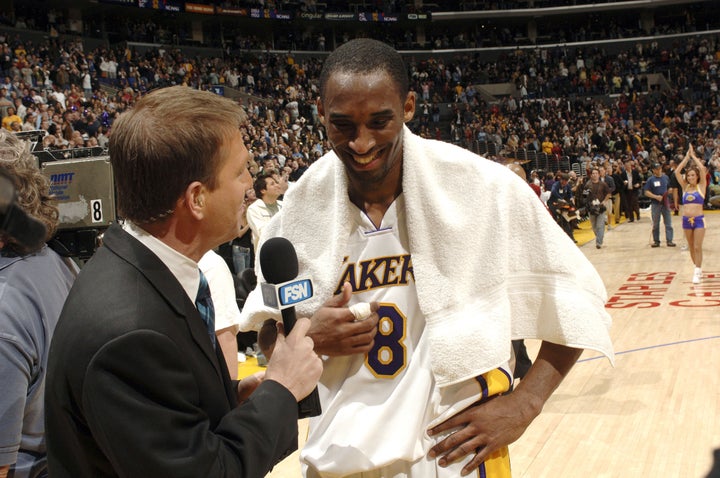 Ten years ago this Friday, a man in a No. 8 jersey lifted the entirety of the Lakers team onto his shoulders and quite literally single-handedly willed them to victory in front of a raucous Staples Center crowd. 
Of course, that man was Kobe Bryant. The then 27-year-old tallied 81 points in 42 minutes of play that evening, going 28-of-46 from the field, 7-of-13 from deep and 18-of-20 from the line, en route to a comeback victory against the Toronto Raptors.
The scoring display ranked behind only behind Wilt Chamberlain's 100-point onslaught in the list of all-time greatest NBA scoring performances. No one's come within 10 points of 81 since 1994; the only other time a current NBA player has scored 65 points or more was when Kobe himself poured in that many in 2007.
But perhaps the craziest part of this performance 10 years removed is this: It didn't seem so crazy at the time. While a massive deviation from the NBA norm, you could see just such a performance brewing within Bryant in the weeks leading up to that Sunday against Toronto.
Even prior to that night, Bryant was averaging 41.6 points that January and roughly 34.7 per game for the season, having scored 40-plus points in four straight contests just a couple weeks earlier. His team was sitting only a step or two above .500, with Bryant working his magic to earn every single one of those wins, effectively dragging his team through each quarter, with a roster replete with what's-his-names and soon to be ex-NBA players.
And, perhaps most importantly, Bryant was only a month removed from "62" -- the night when he outscored the entirety of the Dallas Mavericks team through three quarters, 62-61. The Lakers' advantage was so great entering the fourth period that Bryant never came back into the game -- never getting the chance that night to climb toward 70 or 80 -- a benching that barred NBA fans from watching what could have been a historic night in its own right. But there remained a sense from that night forward that something else could happen -- something even great. Then, it did. 
Reading back Kobe's teammates' and coaches' quotes after that 81-point night, what stands out is that there really was no element of shell shock in the Lakers locker room. Their jaws dropped, sure, but their eyebrows never shot up. Lamar Odom described Kobe's play as "remarkable," reasoning that Bryant "was ticked off," so of course the logic follows that he'd rally off 81. Phil Jackson described it as "something to behold," while Lakers alum Kareem Abdul-Jabbar said it was "a real treat." And the words Bryant himself used to discuss his night played it down as something that was called for and necessary -- not in the least excessive or extraordinary. 
"I was just determined," Bryant said. "I was just locked in, tuned into what was going on out there. These points tonight mattered. We needed them. The points I put in the basket were instrumental."
His performance was incredible, but not totally surprising. 
In that era, it was a matter of course for the franchise and the fans to trust Bryant to jump into the driver's seat and steer the team towards a victory, no matter the odds -- to shoot the team back into a game, no matter the deficit. They didn't always win, but you better believe that Bryant was going to do his damnedest night in and night out to split the Red Sea and get his boys in Purple and Gold closer to the Promised Land.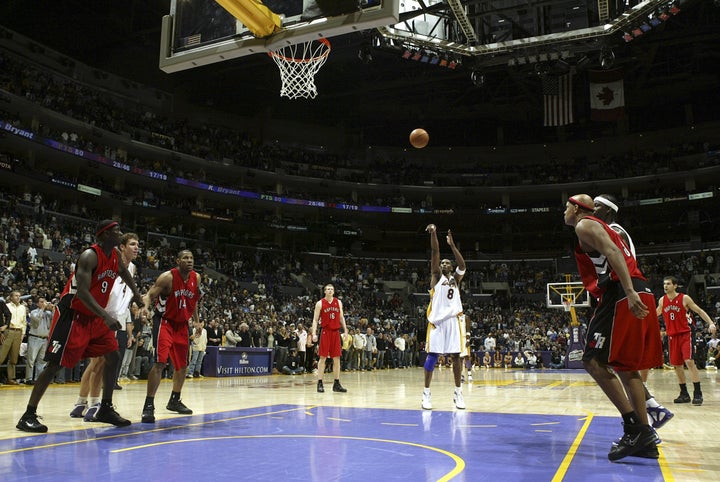 It's difficult to explain why we Lakers fans defend Bryant so staunchly. But part of it, I believe, comes from the fact that we have always felt safe in Kobe's hands. LA was never out of the running when he was on the hardwood. Halftime deficits were surmountable, third-quarter runs were predictable and fourth-quarter heroics were par for the course.
I remember the Los Angeles Times hardcopy headline the morning of Monday, Jan. 23, 2006. All it said in big, bold letters at the top of the sports section was: "81!" And so, before heading to school that day, I snipped off some scotch tape, grabbed the paper and climbed onto my bed, hanging the front page in a place of honor over my headboard.
The thing is, it should've stuck out on my bedroom wall, given that it was as individual of a décor choice as it was an on-court performance. But it didn't. Because my bedroom walls were covered with clippings of my most beloved newspaper articles and oh-so many of them -- too many, probably -- featured the cool, cocky grin of a 20-something Bryant, fresh off yet another performance for the ages, yet another record left shattered in his wake.
So that Sunday night 10 years ago, watching Bryant play, we Lakers fans were certainly awed, but we were never quite astonished. In those seasons, within the walls of the Staples Center, the stunning was expected. Kobe's otherworldliness was assumed. We were spoiled, and we knew it, but we can only truly appreciate it in hindsight -- as we look back exactly a decade later at this astounding, historic, but thoroughly predictable performance from Kobe Bryant.
PHOTO GALLERY
The Greatest Photo From Every Season Of Kobe Bryant's Career
REAL LIFE. REAL NEWS. REAL VOICES.
Help us tell more of the stories that matter from voices that too often remain unheard.