 Following Kobe Bryant's season-ending Achilles tendon rupture, there's much debate about the role of increased minutes during the Lakers' playoff push in contributing to the injury. Without full knowledge of Kobe's training and medical history, all of this is -- at best -- educated speculation. Nonetheless, there are at least four major factors to be considered:
The following chart illustrates Bryant's average minutes per game by month in 2012-13, compared with prior seasons.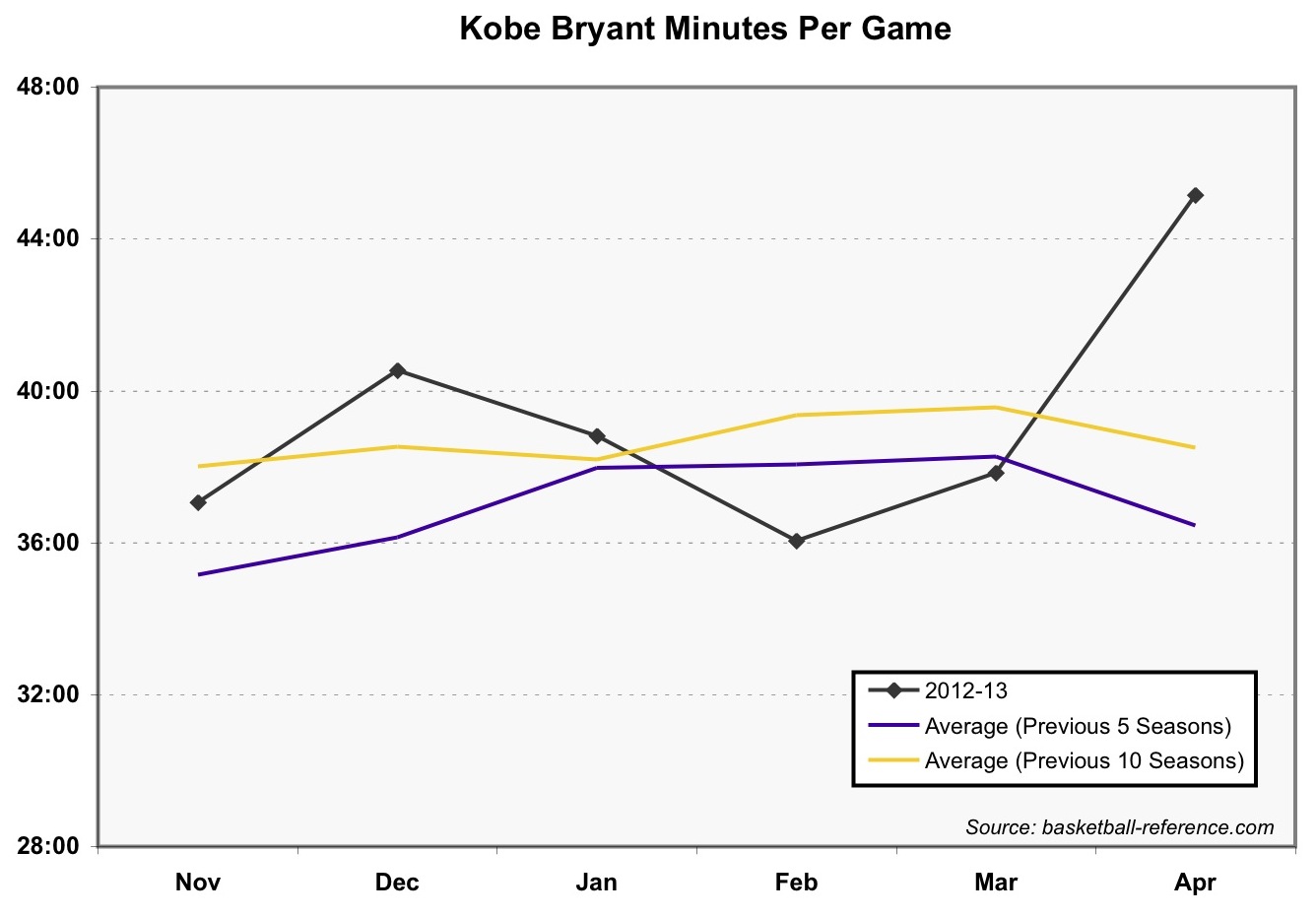 There is an evident increase (19%) from March to April 2013, which is unlike earlier seasons. An exception is March-April 2004, where Bryant experienced a similar 22% increase.
It's certainly possible that the stress of additional playing time increased Kobe's injury risk. Achilles tendon ruptures are a classic "weekend warrior" injury, often suffered by those who -- unaccustomed to high training volume -- suddenly stress the tendon beyond its limit. However, Kobe isn't exactly a weekend warrior. Rather, he's more of an "everyday warrior." The important thing to consider is how game minutes factor in Kobe's overall daily stress of training, practice, and competition. It's not like the guy drives a desk all week, then plays pickup on Saturday morning at the Y. Kobe Bryant is a notoriously (some would say pathologically) hard worker, known for his tireless work at the gym outside of practice and games. The guy's putting in hours of intensive training every day. In this context it's difficult to imagine an additional 7 min/game over the past 2 weeks proved fatal. On the other hand, perhaps he was operating so close to the edge that there wasn't any cushion left.

Movement Mechanics & Compensations
Numerous anatomical and biomechanical features have been recognized as risk factors for Achilles tendon rupture (two excellent review articles here and here). The mechanism of Kobe's injury -- pushing off a weight-bearing foot with an extended (i.e., straight) knee -- is quite common, and according to one study associated with the majority of Achilles tendon ruptures. Kobe's account of feeling he'd been kicked, and his surgeon's account of the repair procedure suggest the injury was typical. At the same time, it's possible that Kobe's prior injury history played a role. Injury at one lower extremity joint has been associated with increased loading elsewhere. It's possible that, over time, Bryant (probably subconsciously) compensated in a way that placed additional stress on his Achilles. For instance, chronic right knee issues might have prompted an offloading of the right side at the expense of increased stress on the left. Similarly, injuries to the left hip or knee might have lead to redistribution of load to muscles and tendons of the left ankle.
Achilles tendon ruptures are most common in men between the ages of 30 and 39. With aging come several relevant risk factors, including changes in tendon stiffness, tissue type and organization, range-of-motion, and blood flow. To some degree appropriate training can mitigate these risks. Oftentimes, however, changes occur without symptoms that might alert an athlete or medical staff to the need for attention. Regular physical activity (which Kobe certainly practiced) is regarded as one of the best preventive strategies. Still, it's no cure-all. Probably the two most appropriate comparisons are Los Angeles Clippers' guard Chauncey Billups (who suffered the same injury last year at age 35), and hall-of-famer Dominique Wilkins (who suffered it in 1992 at age 32). At the time of their injuries, one (Wilkins) was playing high minutes (37 min/g), while the other (Billups) was not (23 min/g). Both had reduced playing time in the lead up to their injury. It's possible that Bryant's injury was a "freak" occurrence, not especially unusual for someone his age (34), and without further known explanation.
Several medications commonly used in sports medicine, including anti-inflammatory corticosteroids and certain (fluoroquinolone) antibiotics, have been associated with structural weakening of the Achilles tendon, and increased risk of rupture. Without knowledge of Kobe's specific medical history, it's impossible to know to what degree this might play a role. Localized cortisone injections in a knee or wrist would be less likely to affect the Achilles than systemic (oral) corticosteroids or injections near the ankle. Given the prevalence of such treatments in competitive sports in general, in the NBA specifically, and as publicly documented during Kobe's professional career, it seems reasonable to consider this as a potential contributing cause.
In the end, there is high probability that some combination of these factors is responsible for Bryant's injury, with the specific details extraordinarily difficult to determine. We do know that the injury is a common one, and that with appropriate treatment and rehabilitation, Kobe is likely to recover, regain full function, and quite possibly return to playing basketball at a very high level. I wish Kobe the best of success, and the full support of family, friends, and teammates as he undertakes the next formidable challenge of his illustrious career.
REAL LIFE. REAL NEWS. REAL VOICES.
Help us tell more of the stories that matter from voices that too often remain unheard.