Kobe Bryant's dream came full circle as he stood in the Staples Center in California watching the unveil of his No. 8 and No. 24 jerseys hanging high in the rafters on Monday night.
It was a proud moment. Though the Mamba's numbers may be retired, Bryant's work is far from over.
Days before the ceremony, Bryant talked to HuffPost about his new mission to inspire the next generation through artful storytelling. His first project is "Dear Basketball," a five-minute animated film that tells the story of Bryant's relationship with the game and brings his 2016 poem to life.
"I've never had a chance to really thank the game of basketball," Bryant told HuffPost. "So even though I was writing a retirement letter, it didn't feel like I was writing a retirement letter. It was more like I was communicating to the game just to tell the game how much it's meant to me and thank you. It's kinda like a different perspective and different emotional place it puts you in. So instead of saying goodbye, you're saying thank you so much, I appreciate you. It's a beautiful place."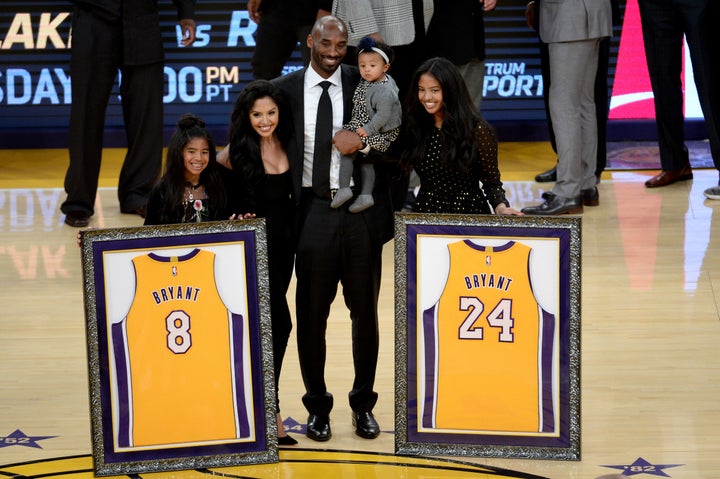 Bryant collaborated with Glen Keane, the artist behind Disney characters like Ariel and Aladdin, and Academy Award-winning composer John Williams. The five-time NBA champion narrates "Dear Basketball," taking viewers through his career starting with his days as a kid shooting socks through the hoop in his room.
"I feel like as a child, I learned most through visual media and through story. So I said OK, if I really want to teach some of these lessons I learned from the game of basketball, the best way to do that is through story, is through visual, through music and animation," Bryant said.
His goal is to inspire people, he added, especially younger generations, to make their dreams come to fruition.
"Having a dream isn't enough. You've got to do the work on a daily basis to have that dream come true," he told HuffPost. "And how I tried to illustrate that was through very small things. Rolling the tube socks, the commitment to sitting down and watching film, and studying tape after tape after tape after tape over and over and over again... So showing the behavior that it takes to get the dream but now you have to make the dream come true. That's where the work comes in, and that's where the process comes, and hopefully they can take that from this film."
"Dear Basketball," which debuted at the 2017 Tribeca Film Festival, is currently shortlisted for an Oscar for best animated short. It's the start of Bryant's forthcoming string of projects, which include podcasting, animation and live-action. He said he ultimately wants to "challenge the consumer to look internally and reflect on themselves" to pursue their passions and eventually pay it forward by teaching lessons they've learned to the next generation.
"Therefore, we can create this infinite loop of inspiration," Bryant said. "And that's the goal. That's what we're trying to."
Before You Go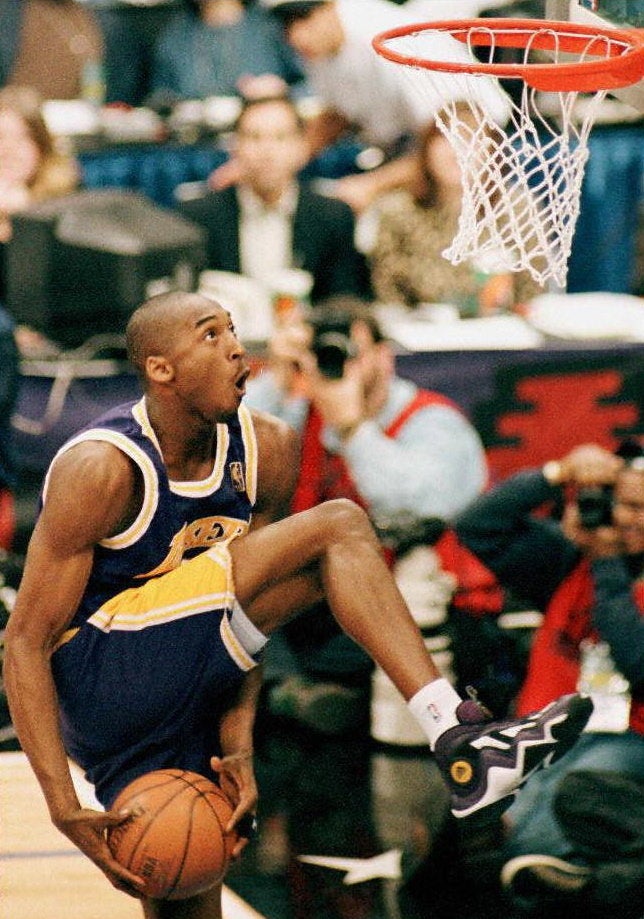 The Greatest Photo From Every Season Of Kobe Bryant's Career
Popular in the Community