 Kobe Bryant's wife, Vanessa, is not planning to sign her divorce docs -- which she filed in December 2011 -- and may, in fact, be reconciling with her basketball-star husband, according to a Tuesday report from TMZ.

Because my own parents -- dad and stepmom -- have split and reunited multiple times, I can't help but wonder how a decision to get back together might affect the Bryants' children, Natalia and Gianna. Throughout high school and college, I watched my dad and my stepmom marry, divorce, reconcile, break up and then get married again, which was confusing, to say the least. To give you a quick rundown: They met during my freshman year of high school, eloped that summer and divorced around the time of my high school graduation. Right after my sophomore year in college, they reunited and moved across the country together -- only to break up again the summer I graduated. Not too long after that, my dad informed me that they were back together, and they married again.
Throughout all of this, I wondered many times if they were insane. I couldn't understand why they didn't just split for good. With each break-up, I cared less and less about having a relationship with my stepmom. In fact, I sometimes felt relieved to think it was finally over. My stepsister, who is six years younger than I am, recently revealed that she eventually stopped wanting to get too close to my dad because, honestly, what was the point?
Of course, the Bryants' relationship is very different from my dad and stepmom's. First of all, their daughters are much younger than I was during my parental drama: Natalia is 9, and Gianna is 6. And while my dad and stepmom have a choppy history in terms of their parting and reuniting, the Bryants' history is a tad more tumultuous and much more public: In 2003, Kobe admitted to cheating on Vanessa after he was accused of allegedly assaulting a 19-year-old Colorado woman. (At the time of his confession, Natalia was 6 months old, and Gianna had not yet been born.)
Despite these differences -- and even though my dad and stepmom split up multiple times, and Kobe and Vanessa have only done so once (so far) -- the Bryants' situation makes me wonder what is "better" as far as their kids are concerned: parting and getting back together or splitting up for good?
Multiple studies have shown the negative impact that divorce has on children. Those from divorced families can feel like outsiders in their own homes, have a higher rate of suicide and are more likely to get divorced themselves. While researchers have looked at the effect on children when a parent marries multiple times, there hasn't been a comprehensive study that addresses the effect on children when their parents remarry -- or reconcile with -- each other.

Looking for insight, I turned to marriage experts who have seen similar situations professionally (but have not worked with the Bryants in particular).
Santa Monica, Calif.-based divorce attorney Mike Kelly, who has handled many high-income celebrity splits over the course of his 42-year career, said that because their daughters are young, the Bryants are doing the right thing by trying to reconcile. "These two people staying together is for the best interest of the kids," he said.

However, if the Bryants decide to reconcile solely because of their children, then doing so is not necessarily in their daughters' best interest, according to Devra S. Gordon Renner, a school social worker in Northern Virginia who has worked with children of divorce in group therapy.

"Kids really can sense if you're disingenuous. They sense if there is a feeling of anger in the air," she said. "It's hard to table those kinds of emotions. You have to also think, 'How is this going to play out? How am I going to deal with the things that upset me? How am I going to let go of the past?' The people with kids I know who have been able to do that effectively have had some pretty intense therapy and support."
However, Renner, who is also the co-author of "Mommy Guilt," doesn't see mom and dad's reconciliation as something that would cause irrevocable harm to their children.
"It can be confusing for the kids, but you have to give [the Bryants] credit for trying," she said. "The effects of the back-and-forth really have to do with how the adults handle it. If adults are confused, kids will be confused. If the adults are able to navigate [their situation], then kids are pretty resilient."

The bottom line, she said, is that kids need to feel secure: "When children know that they are loved and cared for, and if their parents can give kids information in an age-appropriate way, then I think they will be fine."

There may even be a benefit for children who watch their parents part and then reconcile, said Santa Barbara, Calif.-based psychotherapist Christina Steinorth, in terms of how they handle their own future relationships.

"I think Kobe and Vanessa could turn this into a very valuable lesson for their daughters," Steinorth said. "We live in a society that encourages a 'replace instead of repair' mind-set, and this goes for marriages, too. The Bryants could sit down with their kids and explain that it's possible to work things out with someone even if you've had significant differences."

Steinorth, who is the author of "Cue Cards for Life: Thoughtful Tips for Better Relationships," said that such a lesson can teach children to be more realistic about relationships. "The Bryants' behavior models to their kids that relationships require work," she said. "So much that we see in the media today is about romance and getting to the altar, because it makes for good TV. We see very little about people reconciling and how they do it. Perhaps if we did, more people would be inclined to stay in their relationships and work things out."
If the Bryants do work through their issues for their own sakes -- not just for their daughters' -- then Natalia and Gianna might value their parents' ability to weather marital storms someday. I know I do: My dad and stepmom have been married for many years now (and for good this time, my dad assures me). While they took quite a bumpy road to get there, I respect them for ending up together. In fact, I'm grateful that my parents made it through their many rough patches; I may need their advice when dealing with my own one day.
Although I'm sure that witnessing such a up-and-down marriage could have made me more wary of forming my own relationships, I don't fear that my future union might be as rocky. Instead, what my dad and stepmom's example taught me -- and what the Bryants might teach their children -- is that, for a relationship to last, both people have to be equally committed to making it work, no matter what.
And that's something I'll always need to remember, even if I don't marry a basketball star.
The Bryants aren't the only star couple to get back together after breaking it off. Click through the slideshow below to see who else decided to reconcile.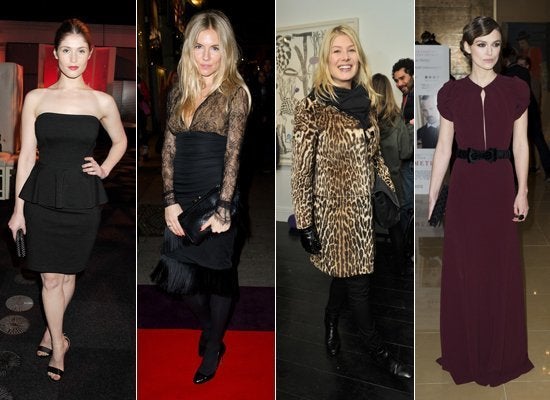 Celebrity Trivia: Which Stars Reconciled With Their Exes Post-Split?
Related