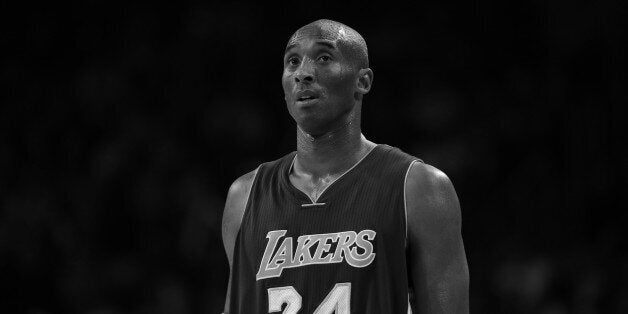 The world has not been kind to Kobe Bryant's poem.
The Black Mamba announced his retirement via ode the other day, and, in discussing it, almost everyone channeled their inner literary critic long enough for a potshot or two at Kobe's literary chops.
Rolling Stone mocked it with the headline "Kobe Bryant Rages Against the Dying of the Light in Retirement Poem" and our favorite quip came from The Peach Basket, which tweeted that "it was like if a Robert Frost poem took its own sense of self-satisfaction and used it to assault a John Donne love poem."
But not everyone was a detractor. Poetry Professor Nick Twenlow was quoted in the New York Times saying, "It's not the worst poem I ever read." Poet Jameson Fitzpatrick praised the tube sock imagery, and none other than the walking poetry machine formerly known as Ron Artest, Bryant's teammate Metta World Peace, told Lakers beat reporter Mark Medina, "Kobe can write. He's a better writer than you."
It just so happens that we recently published a book of sports poems made from the utterances of professional athletes: Erratic Fire, Erratic Passion: The Poetry of Sportstalk. While the book includes three World Peace poems as well as those of many other athletes, we didn't do a Kobe one.
Maybe we didn't because when Kobe says something, the irony is in his eyes. He's hard to capture in tight focus on his language. And who would have thought he'd be the one to announce his retirement this way?
When HuffPost asked us to write something about it, we decided to try our hand at an alternate Kobe Bryant retirement poem, built from his own words. You can read the original here. Ours is below.
1.
I'm not fading into the shadows
If that's what you're asking.
I'm not going for that shit.

For me, it's about the W.
People just don't understand
how obsessed I am with winning.
Winning takes precedence over all.
There's no gray area.
No almosts.

I would go 0-for-30
before I would go 0-for-9.
0-for-9 means
you beat yourself,
you psyched yourself
out of the game.

My father taught me
when your mouth gets dry,
just suck the sweat
out of your own jersey.
2.
I'm innocent.
Furious at myself.
I'm a human being.
I'm a man just like everybody else.
I mourn.
I cry.
Just like everybody else.
I'm innocent.
3.
What people see on the court
is another side of me;
it's not me.
I'm not the most patient of people.
I don't get along with chumps very well.
If you're a chump and a pushover,
I will run over you.
The only thing I'm afraid of is bees.
I don't like bees.
I'm allergic to them.
I don't fuck with bees, man.
Other than that,
I'm not afraid of nothing.
I've got four dogs
and I just don't do dog doo.
I'm a diva when it comes to that.
The Black Mamba
Collection of watches
is me.

4.
I wanted to keep riding the wave
to demoralize our opponents.
So I just started going full bore.
And then it just turned into something special.
And it just turned into this.
To sit here and say that
I grasp what happened tonight--
I'd be lying.
5.
We're going from the bottom to the top
all together.
It's important for us to enjoy the journey.
So that's what we're doing now:
we're on a journey.
It's on some Jedi type of thing.
We've been through so much.
We've been through so many battles.
We've been through so many things.
6.
Not even in my dreams.
It's tough to explain.
I don't know.
It's just one of those things.
Pretty exhausting to think about.
I was really tired, man.
Just tired,
upset and dejected,
just thinking about this
mountain, man,
to overcome.
It's fuelling me.
It's fuelling me.
7.
It's the last book.
I'm keeping it to myself.
And I might actually read it.
I haven't read one yet.
Do I save them?
They're somewhere.
They're somewhere.
They're somewhere.
I don't know.
They're somewhere.
I don't know where they are.
I'm terrible at saving stuff.
Oh, man. Shit.
I choked.
I'm the 200th best player in the league right now.
I freaking suck.
I just got one more than Shaq.
So you can take that to the bank.
8.
Tonight I'll go home
and get some more therapy.
Then, tomorrow morning?
Make some breakfast,
sit back,
chill,
watch some cartoons.
You know,
do that whole thing.
Tom and Jerry, man.
Now they're seeing me
as an older young man.
I'm not like the older guy.
I'm like triple OG.
If you weren't born
when I started playing,
you can't talk trash.
Friends can come and go,
but banners hang forever.
Popular in the Community